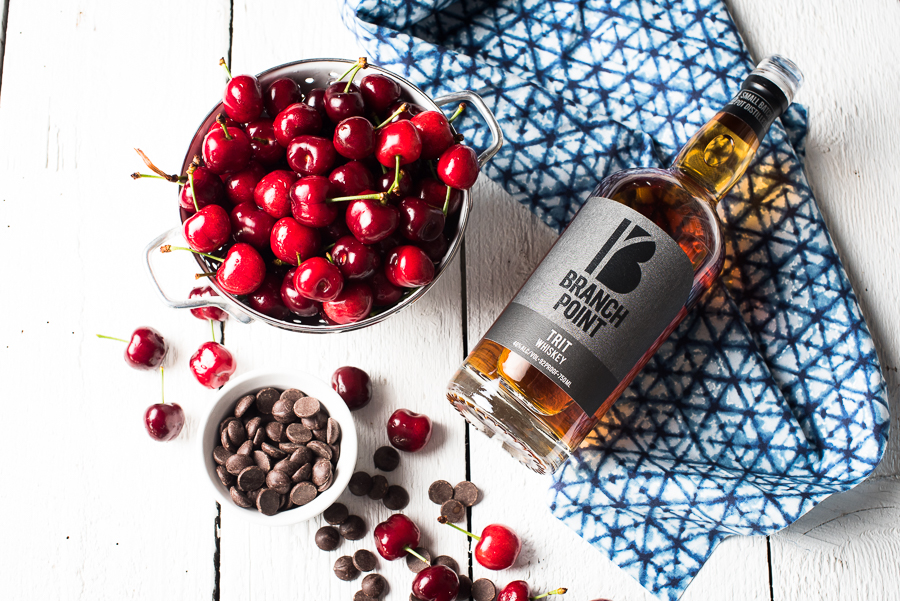 Summer Cherries!
Cherries just scream Summer! I love them plain on their own, baked into a pie or cobbler, and of course in a cocktail. I decided to level up my cherry pie with not only chocolate, but Whiskey! You can never go wrong when baking with liquor.
This summer has been so strange for me, anyone else? This Covid crap to start the year off, then our weather has been really off this year. It feels like a very slow start to summer. Then July came and we had maybe a few hot days here and there, but that was it. Now in August, it's cooler than usual. Also this was the FIRST year we have not planted a garden! ( Insert small child throwing a fit here) Instead we decided to install drip irrigation on our one acre that is landscaped. That equates to 9 zones, and over 350 individual drippers on each plant. That makes me tired just talking about it. So most weekends were spent laying irrigation for us. It was definitely needed and I'm glad we did it! Happy plants now!
So yes, a weird Summer indeed!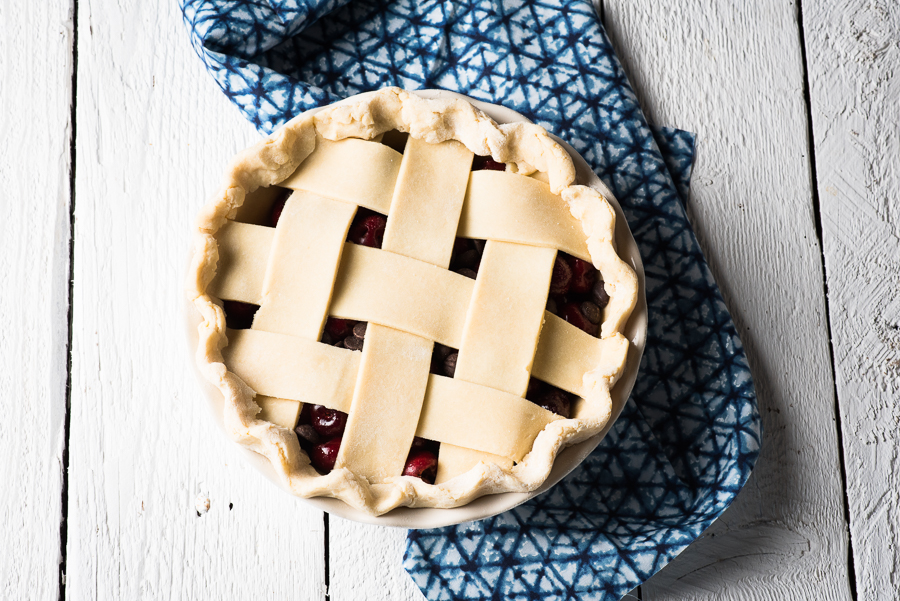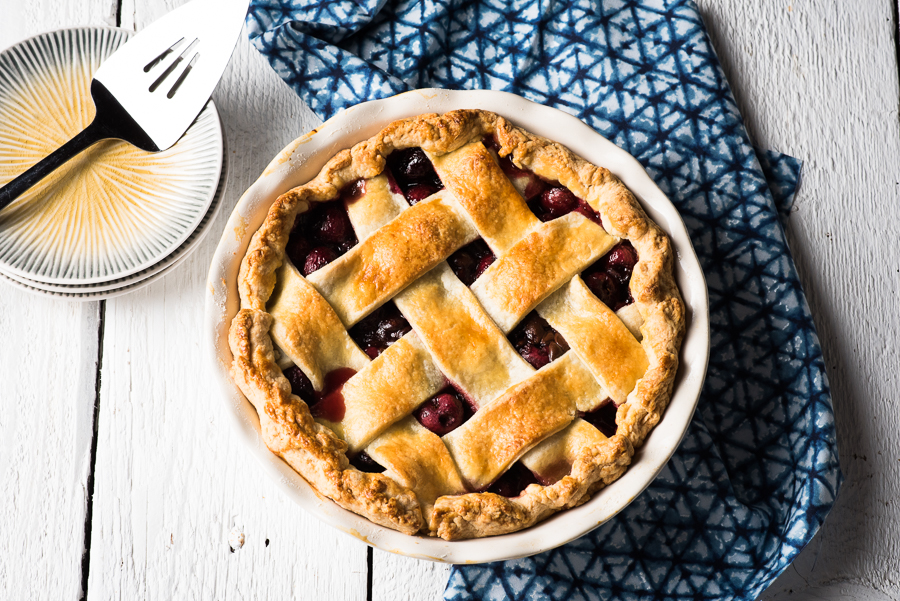 Let's talk about pitting cherries! Make your life easier and get yourself a cherry pitter! They are pretty inexpensive and this is one kitchen gadget you will use more than you think. It cuts off so much time from pitting cherries and will also make your life way easier! I have done a pie prior to buying a cherry pitter and I thought that would be my last cherry pie. The one I have clamps on to the edge of the counter and has a catching box on the bottom for the pits. You put the cherries in to top and push the plunger down. It separates the whole cherry from the pits! Like magic! Google it and buy one!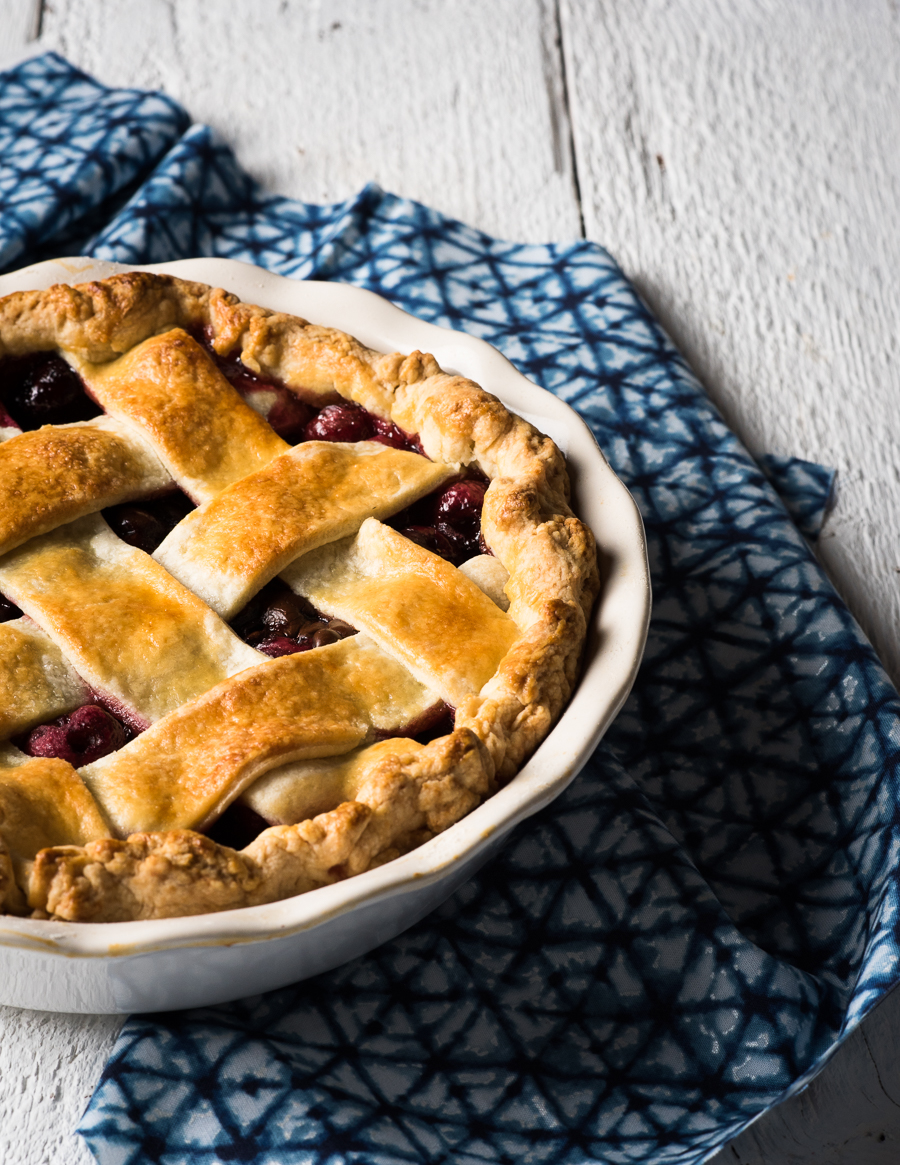 Now for Whiskey! I used a local whiskey in my pie. There is a distillery right down the street from my house, like literally 3 driveways down! Branch Point makes very delicious whiskey with locally sourced ingredients. I used the TRIT Whiskey, it has notes of rye spices, vanilla, caramel and cola notes. It's perfect for baking with and of course drinking too! You can use whatever your favorite whiskey/ bourbon is for your cherry pie. I thought the addition of whiskey into this cherry pie almost tasted like a cocktail! Smooth and delicious. I did not use a lot of sugar in this pie so it does have more of a tart cherry flavor.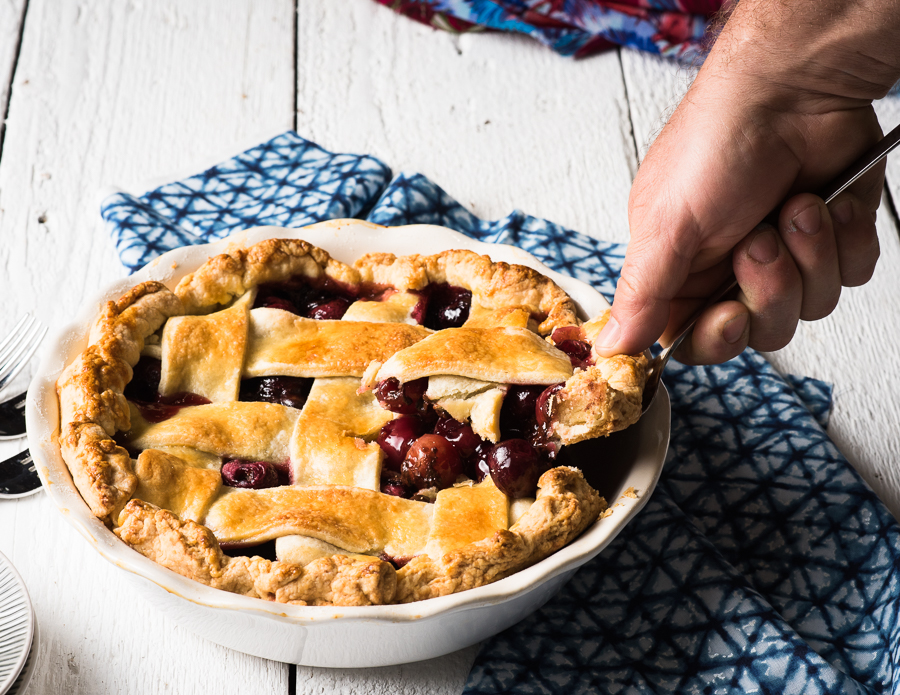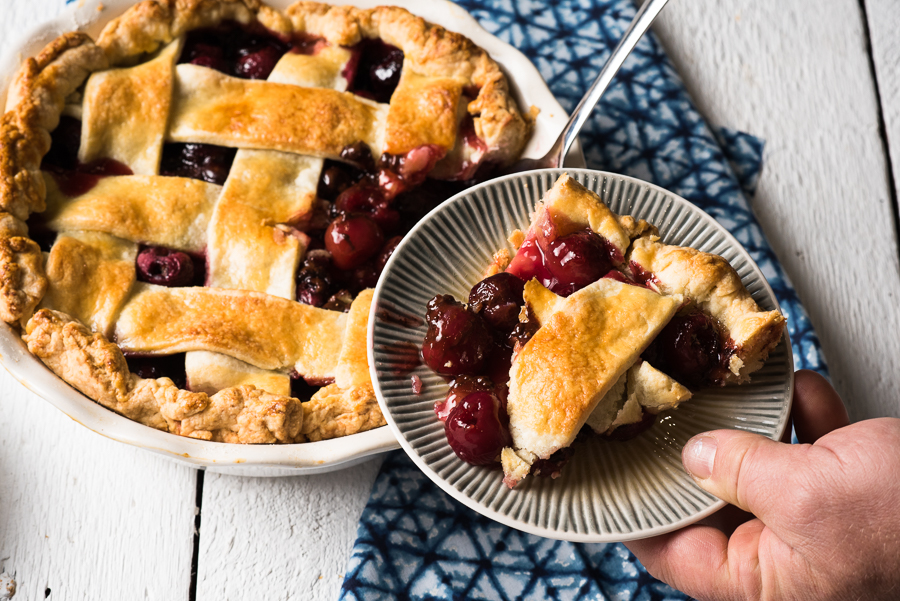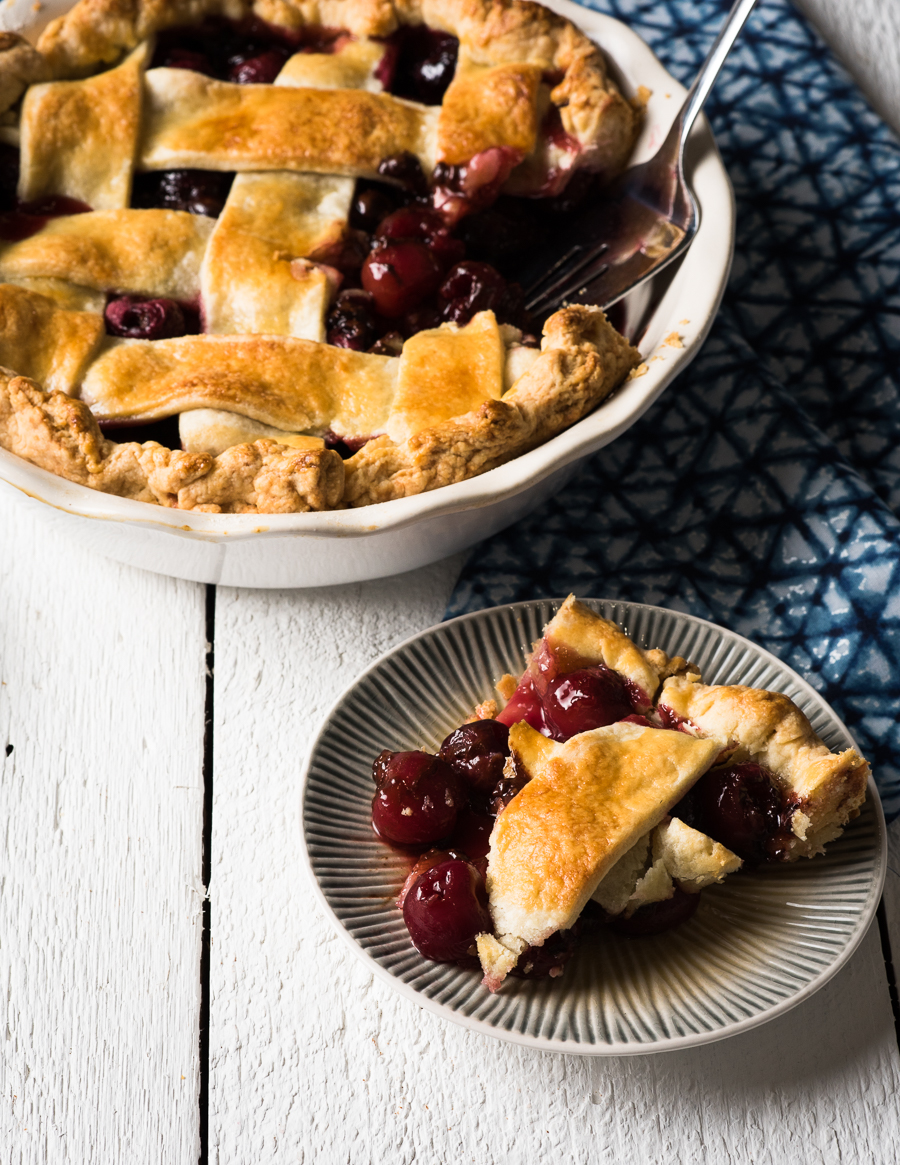 Happy Summer Baking!
Chocolate Cherry Whiskey Pie
Ingredients
4

C

pitted, stemmed cherries

3/4

C

granulated sugar

1

tsp

almond extract

3

Tbsp

cornstarch

1/4

tsp

sea salt

1/4

C

whiskey or bourbon

1

C

chocolate chips, dark

2-3

Tbsp

cream

1

double pie crust, unbaked
Instructions
Toss the cherries with sugar, almond extract, salt, and whiskey. Let sit while you prepare the crust.

Preheat oven to 375 degrees

Roll out one of the pie doughs to fit your pie pan, place in pie pan.

Add the cornstarch to the cherry filling and toss until combined. Pour mixture into pie dish. Sprinkle chocolate chips evenly over filling.

Roll out top pie dough. You can cut into strips to make a lattice pie or put the whole rolled out crust on top. If you do the whole crust, be sure to cut vents into the top of your crust!

Crimp all edges together and brush with cream.

Bake for 30 minutes, then lower the oven temp to 350 degrees and bake for another 30 minutes until bubbly and golden brown.