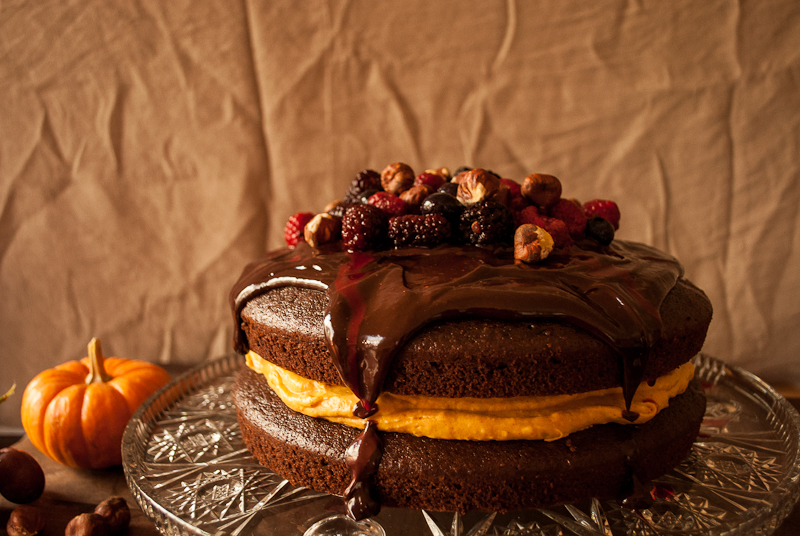 Chocolate + Pumpkin
Does it get any better than that? Add some berries, hazelnuts, and chocolate ganache….and voila, a chocolatey masterpiece!
I know, another pumpkin post, but it is Fall, and pumpkin IS my favorite Fall food! Why Chocolate Harvest? Well, around this time of year, everyone is getting ready for harvest- in the Vineyards that is. As I drive thru the farms on the way to work everyday, there seems to be this peaceful, yet exciting feeling in the air. The vineyards are full of equipment, early risers are on the road scurrying to work, and the wineries are busy, busy, busy! It seems to be this last push before winter comes and everything becomes dormant and sleepy.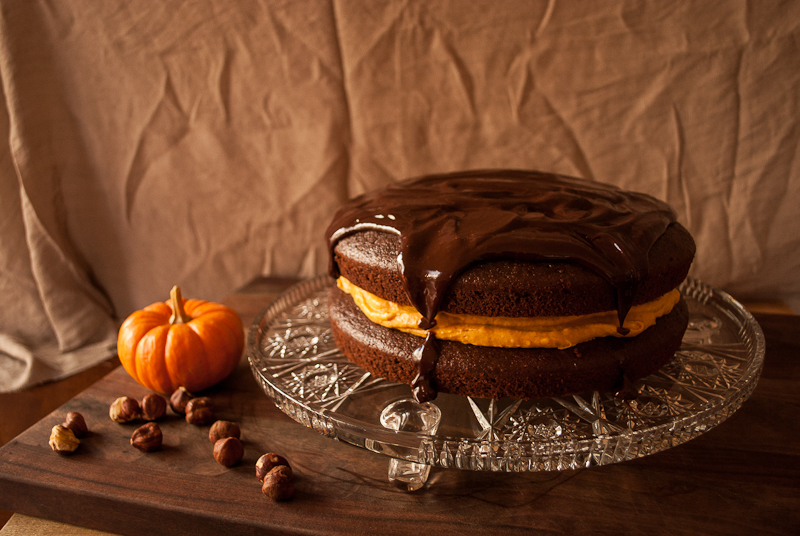 This cake, as impressive as it looks, it's very easy. All you need is one bowl for the mix and two 9 inch cake rounds. It takes seriously only 10 mins to mix up. The filling is cream cheese, powder sugar and some pumpkin. And for the Ganache, a little whipping cream and dark chocolate melted down. I always use Ghirardelli chocolate. I like the quality and the taste.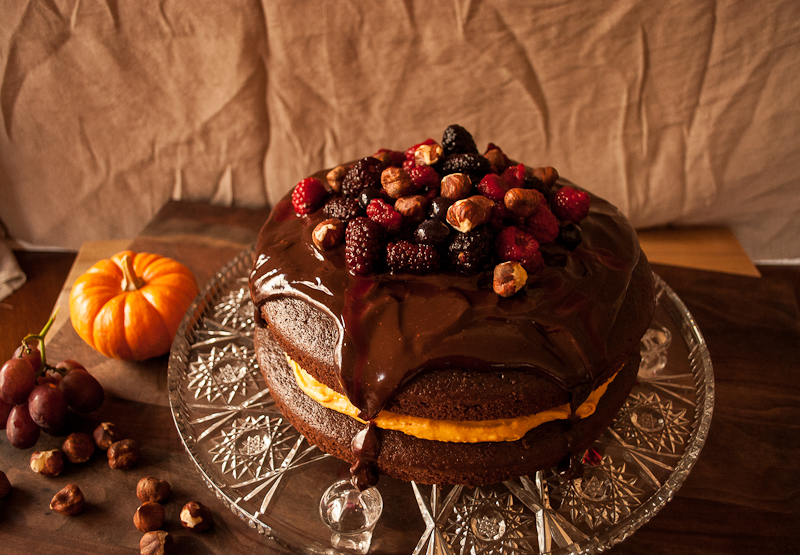 I have been making this cake for about five years now, and it's always a favorite at the office, potlucks, and my son even requested it for his birthday one year! Once you make this moist cake, it will be your go to recipe for sure!  If you don't have fresh berries, you can always buy the frozen ones and thaw them out before putting on the cake.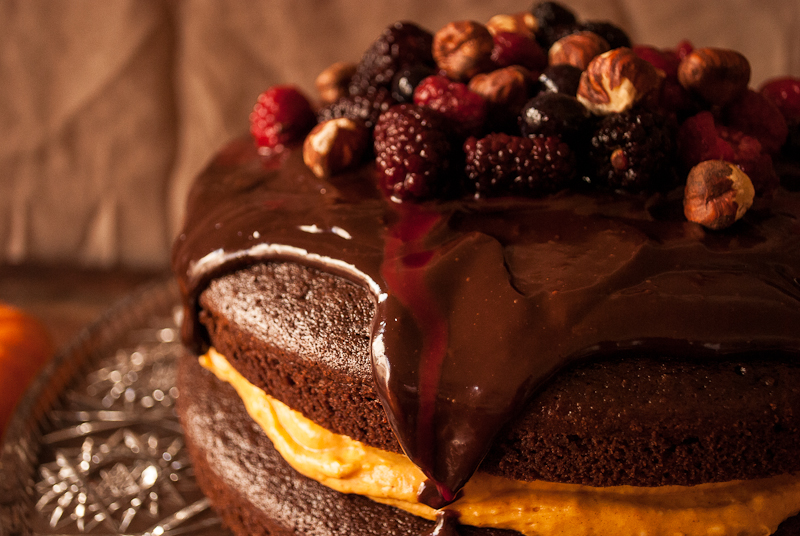 Please refrain from licking your computer screen ;-)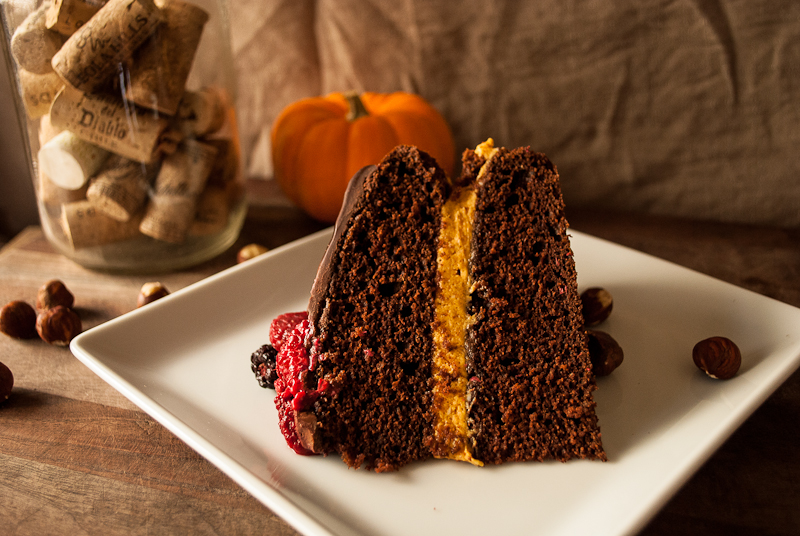 Just one piece?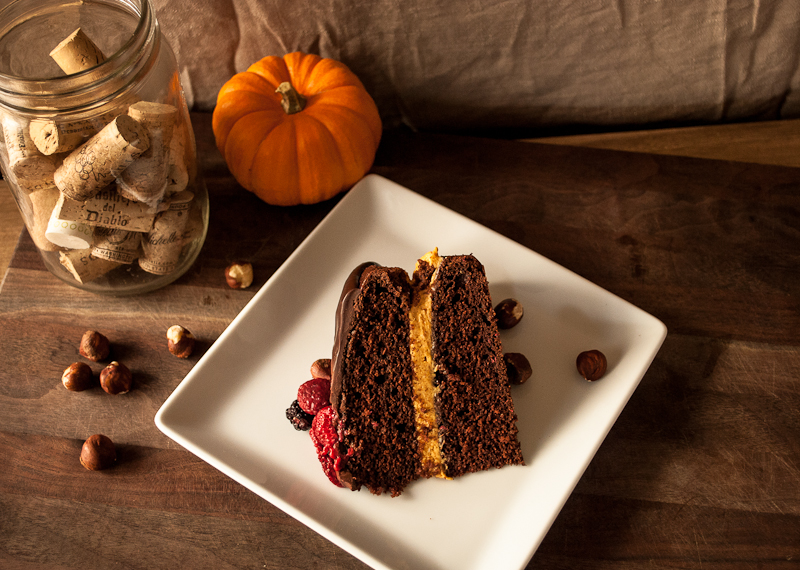 Ok…have another piece…I won't tell ;-)
Author:
Moist chocolate cake, with a creamy pumpkin filling and rich chocolate ganache.
Ingredients
1 C buttermilk
1 C strong brewed coffee, at room temperature
2/3 C canola oil
2 C sugar
1 egg
1 tsp baking soda
1/2 tsp salt
2 C all purpose flour
3/4 C cocoa powder
For the filling:
4 oz softened cream cheese
1/3 C canned pumpkin, or fresh pumpkin puree
1/2 C powder sugar
1/4 tsp cinnamon
For the Ganache:
1/2 C whipping cream
4 oz dark chocolate
raspberries, blackberries, hazelnuts
Instructions
Preheat oven to 350 degrees, grease two 9 inch round cake pans
In a large bowl, mix buttermilk, coffee, oil, sugar and egg until well combined.
Then add in baking soda, salt, flour, and cocoa powder. Mix until combined.
Pour into prepared cake pans. Bake for 30-35 mins.
While cake is baking, make filling.
With a mixer, mix cream cheese, sugar, pumpkin and cinnamon until fluffy.
After cakes have cooled, make ganache.
In a small saucepan over medium heat, heat whipping cream just until a boil. Remove from heat and add chocolate. Do not stir, let sit for 10 mins, then stir.
Assemble cake, place one layer on a plate, smooth pumpkin cream cheese mix on top, then place the 2nd layer on top. Pour Ganache over top of cake. Then top with berries and hazelnuts.
Notes
Try to eat just one piece ;-)