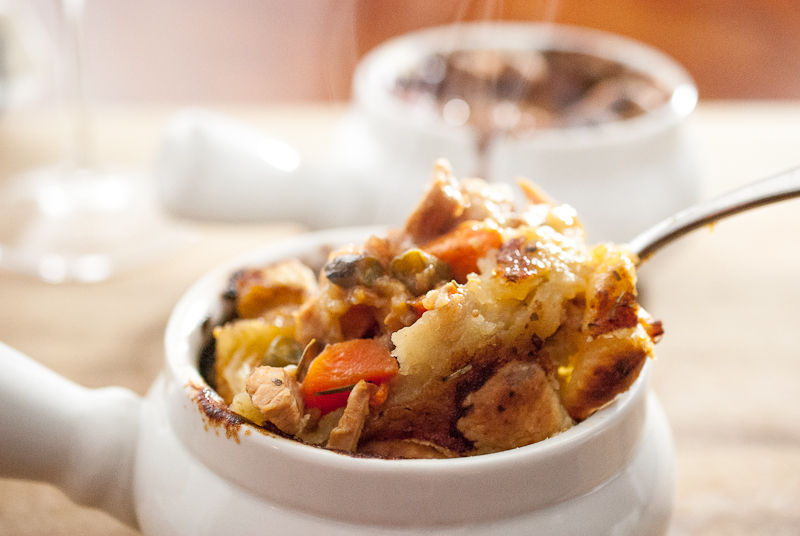 Oh Thanksgiving….don't you just love cooking for hours and hours to share a magnificent feast with friends and family…and what's even better is having all those leftovers afterwards, if you are the one cooking and hosting, yes! There are soooo many uses for leftover turkey, sandwiches, casseroles, soups…the list goes on and on!
Well, at our house this year, Andrew and I decided to do two 20 pound  birds, yep, that's right, and all for 11 guests. You can imagine how much leftover turkey is in our fridge…even 3 days later!  We brined both birds over night, and cooked one traditionally in the oven and the other….well, have you heard of spatchcoking? It's  a method of cutting the bird in half, and then Andrew smoked it in the smoker. There are no words to describe how delicious this bird was, totally food gasm!! It was not only juicy, but soooo smoky! You must try cooking a turkey this way, this is our go to turkey cooking method from now on!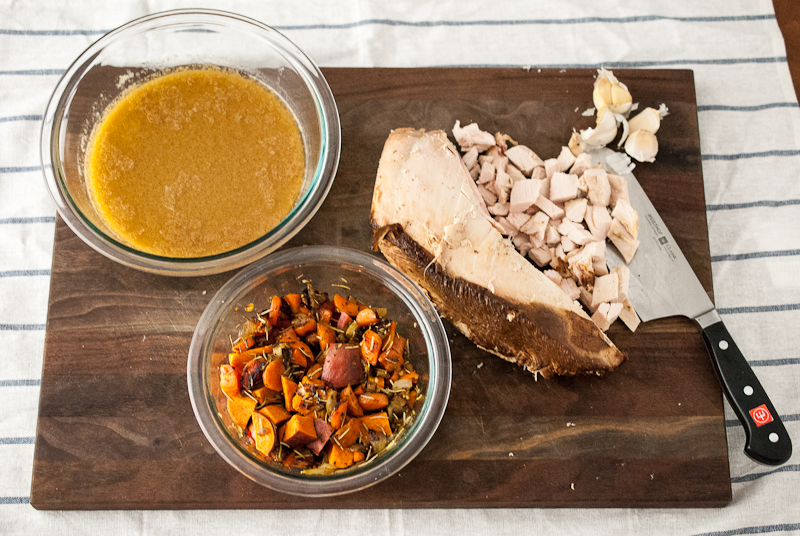 So we were bouncing ideas off each other on what to do with the turkey leftovers, and I had a crazy idea of a turkey pot pie. I really wanted to do a turkey pot pie. We simmered all the bones down and made a turkey broth, some to use now and some to freeze for later. I looked thru the fridge to see what we had on hand. Gravy, sweet potatoes, carrots, some onions and herbs…oh yes, this was going to be a great pot pie! The great thing about a pot pie, you can basically use anything you have on hand for your filling, so don't worry if you don't have exactly what I used, I'm sure it will taste great!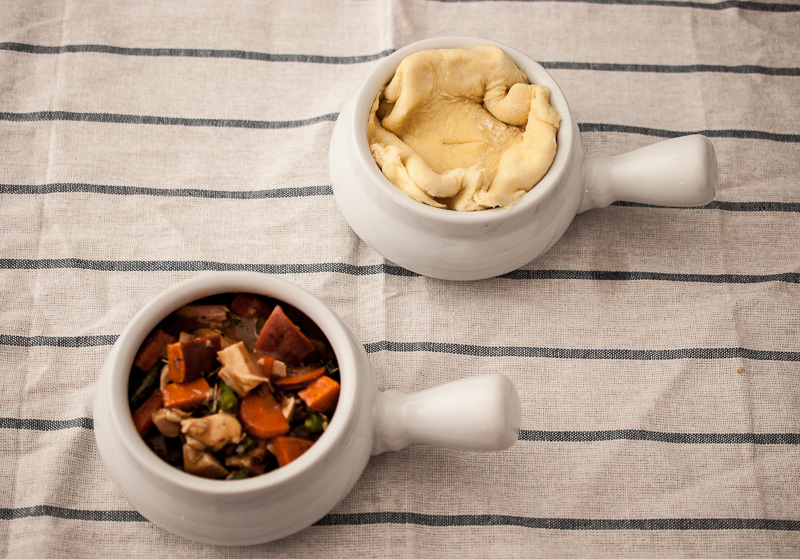 No pie tin? No problem! You can use whatever vessel you like that will hold your pie filling as long as you can put them in the oven!  The crust is very important in my opinion, a flaky buttery crust is crucial in pot pies!  Make sure all your crust ingredients are cold, chill them for a few hours first, then put together the flour, butter, sugar, salt, lemon juice and ice water….yes I said ice water :)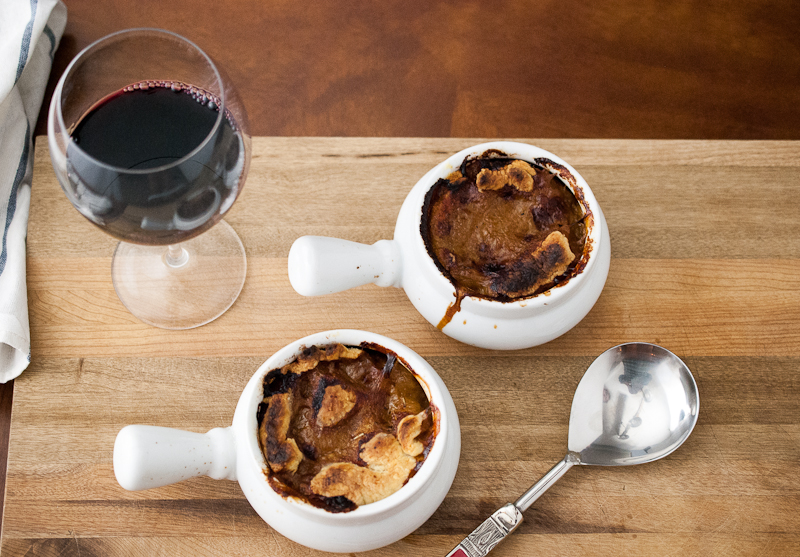 Turkey Pot pies, hot from the oven!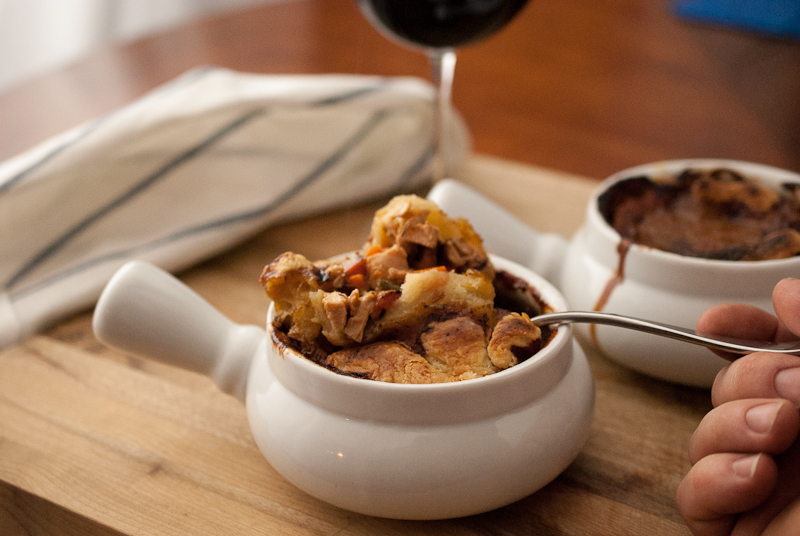 Smoked turkey, gravy, and vegetables covered with a flaky, buttery pie crust….oh I should have made extra!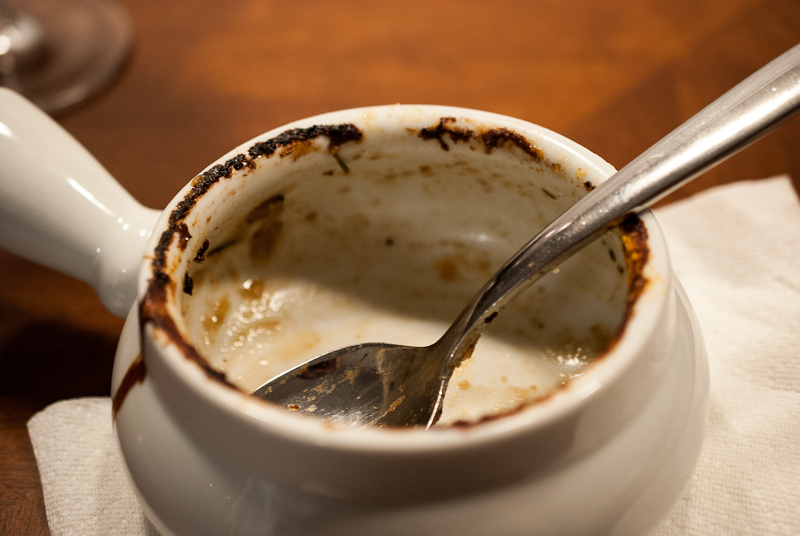 …..the empty bowl says it all! yummmmmm ;)
Turkey Pot Pie
Author:
Prep time:
Cook time:
Total time:
Traditional pot pie with thanksgiving leftovers
Ingredients
smoked turkey cut into cubes
carrots cut into small pieces
sweet potataoes cut into small pieces
green beans cut into small pieces
gravy
turkey or chicken broth
rosemarry
tarragon
salt and pepper to taste
1 1/2 sticks of butter
1 1/2 C of flour
1 Tbsp sugar
1 tsp salt
1/2 C ice water
1 1/2 tsp lemon juice
Instructions
To make crust, chill all ingredients for at least 2 hours.
Cut butter into small cubes, and place in a large bowl. Add flour, sugar, and salt.
Mix with a pastry cutter or pulse in the food processor. Add lemon juice and ice water. Mix until flour mixture is crumbly but not to moist.
Roll out on a floured surface to about 1/2 inch thickness. Set aside.
In a large bowl, mix gravy and all leftovers, and seasonings. If your vegetables are not cooked, you may want to sautee them first.
Next fill pie pin or baking vessel of your choice.
Top with pie crust and tuck edges in, cut a slit in the top to let steam escape.
Bake on a cookie sheet to catch any drips, at 375 degrees for 30 mins.