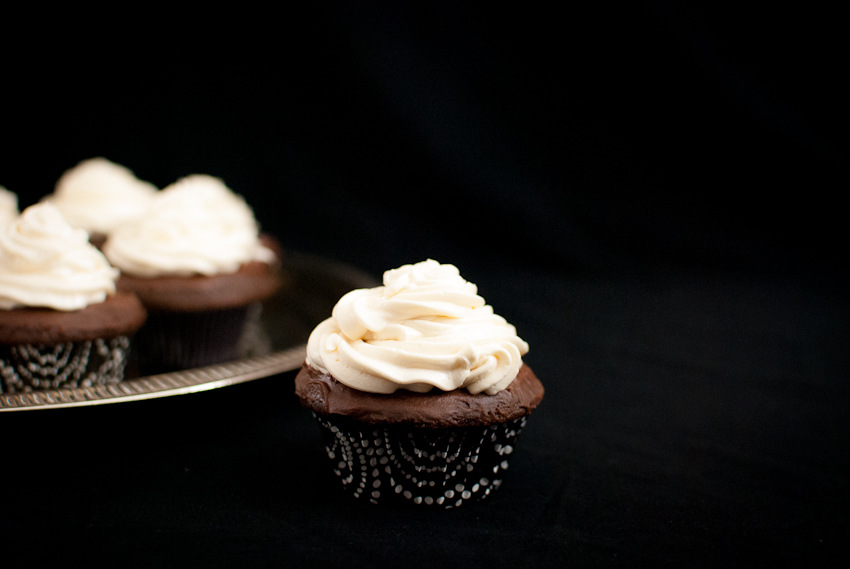 Liquor + Chocolate+ St Paddy's Day
Oooohhh boy….liquor and baking, they go so well together! Everything is better with liquor! These will not give you the dreaded hangover like the real Irish Car Bomb….
In my early years, it was so much easier to recover from all those late nights with shot after shot…but now a days, it takes like a week to recover!? Funny how that is, so now I like to bake with my liquor. Don't get me wrong, we still have our wild nights, just not so many!
For St Paddy's Day, we were having friends over for our themed dinner, and they always, I mean always say I have to do the desserts! I didn't want to do anything green in color, but something with Guinness for sure!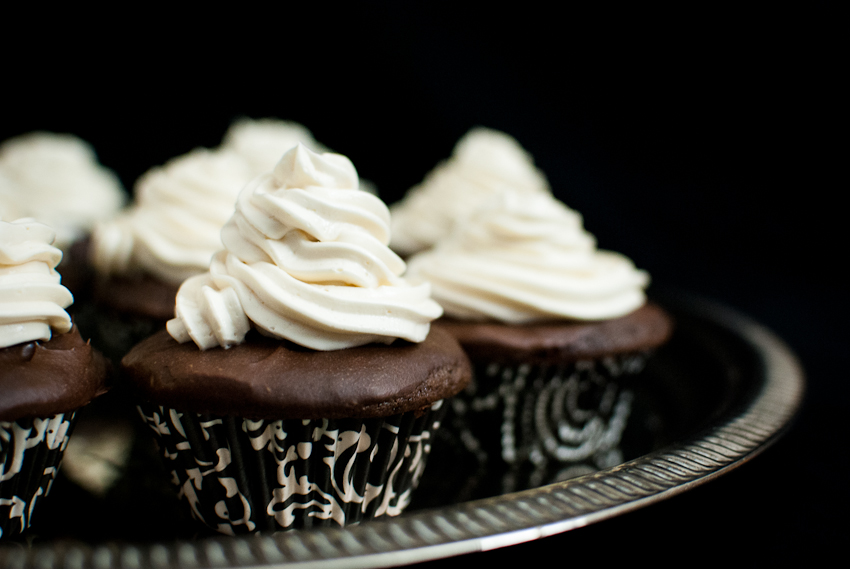 These cupcakes are a little more time consuming than the usual, but they are worth it! The only liquor that is cooked off, is in the cake itself, so best not give these to  your little peeps. We start off with the dark smooth Guinness in the batter, something about this beer and chocolate makes a mean ass cake! Then we top it off with a whiskey chocolate ganache…oh boy, and if that's not enough….Bailey's in the butter cream frosting! Oh yeah, these little cakes were going to be a hit! How can you go wrong with that much liquor mixed in with chocolate? And I dare you to try and not take a shot here or there while you are baking these cakes!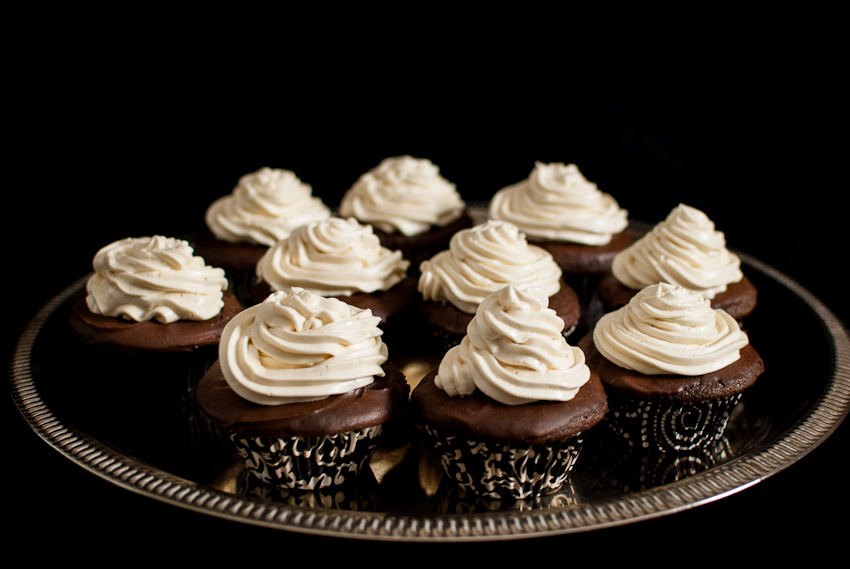 Ingredients
1 C stout Guinness beer
2 sticks (16 tbsp) unsalted beer
1/2 C unsweetened cocoa
2 oz dark chocolate
2 1/2 C all purpose flour
2 Tbsp cornflour
2 C sugar
2 tsp baking soda
3/4 tsp salt
2 eggs
1 C sour cream
Instructions
Preheat oven to 350 degrees, line a muffin cup with paper liners.
Melt butter in a small saucepan over medium heat, reduce heat to low. Add the beer, 2 oz of chocolate, and cocoa powder. Whisk until smooth. Remove heat and set aside.
In a large mixing bowl, combine flour, cornflour, sugar, baking soda and salt, whisk until combined.
With an electric mixer, beat together eggs and sour cream until smooth.
Slowly add the stout-butter mixture, and mix until combined.
Mix in the dry ingredients on low speed until combined.
Pour batter evenly into cupcake liners.
Bake until toothpick inserted in the middle comes out clean, about 17 minutes.
https://www.thymeoftaste.com/2013/03/24/irish-car-bomb-cupcakes/
Whiskey Chocolate Ganache
Ingredients
4 oz dark chocolate, chopped
1/2 C heavy whipping cream
1 Tbsp unsalted butter
3 Tbsp Whiskey
Instructions
Put the chocolate and butter in a bowl.
Bring the cream just to a boil, pour over the chocolate and butter. Do not stir yet.
Let sit for 10 minutes, then whisk until smooth, add the Whiskey and whisk until combined.
If ganache is not thick enough, refrigerate for 5-10 minutes t thicken.
You want it thick enough so it does not run off down the sides of your cupcake.
https://www.thymeoftaste.com/2013/03/24/irish-car-bomb-cupcakes/
Bailey's Buttercream Frosting
Ingredients
4 egg whites
3/4 C sugar
1/2 C powdered sugar
4 sticks unsalted butter at room temperature
1/2 C Bailey's liquor
Instructions
In a medium heat proof bowl, whisk eggs with a pinch of salt. Add 3/4 cup of white granulate sugar and mix until combined with an electric mixer.
Place the bowl over simmering water, Continue to mix until the sugar has melted into the egg whites, about 5-10 minutes. When you rub your fingers together with the mixture, it should not feel gritty.
Once it is smooth, remove from heat and mix in for another 7-10 minutes until it has tripled in volume.
It should resemble marshmallow fluff and have stiff peaks.
Slowly add the butter and mix until is has all come together. Mixture may resemble curdled butter at first, but no worries, it will all come together, keep mixing.
Once mixture is smooth and all combined, add powdered sugar then add Bailey's.
Mix until consistency is spreadable but thick.
https://www.thymeoftaste.com/2013/03/24/irish-car-bomb-cupcakes/
To assemble cupcakes once cooled completely, dip tops of cupcakes in ganache and swirl as you lift up. Let dry for 5 minutes, then pipe on icing.
Makes about 25 cupcakes, enough ganache and buttercream to frost all.