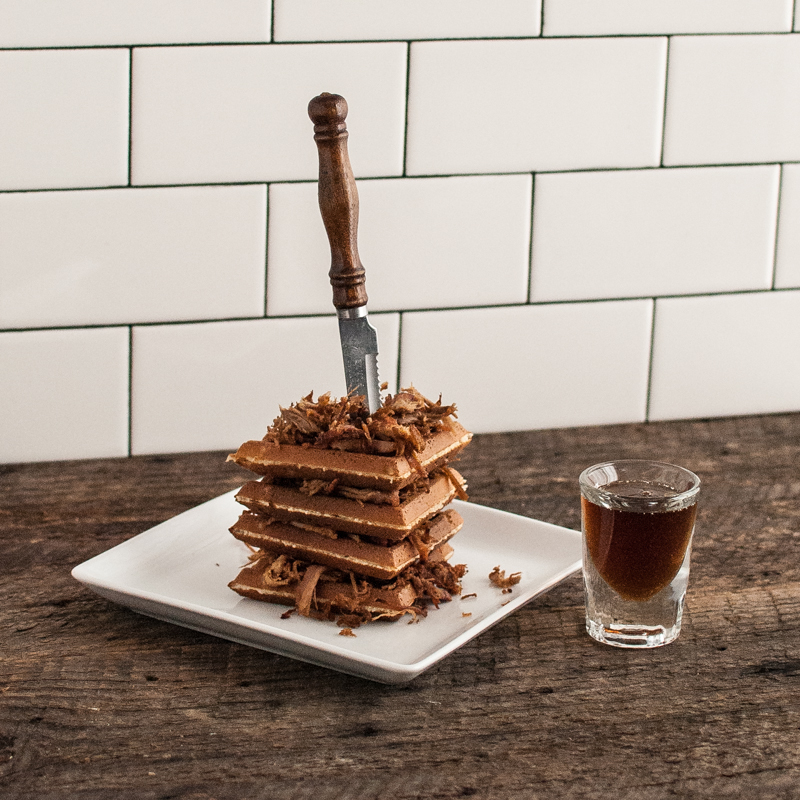 If it is any constellation, breakfast is my favorite part of my weekend, so why not make a Pulled Pork Waffle Stack with Bourbon Maple Syrup. I am not sure why but my weekend is not complete with out having some sort of luxury mixed in with it. After working super hard all week, I think we probably deserve it. Most of the time instead of luxury it just comes down to what we have in the fridge. At our place we do not go grocery shopping until Sunday afternoons for the next week. So come Saturday or Sunday it's often some version of a chef competition to see who can come up with the most delicious breakfast with just a can opener and a zip-tie. Really our weekend brunch is left to left overs and what we have in the garden. This weekend I decided to make some smoked and slow roasted pulled pork, so we were especially spoiled.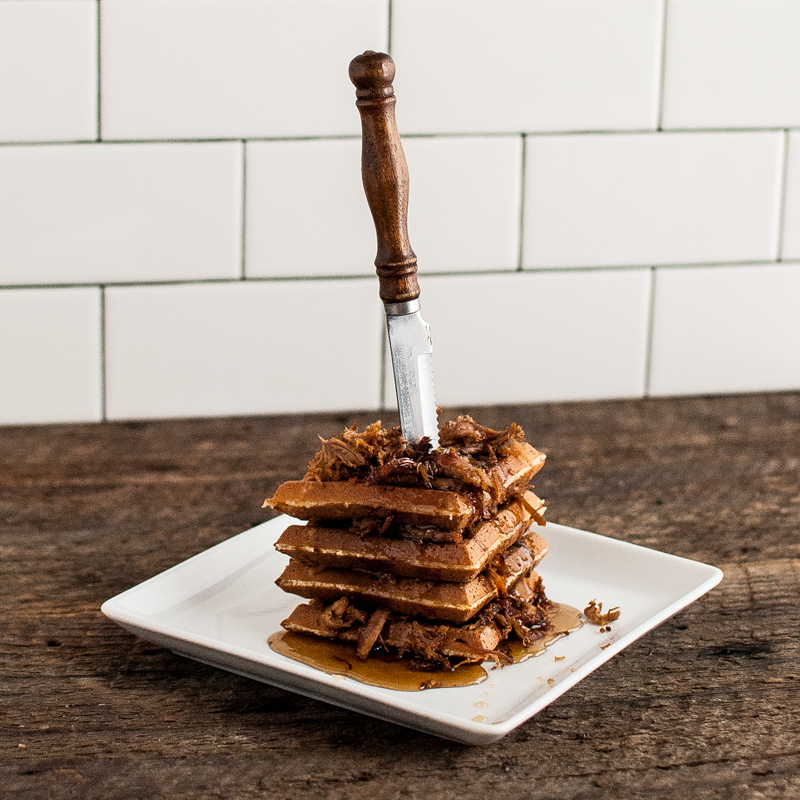 As the weather cools and the leaves change colors, we start to think about the comforting flavors of fall. Harvest is a time for slow food and face time around the table. I always feel that nothing brings people together more than good food and drink. Smoked crispy pork on top of a waffle stack with bourbon maple syrup, now I think it's time to sit down at the table and have some.
Pulled Pork Waffle Stack with Bourbon Maple Syrup
Ingredients
10 oz prepared pulled pork smoked or otherwise
4 Waffles
1/2 cup Bourbon
1 cup sugar
1/2 cup water
1/2 tsp Crescent Mapleine flavor
Instructions
add sugar and water to a sauce pan over medium high heat bring to a boil until clear do not stir.
add bourbon and Mapleine flavor stir
Reduce for 10 min on simmer
Assemble waffles, layer pulled pork between layers and pour syrup over top
Chow down!
Yields 4 servings.
https://www.thymeoftaste.com/2013/10/03/pulled-pork-waffle-stack-bourbon-maple-syrup/