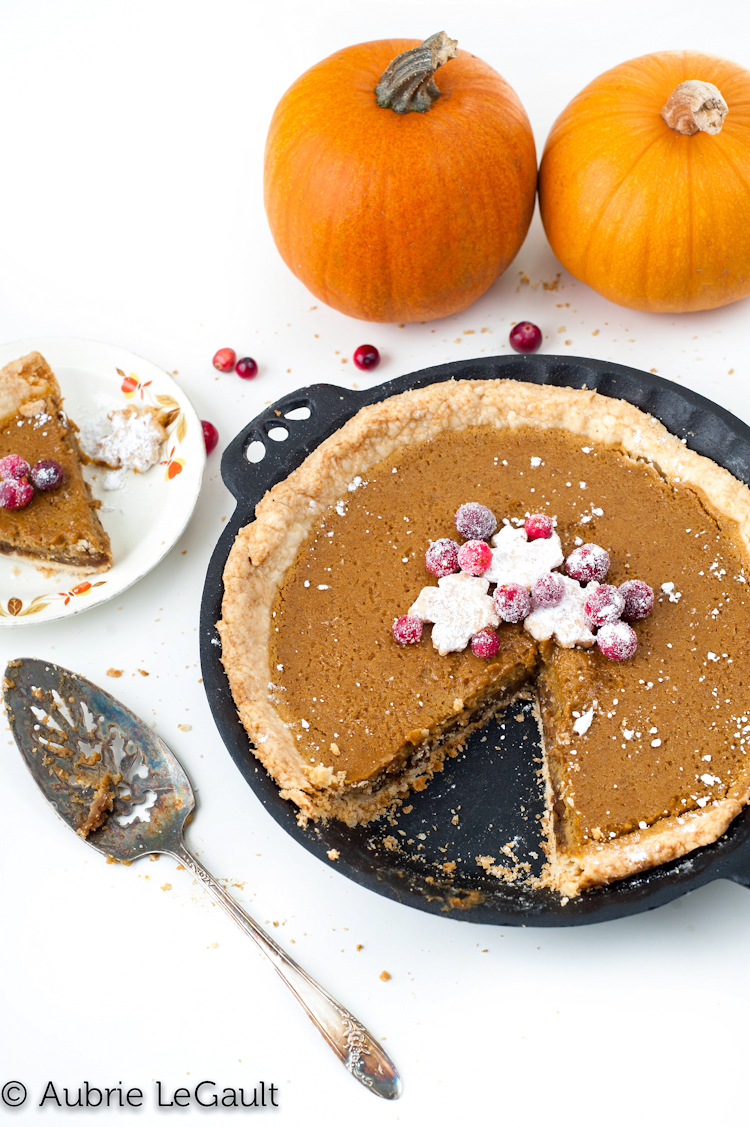 Pumpkin Pie…like the classic… but on another level!
I'm not going to go on about my love for pumpkin this time of year, nope not this time. If you have been following us for a awhile, then you know from my last 10 posts or so how much I absolutely love this bright orange squash! In our quest last Spring to have the biggest possible garden we could grow in our backyard of our rental, I had to have pie pumpkins. It was a MUST. We planted the seeds and they grew. I was a happy little camper! My first time using pie pumpkins and making my own pumpkin puree was a few years ago. Andrew brought me some from a local grocery store, and the rest was history! So, ya it is his fault :)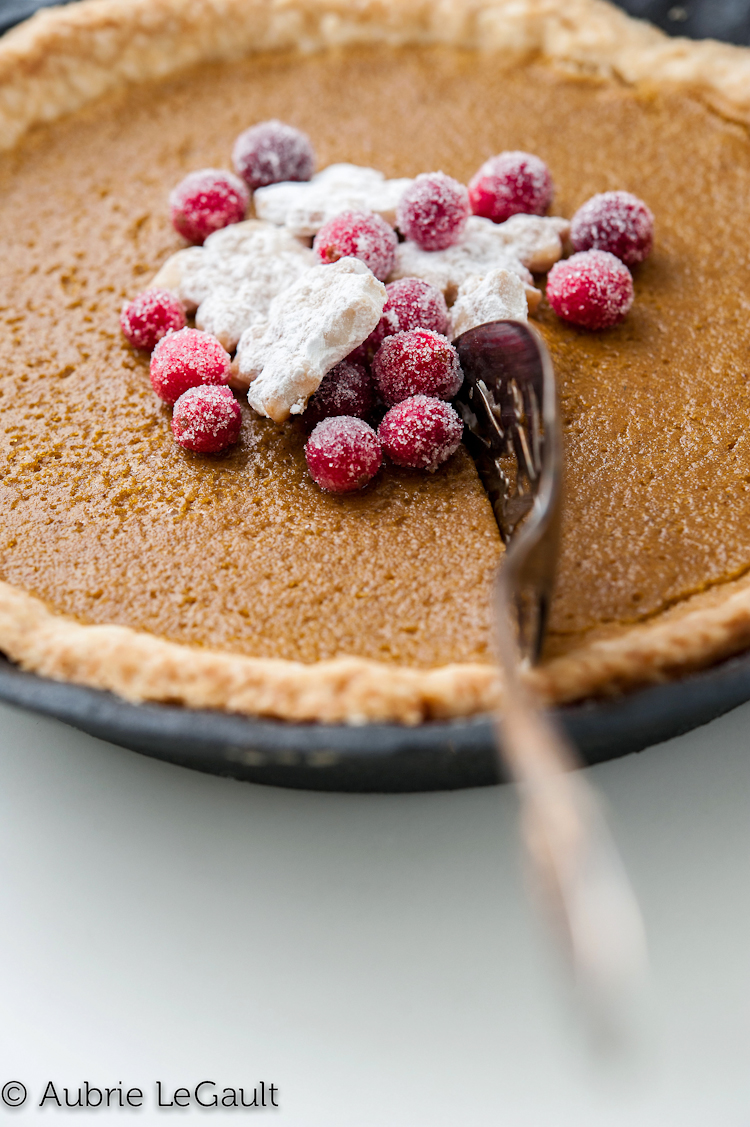 Have I mentioned Aubrie? Oh…you must look her up, stalk her on all social media sites, and hire her for a photography session! She is amazing! This past summer we joined the Portland Bloggers Group, and this is how we met Aubrie LeGault. She has done work in magazines including 1859 and The Gorge. So I pulled up my big girl pants, and asked if she does food photography workshops…(I think her photos are that great!) She doesn't however, but invited us over to her studio so we could see her do a shoot and ask questions….with one requirement….that I bring the food!
I was thrilled…so the planning began. It is Fall after all, and the Fall this year was amazing, I knew I wanted to bake something up with pumpkin. My first thought was, oh snap, I have to transport this food after I bake/cook it! Yikes! Panic hit me, but only for a second or two. Of course I've done potlucks, taken food to the fam's house for dinner, and leftovers to work, but that was a little different. If it didn't survive the journey in the car, then no big deal. But this…oh this HAD to survive the journey to Aubrie's studio, she was photographing it, duh!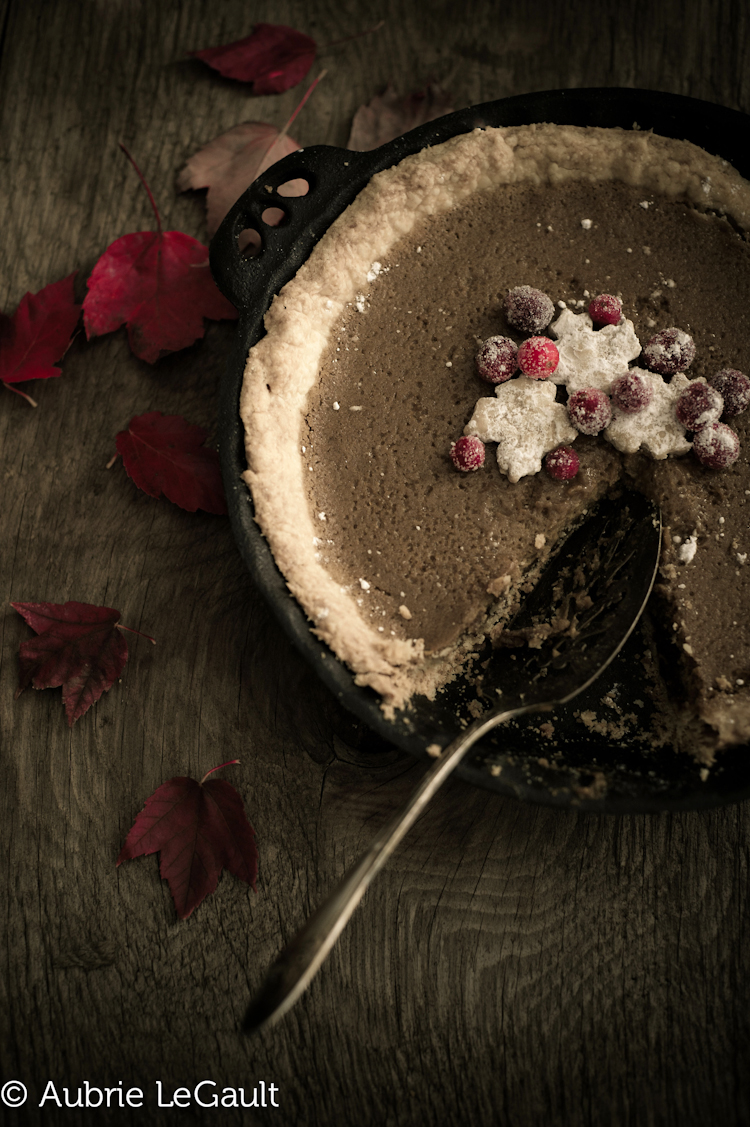 Back to the pumpkin, if you have made your own pumpkin puree, then you know how tasty and creamy it is compared to the canned stuff at the store. Nothing beats fresh vegetables I tell ya! It's easier than you think. First you must use a pie pumpkin, don't try this with the big ones you use at Halloween for carving. It won't taste good at all, just don't go there! Slice your pie pumpkin into four sections, dig out the seeds and roast for about an hour. Then dig out the flesh and puree, that easy! It keeps in the fridge for about 1 week too.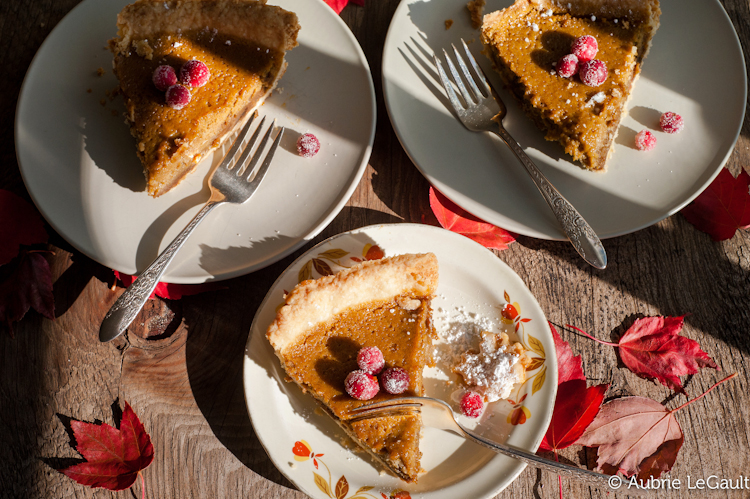 This pie, baked in a golden flaky crust lined with ginger snaps, it's not your "classic pumpkin pie" …It's ten times better! The ginger snap layer adds another flavor profile to the pie. A zesty, gingery flavor with the creamy pumpkin and all the spices, it's the best pumpkin pie around! And to make it a little extra pretty, cut out leaf shapes from your pie scraps and bake them on a sheet for 15 minutes. Then dust with powdered sugar and place on top of your pie, and voila, a nice pie for the holiday table. We also added some sugared cranberries to the top of the pie. We had some extra from a cocktail we were making (post coming soon) and the bright pop of red really added to the photos here.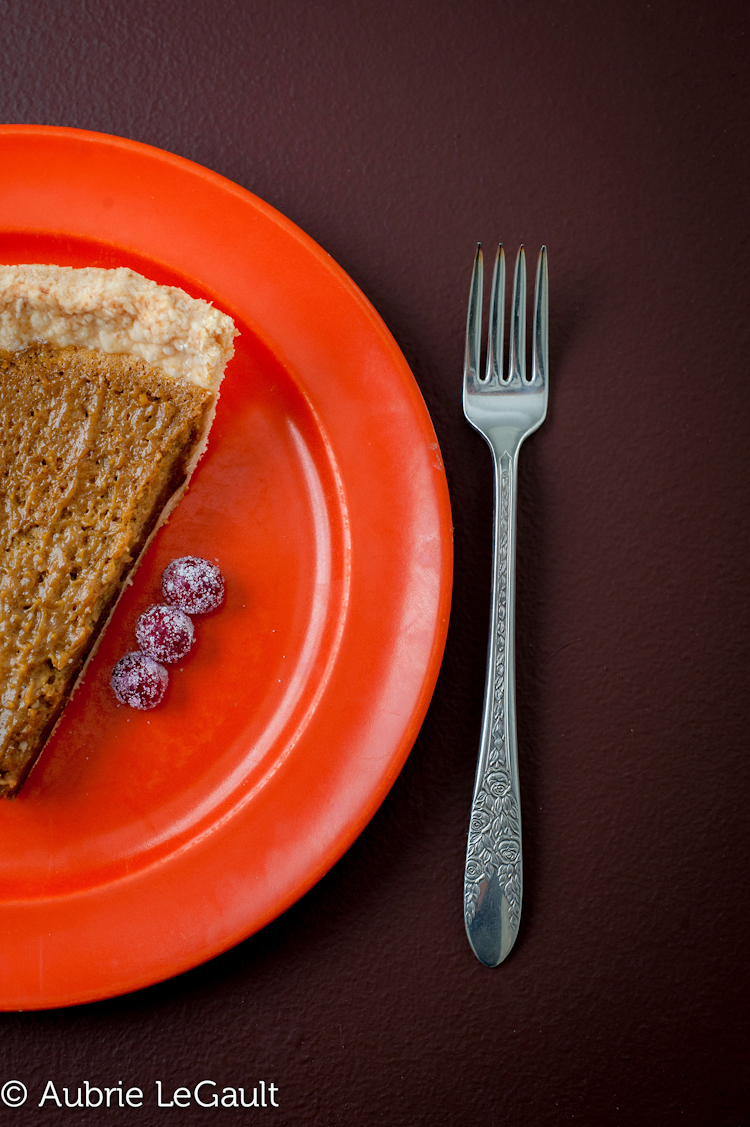 Working with Aubrie was a very cool experience, we did learn a lot about lighting, pre-planning, and what settings she usually shoots on. Want to know more? Head over to her blog and check out her post on photography tips, and when your done, bake this pie! Oh and the cocktail in her post, well that will be up over here this weekend, so be sure to check back for a great Fall cocktail with Apple Spiced infused Bourbon!
Cheers~
Pumpkin Pie with Ginger Snaps
Ingredients
For the crust:
1 1/3 C cake flour
1/3 C all purpose flour
1 Tbsp sugar
11/2 tsp kosher salt
1/2 C (1 stick) unsalted butter, cut into 1/2 inch cubes
2 Tbsp vegetable shortening
1/4 C ice cold water
1 tsp distilled white vinegar
For the Pie
1 pie pumpkin, about 2 lbs, roasted and pureed
3 oz crisp ginger snaps, about 13 cookies
2 Tbsp unsalted melted butter
3/4 C whole milk
1/2 C heavy cream
1 vanilla bean, split lengthwise
3 egg yolks
1 tsp ground ginger
3/4 tsp cinnamon
1/4 tsp freshly grated nutmeg
1/8 tsp ground cloves
1/2 tsp kosher salt
1 C packed brown sugar
3 eggs
1 Tbsp vanilla extract
optional for garnish, sugared pastry leaves, sugared cranberries
Instructions
Make the crust:
In a food processor, add the flour, sugar and salt, pulse a few times. Add the cold butter and shortening.Pulse a few more times until mixture is the size of peas.
Add the ice cold water and vinegar.
Pulse 10-12 more times, until dough starts to form a ball.
Remove dough and pat into a disc, wrap in saran wrap and chill for 1 hour.
When ready, roll dough on a floured surface to fit your pie dish.
Blind bake at 350 degrees for 50 minutes.
Note: to blind bake, place pie weights or dried beans on your crust, this will prevent the crust from puffing up. If using dried beans, place parchment paper between the beans and pie crust.
Once pumpkin is cooked and pureed, follow the rest of the instructions-
Preheat oven to 300 degrees.
Place gingersnap cookies and butter in a food processor and pulse until pea sized crumbs.
Press into blind baked pie shell and press with your fingers.
Combine milk and cream in a heavy saucepan
Scrape the seeds from the vanilla bean into a large bowl and add dd the egg yolks, spices, salt and 1/2 C of the brown sugar and set aside.
Place the scrapped out vanilla pod in the pan with milk and cream.
Cook over medium heat and scald the milk, just before boiling.
Remove from heat and allow to steep for 10 minutes.
Whisk yolk-sugar mixture until well combined. Remove the pod from the milk mixture and bring pot back to a scald.
Slowly add 1 ladle of the milk to the yolk mixture to temper the mixture without creating scrambled eggs. Do not over mix.
Then add the warmed yolk mixture to the pot of milk mixture, and cook until thickened.
Remove from heat and strain though a fine mesh sieve.
Pour the creme mixture into a blender with the pumpkin puree and add the remaining brown sugar, eggs and vanilla extract. Blend on high speed for 1 full minute.
Let pumpkin custard rest in blender for 15 minutes, then scoop the air bubbles off the top
Pour the pumpkin custard filling into the pie crust and bake for 1 hour, just until pie is set. It should jiggle just a little when moved.
Let cool for 2 hours before serving. Top with pastry leaves and sugared cranberries if you like.
Serves 8-10
https://www.thymeoftaste.com/2013/11/08/pumpkin-pie-ginger-snaps/