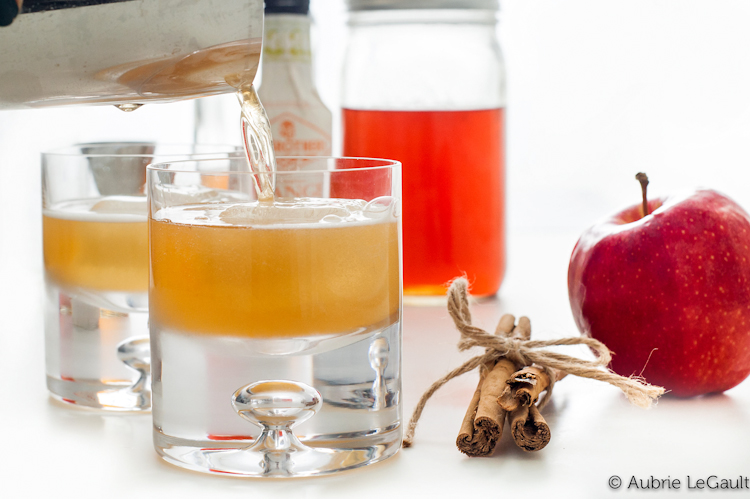 Bourbon and Spices oh my!
Winter reminds me of warm cocktails and mulling spices. Maybe it's because the holidays are in the winter months and all the holiday parties too. Or perhaps it's the cold gray months with shorter day light in the days, and if we're lucky maybe some snow on the valley floor. For me, winter is when I like to mix up my preferred drink with something warm and inviting. A cocktail you can sip and enjoy that has that big wow factor. This cocktail will satisfy and warm the soul through the cold winter months…..
Warm infused spiced Bourbon with mulling spices and apples. A cocktail that reminds us of an apple pie, or a hot apple cider kicked up a notch! Mixed with a buttery Chardonnay to lend that "buttery pie crust" taste and topped off with a dash of orange bitters, this cocktail will leave you the star of the party! Simple and easy to make with most ingredients found at your grocery store, the spiced Bourbon is ready to use in 24 hours.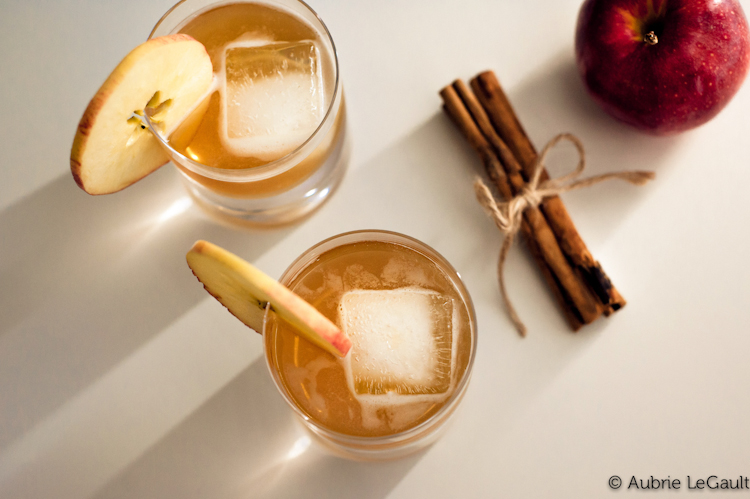 I was lucky to work with Aubrie LeGault at her studio to learn some more photography tips, and I made her this cocktail. I'm pretty sure she loved it, since her husband only got a small taste and the rest was in her hands the whole time! We also loved this cocktail, totally reminds me of the slower days that winter brings, and the comforts of home cooked holiday meals and time spent with friends at parties. You can serve this on the rocks cold or warmed up for those really cold winter days.
I recommend mixing up a double batch, by the time your friends taste this cocktail, they will be back with empty glass in hand asking for another round :)
Cheers~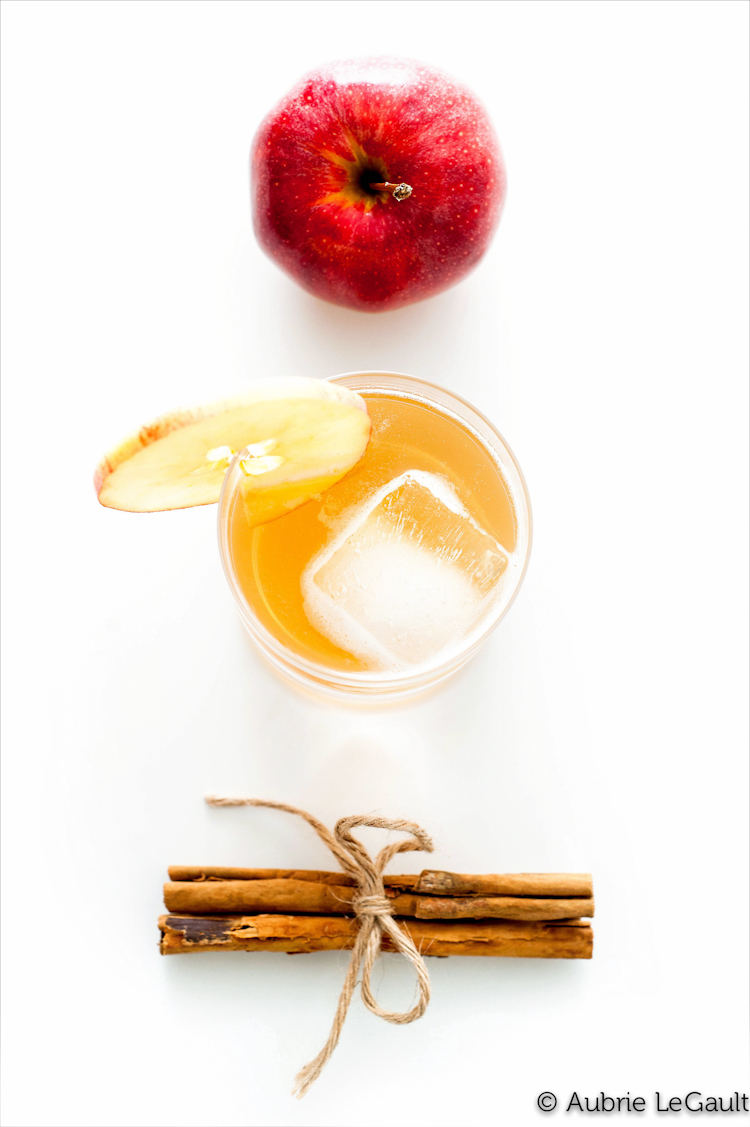 Ingredients
1 1/4 oz spiced apple bourbon (recipe below)
3/4 oz chardonnay
1/2 oz unfiltered apple juice
1/2 oz cinnamon syrup (recipe below)
3 dashes orange bitters
apple slice for garnish
Instructions
Combine all ingredients in a shaker with ice and shake until chilled.
Strain into a rocks glass with 1 large ice cube.
Garnish with the apple slice
Makes 1 cocktail
https://www.thymeoftaste.com/2013/11/10/spiced-apple/
Ingredients
1 liter bourbon, I like to use Bulleit Rye
4 gala apples
2 whole star anise
4 whole cloves
6 cinnamon sticks
Instructions
Core and cut each apple into 8 pieces.
Combine all ingredients in sealable container, cover, and let rest at room temperature for 24 hours.
Strain bourbon and store in a sealed jar.
https://www.thymeoftaste.com/2013/11/10/spiced-apple/
Ingredients
1 C sugar
1 C water
4 cinnamon sticks, broken into large pieces.
Instructions
Bring ingredients to a boil in a large pot over medium heat.
Reduce heat to medium-low and simmer for 8-10 minutes until sugar dissolves stirring frequently. Remove from heat and let cool.
Discard cinnamon sticks and strain syrup into a container. I like to use the glass flip top bottles, they are easy to pour from.
Store in the refrigerator for up to 2 weeks.
https://www.thymeoftaste.com/2013/11/10/spiced-apple/