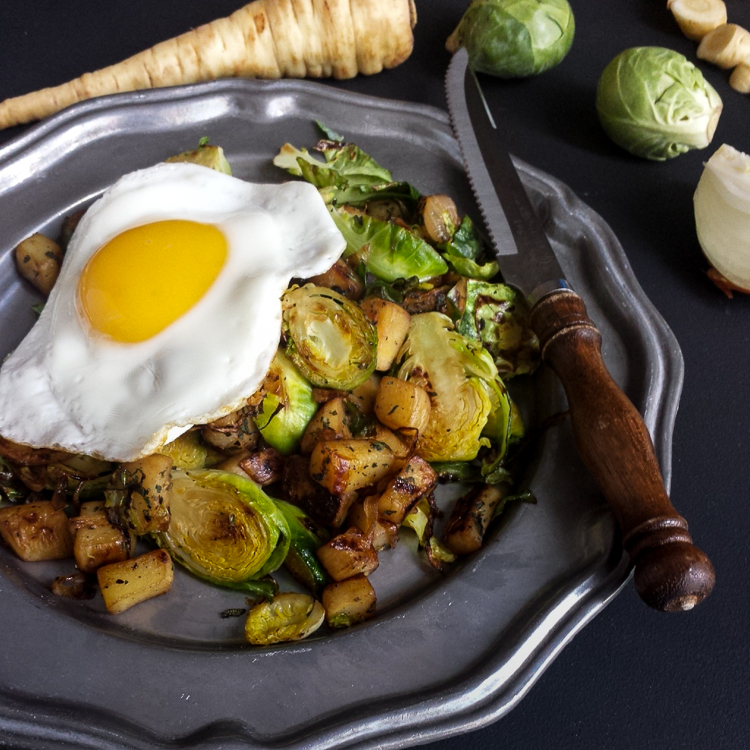 Well here we are hashin it up again with Brussel Sprout and Parsnip Hash. I just have to say how serendipitous we stumble into wonderful things. During the "Great Snowocalypse of 2014" we hacked this wonderful brunch plate together based on what we could forage from the barren store. Once the snow started falling, the cars and truck stopped moving. It's amazing how unprepared people may be for the snow even though it does snow here from time to time. Shovels, salt, traction chains, and not to mention produce fly off the shelves. As the snow began to fall, I made my way home to avoid the dense traffic to hold up in our house for what turned into a welcomed 4 day weekend. Friday we slept in and having some free time to cook, me made our way to the store. When we arrived we were shocked with disbelief as to what we saw. Essentially the produce was ravaged other than some sweet potatoes, parsnips and a few brussel sprouts and one of the last carton of eggs, we grabbed what we could and headed home.
All in all we got a whopping 9″ of snow in our back yard and watched the first two season of Dexter. Luckily we did not have any power or internet issues. It is really funny how a little snow can totally disable the entire metro area. Apparently not even the grocery store could take delivery even thought the distribution center is only 30 miles away. It really brings home the reality of how quickly stores sell out of items if they are not being restocked regularly through out the day. It was almost comical how everyone was reacting as they walked into the store talking to their significant other on the cell "OMG honey you won't believe it, they are totally out of potatoes!!"
We all have to make compromises sometimes and maybe during the next Wintergeddon you may not be able to find potatoes on your shelves. I really hope you enjoy one of our latest creations and stay warm my friends.
Ciao,
Andrew
Brussels Sprouts and Parsnip Hash
Ingredients
1 pounds of parsinips
1/2 pound of brussel sprout
1/2 medium onion
1 Sprig Sage
1-2 sprigs Rosemary
2-3 sprigs Thyme
Salt and pepper to taste
1 TSP olive oil
Instructions
Chop parsnips in to 3/4" pieces and slice onions into 1/4" pieces.
Add olive oil to a nonstick pan over medium heat cover pan.
Stir occasionally until you can pierce parsnips easily with a fork.
Slice brussel sprouts into 1/4" pieces and mince herbs and to pan.
Continue to stir occasionally and season to taste.
Once brussel spouts are tender remove from heat and serve.
https://www.thymeoftaste.com/2014/02/27/brussels-sprouts-parsnip-hash/