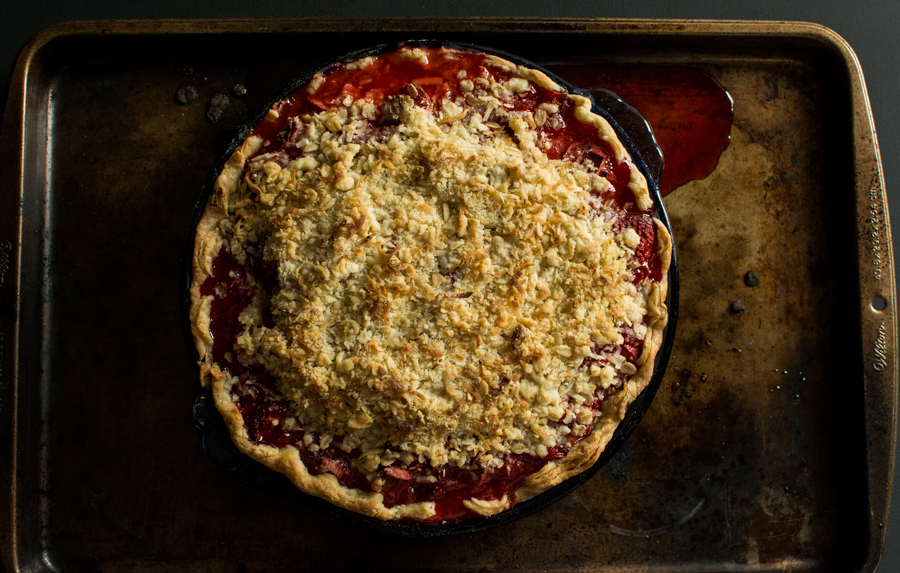 Bright Red Oregon Strawberries + Rhubarb= Awesome Pie!
As a true Oregonian girl, I know when strawberry season is here! We have THE BEST, bright red juicy strawberries, on this planet! I'm not exaggerating either. Late May to mid June, our strawberry fields come to life and so do all the farmer's markets with loads of red strawberries. Big and juicy, with bold red centers, you do not want to miss any of these in our early summer months.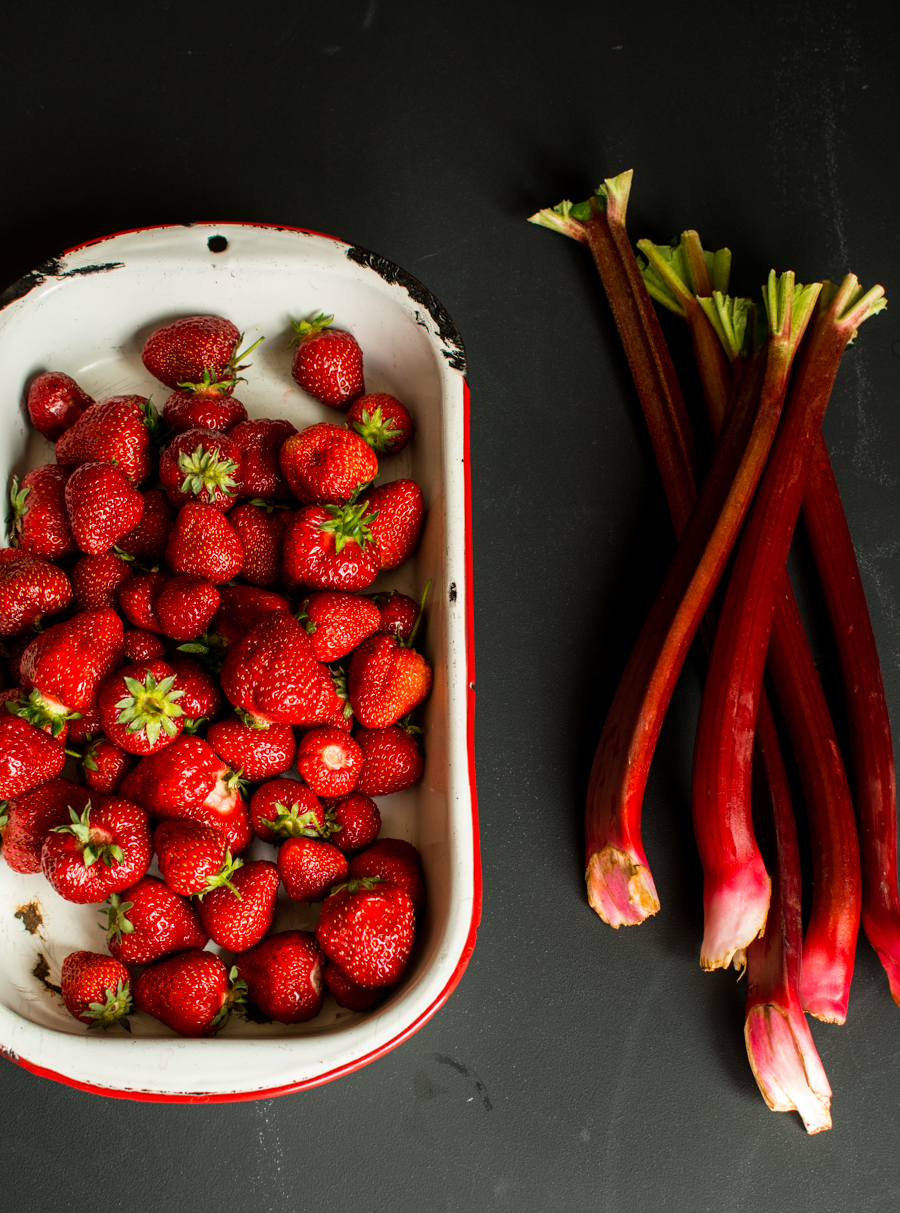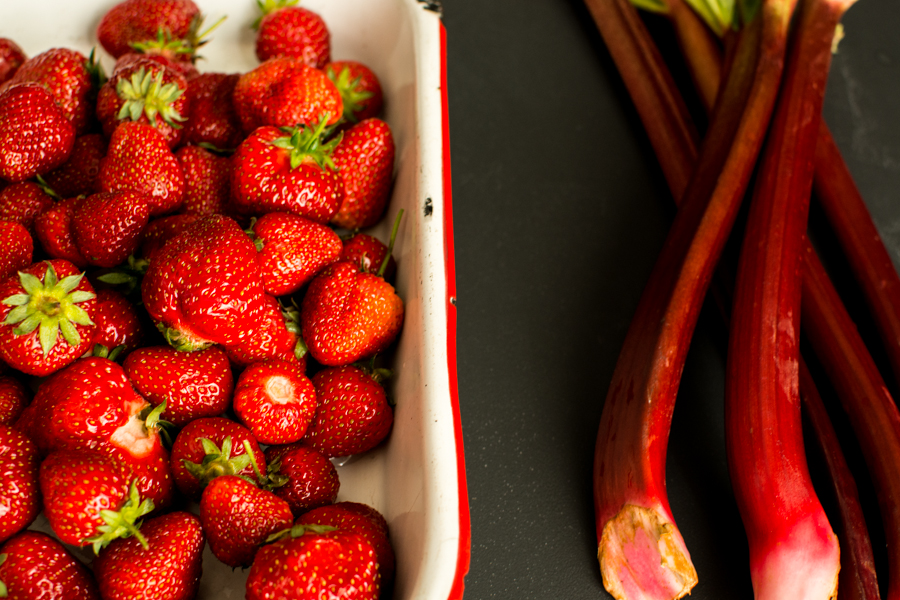 The whole Spring season teases us of these big red California strawberries in the grocery store, but only to disappoint. They lack flavor, juiciness and have the white centers. Sorry California, your berries don't come close to ours! Oregon really does have the best of many things, and strawberries are on the top of that list!
So…what to do with these bright red beauties besides eat them by the handfuls? Well, many things of course, salads, smoothies, cobblers, jam, ice-cream, and even this pie! We always make a strawberry rhubarb cobbler come this time of year, (yes a post that needs to come sooner than later). Ok, we make a cobbler probably 10 times before strawberry season is over!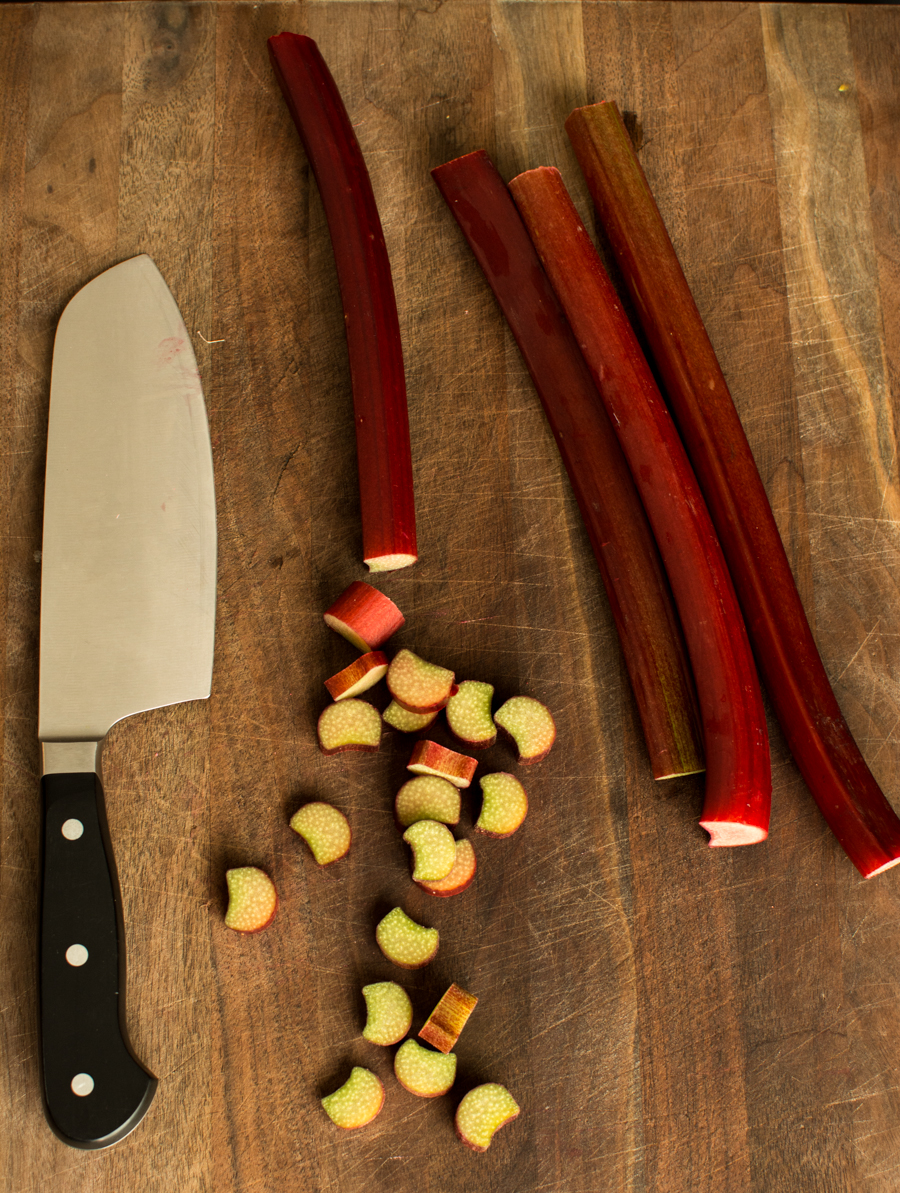 I have made many pies in my lifetime, but never a strawberry rhubarb pie. Until I saw Joy The Baker's pie.…I knew our strawberries would be perfect in this pie! And I really want pie instead of another cobbler! This pie is the best of both worlds…it's got the pie crust of a pie, and the topping of a cobbler. Perfect in my opinion!
The tartness of the rhubarb pairs well with the sweetness of the strawberries, not a lot of sugar is in this pie yielding a sweet/tart result. The added bonus of the crunchy topping with coconut is just perfect.
The crust….lets talk about pie crust. I'm a stickler for my crust….but I stepped out of my comfort zone and tried Joy the Baker's. I like it! The difference, she uses buttermilk, and I use ice water and lemon. Both use ice cold butter, and both are very good for many reasons. Make sure you use very chilled butter and don't be afraid to get your hands dirty! This is baking afterall :)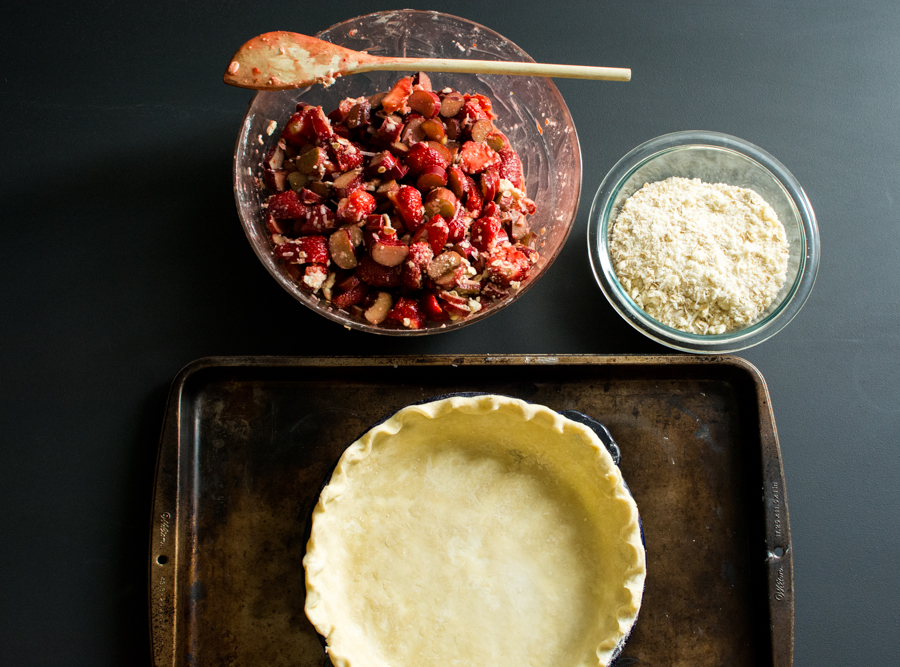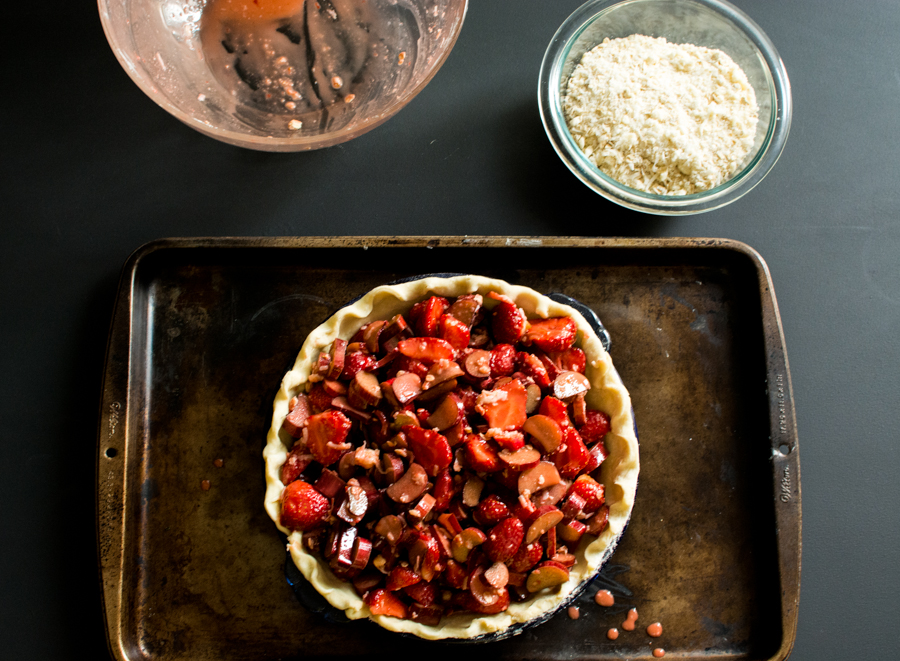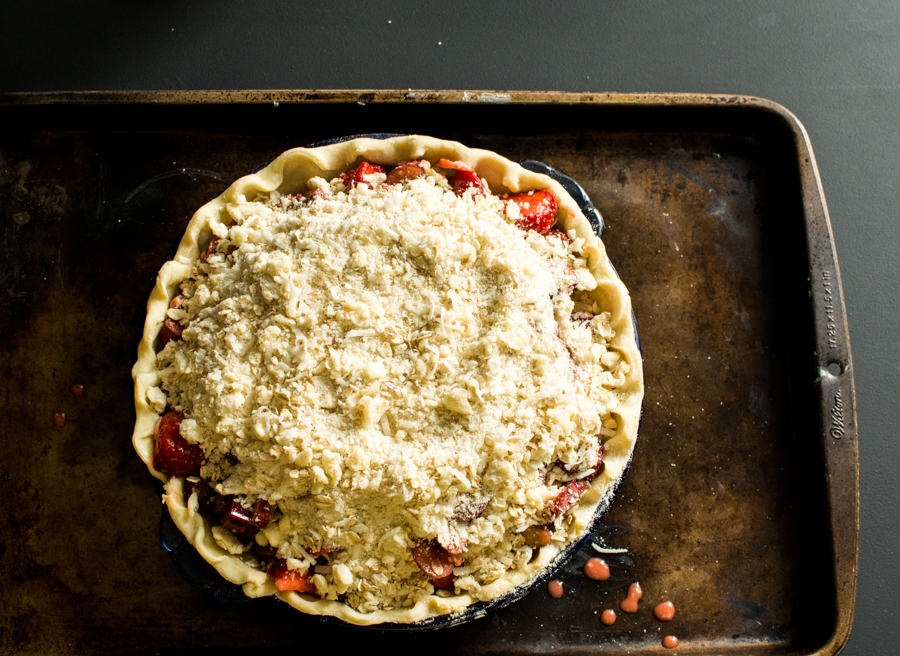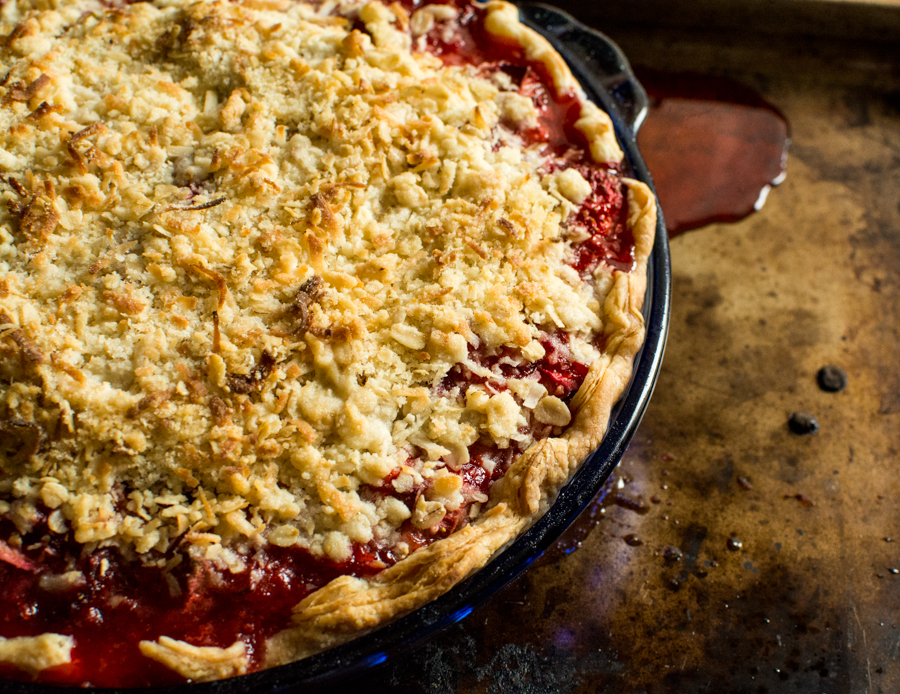 So, don't let your summer strawberry season pass by without baking this wonderful tasty pie. Invite some friends over, pour some wine, and slice some pie… I know that's exactly what Joy The Baker would do :)
Recipe adapted from Joy The Baker:
Ingredients
For the crust:
1 1/4 C all purpose flour
1 Tbsp of sugar
1/2 tsp salt
1/2 C cold, unsalted butter, cut into cubes
1/4 C + 1-2 Tbsp cold buttermilk
For the filling:
3 C of diced rhubarb
1 pound of fresh strawberries, hulled and cut in half
1/3 C brown sugar
1/2 C granulated sugar
1/4 C cornstarch
pinch of salt
2 Tbsp of fresh lemon juice
For the topping:
3/4 C all purpose flour
3/4 C rolled oats
2/3 C granulated sugar
large pinch of salt
6 Tbsp unsalted, cold butter, cut into cubes
1/2 C sweetened coconut
Instructions
Make the crust:
In a medium bowl, whisk together flour, sugar and salt. Cut butter into flour mixture with a pastry blender or your hands. Mixture should be crumbly and the size of peas.
Make a well in the center and add the buttermilk. Using a fork to work it into the mixture.
Pour out onto a floured surface and kneed dough into a disk.
Wrap with plastic wrap and refrigerate 1 hour.
Roll out onto a floured surface to 12 inches.
Place dough into a 9 inch pie pan, trim edges and crimp. Cover with plastic wrap and refrigerate another 30 minutes.
Make filling:
In a large bowl, toss the strawberries and rhubarb with the sugar, cornstarch and salt. Drizzle the lemon juice over and gently fold. Let sit to room temperature. The cornstarch will dissolve allowing the fruit to juice.
Make the topping:
Mix all ingredients except butter into a medium bowl, cut butter into mixture until it resmebles small crumbs.
Preheat oven to 400 degrees.
Place pie dish on a cookie sheet and fill with fruit. Pour topping on top of pie.
Bake on the middle rack, so you don't burn the coconut, for 20 minutes.
Then reduce the temperature to 350 and bake another 45 minutes.
Allow to cool at room temperature before slicing.
Serve with ice cream and store the leftovers in the refrigerator
Yields about 8 slices
https://www.thymeoftaste.com/2014/05/27/strawberry-rhubarb-pie/