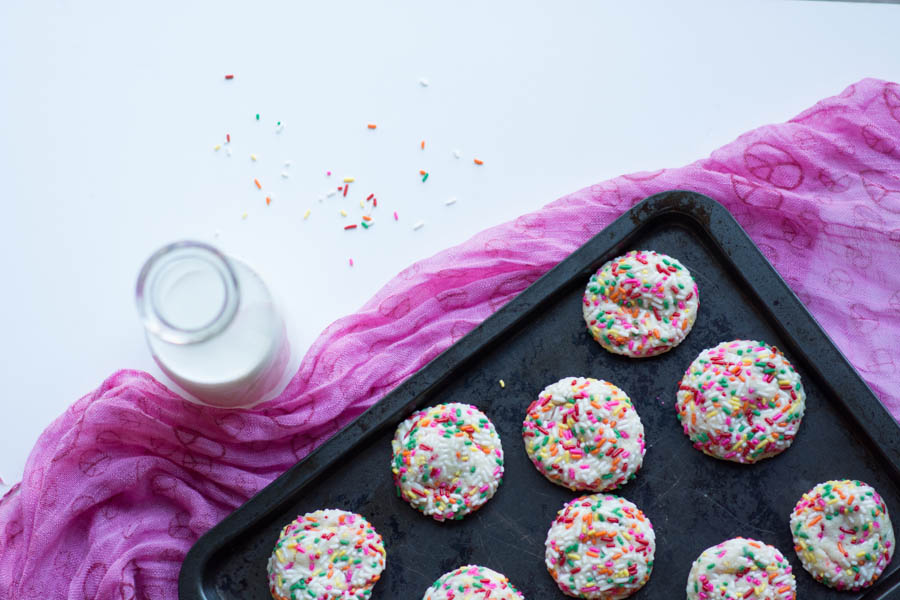 Sprinkles + Sugar
I was reminded of what it was like to be a kid again. I was at the store and saw an aisle full of shiny pin wheels, sidewalk chalk, hula hoops and bubbles! Summer is coming and so are those lazy days of lying in the grass and making shapes out of the clouds, chasing the ice cream truck down the street, and drawing on sidewalks with chalk. Oh to be a kid again! Well, while we might not be able to go back in time, we can "feel" like a kid again with these funfetti sugar cookies!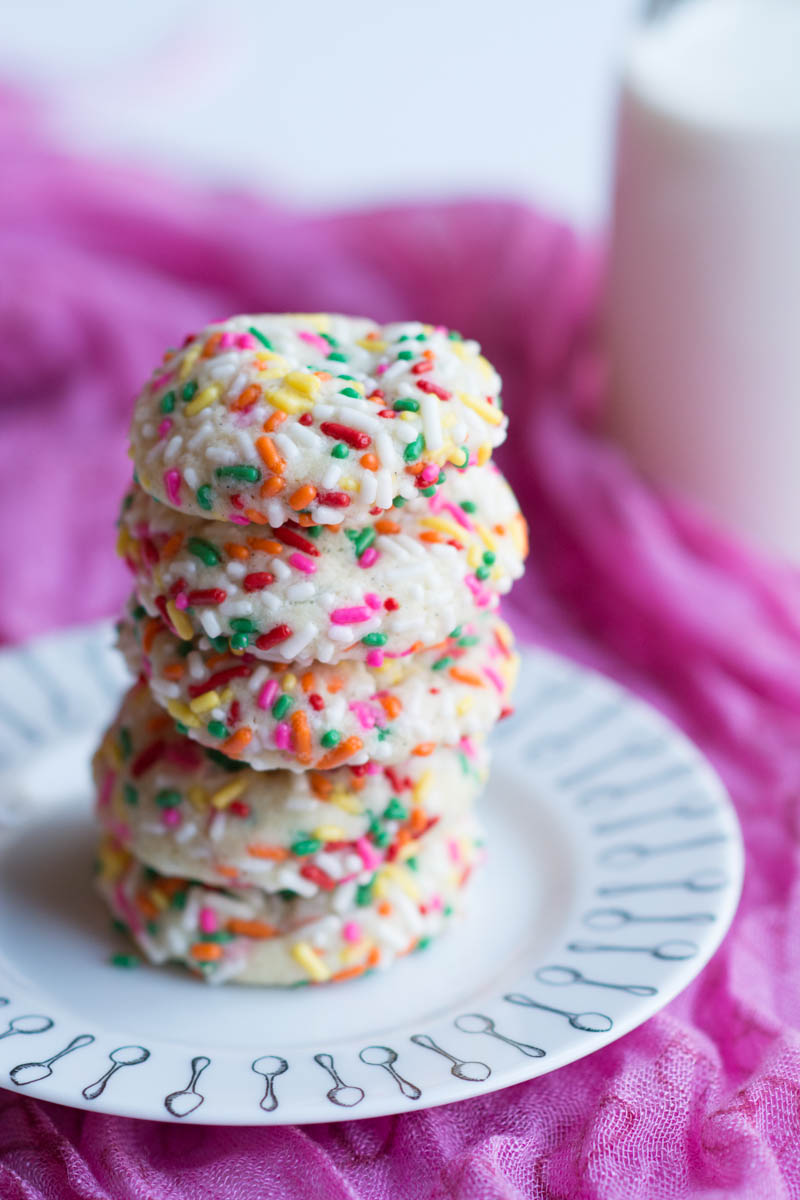 Over Christmas, I received Joy the Baker's latest cook book. We love books in this house and Homemade Decadence had to be added to our collection. Flipping thru her book, these cookies caught my eye and I knew that I had to bake these first. Sprinkles, funfetti, jimmies… whatever you like to call them, they are bright and fun! They bring smiles to a dreary grey winter day and make us feel like a kid again!
I might also mention, you get to roll cookie dough into a bowl full of sprinkles! How fun and kid-like is that? This is the one time when it is ok to "play" with your food! I also used more sprinkles than the recipe called for….ok maybe I got a little excited over all these colorful sprinkles!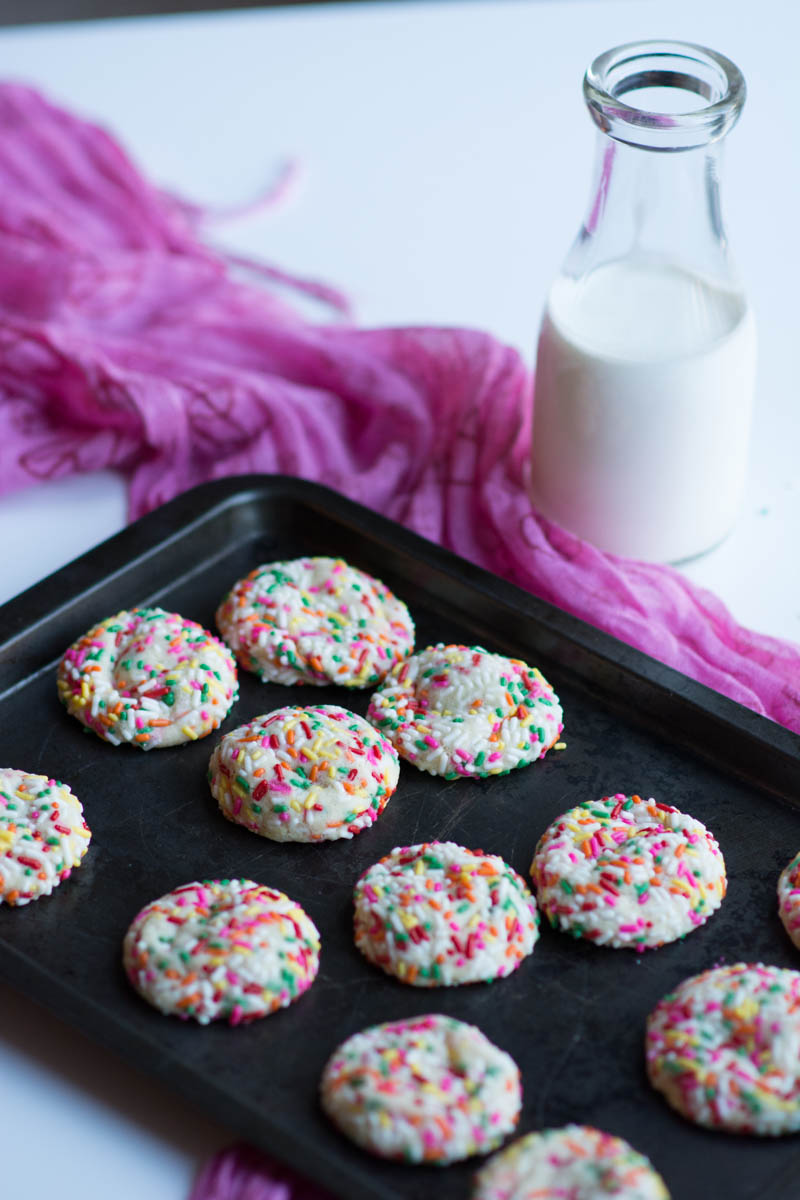 Sugary cookies laced with colorful sprinkles are exactly what you need in your life right now!
Funfetti Sugar Cookies, adapted from Joy the Baker
Ingredients
1 1/2 C all purpose flour
1 tsp baking powder
1 tsp cream of tartar
1/2 tsp baking soda
1/2 tsp salt
1/2 C unsalted butter, at room temperature
3/4 C sugar
1 vanilla bean
1 egg
1 tsp vanilla extract
1/2 C sprinkles
Instructions
In a medium bowl, whisk together flour baking powder, cream of tartar, baking soda and salt.
In a large bowl of an electric mixer or hand held mixer, beat the butter and sugar on medium speed until light and fluffy.
Split the vanilla bean and scrape out the seeds. Add to the butter mixture. Add the egg and vanilla extract, and beat until combined.
Reduce mixer to low and slowly add the flour mixture. The dough will be thick. Fold in 1/4 cup of the sprinkles.
Put remaining sprinkles in a small bowl. Scoop out 2 tablespoons of dough and roll into a ball. Roll into sprinkles, coating all sides. Place on a cookie sheet. Repeat with remaining dough and sprinkles. Chill for at least 2 hours.
When ready to bake, heat oven to 350 degrees. Bake cookies for 8-10 minutes. Let cool on sheet for 5 minutes before removing to racks to finish cooling. Cookies will be soft, but will firm up when cooling.
Makes about 15-18 cookies.
https://www.thymeoftaste.com/2015/03/16/funfetti-sugar-cookies/