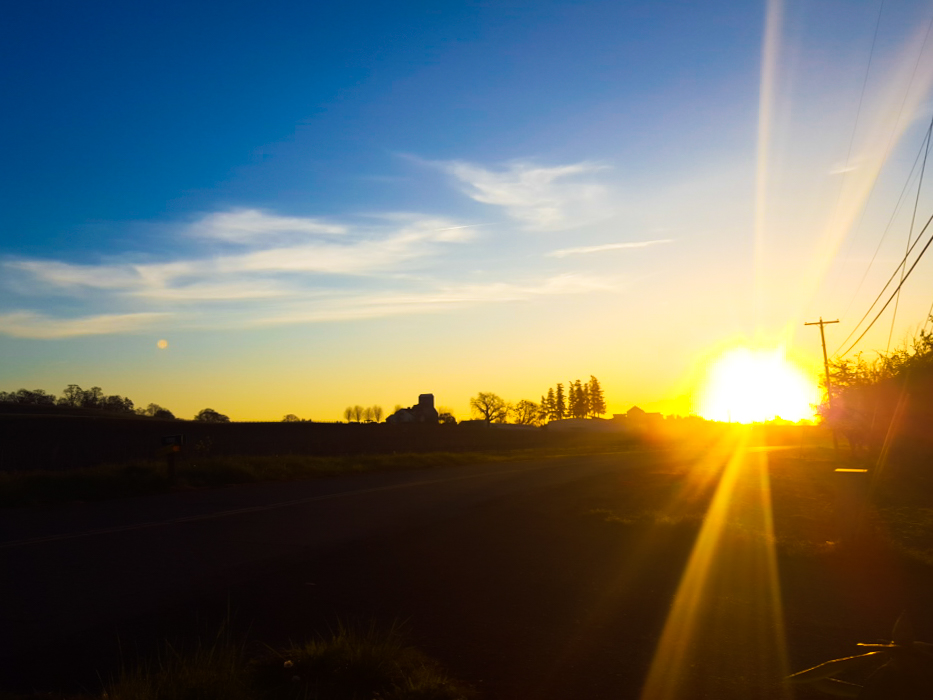 A little over a year ago, Andrew and I finally found a house on a few acres! Something we have been wanting to buy for awhile! Our "must haves" were a short list, but hard to find. We wanted a good home on less than 5 acres in Oregon's wine country, but not to far from the city, and at a reasonable price! Our vision included a little guest home to rent out as a vacation rental on AirBnB and VRBO.
The process was daunting! The market was hot and everything that matched our criteria was scooped up within a day, and multiple offers being sent in. We thought, are we ever going to find our dream house ? There was one house we had our eye on, it was way out of our price range but met all our wants and needs! 2.5 acres with a home that had a great foundation, roof, etc…. and across from one of Oregon's most scenic wineries, Stoller Vineyards. How the hell do we get into this house?! They dropped the price after the first 6 months, then again after another 4 months… that was our green light! We called our realtor and asked what the deets were on this house? Why had it not sold yet?
After seeing the inside, we knew….. it was funky but we wanted it! The previous owners added an addition to one side of the house, making 2 seperate stair cases to the second floor. The layout was a bit funky turning away other buyers, but we could see the major potential here! It was more house than we had been looking for, but the location and property were spot on! It was near perfect for our little AirBnB. Andrew and I could do all the work, put up a wall to separate the two sides of the house, a separate exterior entrance, plumbing for a kitchenette, paint, new floors, cabinets, tile, etc…. yes we were very optimistic!
We said let's make the offer! After negotiating back and forth, while we were on vacation in New Mexico by the way, we came home to sign papers and make it official! We bought our house while on vacation, Ha, we must be crazy!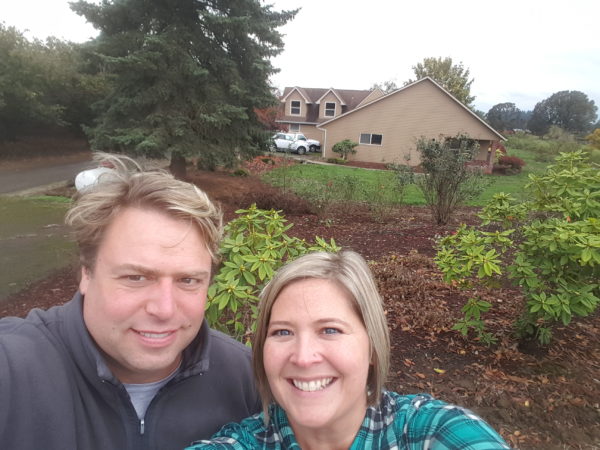 Shortly after we moved in, we started to work on the rental side. Lots and lots of painting! The bright yellow and 90's beige had to go! With Andrew being in the cabinet/construction business, we could do a lot of the work ourselves. Andrew even did the plumbing upstairs for the 1/2 bath and kitchenette! The highlight for Andrew was renting an excavator to dig the trench for the plumbing outside! A guy and his toys!! The plumbing was the biggest set back of them all. You never know what is behind the walls and floors until you start tearing things apart. Our house was not old by means, it was built in the 90's, but some of it was questionable! After what felt like a million trips to Lowes/Home Depot, I was starting to think they knew us on first name basis! I mean at least we should have had best customer parking spot, right?!
The Space:
The downstairs already had a large bedroom and full bath. We painted all the walls, (goodbye bright yellow!) to a soothing light grey/blue. We tore up the carpet in the hallway and laid hardwoods! An exterior door was put in for a separate private entrance and a common wall to separate our space from the rental.
Upstairs, was just a large bonus room with vaulted ceilings and seated nooks under the windows. There was also a door into our bathroom into the great room. A permanent wall had to go up! This is where all the beautiful subway tiles is now with open shelving in the kitchen. First challenge was to take out the seated nook under one window to make room for a table and chairs. But when we opened that up, all the air ducts ran through…ok so plan B! Andrew made this into a beautiful built in dining nook by moving the duct work back towards the wall a few feet. Plan B worked out beautifully I think! Andrew also converted the "closet" into a half bath and built a kitchenette into the space. With custom cabinets and subway tile, laminate counter tops and open shelving…the space came together perfectly! The challenge was finding one of those small NY style apt dishwashers! Those sell so fast as soon as they hit craigslist! We also laid the same hardwood flooring upstairs in the kitchen and half bath as we did downstairs. Lots and lots of paint went on the ceiling and walls too. The whole space and stairwell was painted the awful 90's beige! Even the vaulted ceiling! The ceilings are now a bright airy white, and the walls the same soothing light grey as downstairs. We even gave the ceiling fan blades a fresh coat of white from the outdated mahogany color. That ceiling was my nightmare for many weeks! So many angles to get into…yeah I'm good with never painting that ceiling again! The fun part was filling the space with furniture and all the final touches!
You never really realize how long a remodel takes until you do one yourself! All those flip the whatever shows in a weekend you see… all smoke and mirrors!! They don't tell you they have a crew of like 50 people on set! Between our M-F day jobs, wedding photography in the summer months, and also planning our own wedding (for last Sept at our house btw) we were totally exhausted! We had given ourselves a six month timeline to get the rental up and running, just in time for summer. We had moved into our house a few weeks before Christmas, so our target was June 2016. After setbacks with plumbing, time constraints, other small work projects… it took us more like 11 months! There comes a point when you just don't want to look at paint, or even a screwdriver! We had to take a weekend off here and there for our own sanity and also so we wouldn't kill each other :) Being engaged and planning our own wedding was enough stress, but then throw a remodel in the mix…yeah why not?!?!
Would we do it again? Hell yes! Every detail of our rental we did, the two of us, blood, sweat, tears and a lot of wine drinking!
We are now a little more than 2 months in with having our little slice of heaven on AirBnB, and are loving it! I remember hearing that first doorbell ( the airbnb app makes this sound when you get a booking/inquiry) and I nearly jumped off my chair! Our first booking!! Whoooohoooo! Would they like the place, would they have a great time, would it meet their expectations?! We were sooo excited to have our first guests at the end of Dec. So how well are we doing now?
Exactly one month after putting it on AirBnB, we had our first booking. Then another, and another… January we had 3 out of 4 weekends booked, and 3 weekends in February so far! We now have bookings all the way thru Sept of this year! It has been fun to read the little tidbits the vacationers send us and to see where everyone is coming from to visit Oregon's wine country. A lot of wine tasting and weddings so far!
For me, it has been a real joy to share our little slice of paradise with other people :)
The link to our Domaine McDougall vacation rental is here
Cheers to a remodel free year!!!
Tiffany and Andrew