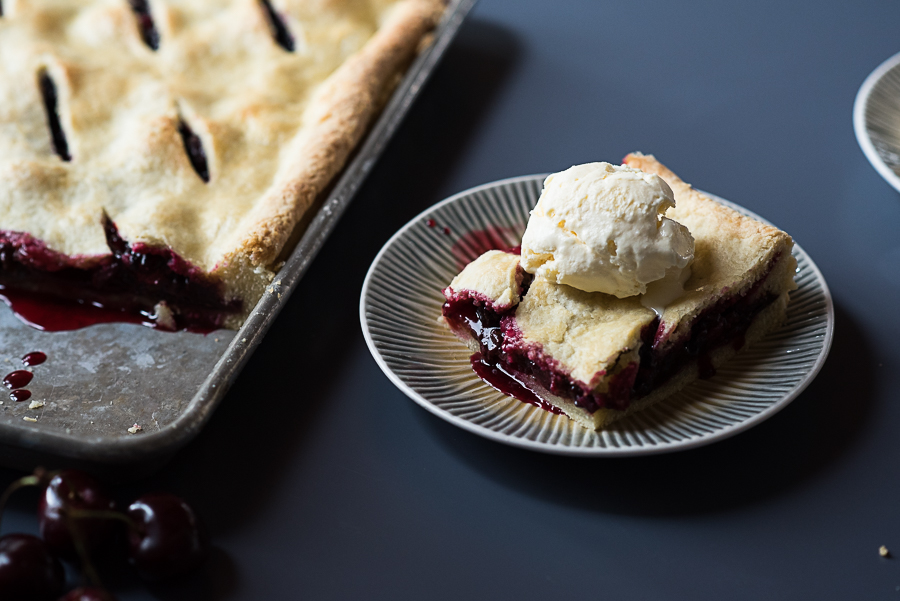 How is it the end of summer already? It completely flew by this year, more so than any previous year….
If you have been following us on our IG feed, then you know the BIG changes we had in our lives this year. We started last Fall, excavating for our soon to be shop. What would become our permanent place of employment! Yay for self employed, entrepreneurs! My husband has a 20+ year background in woodworking, building custom cabinets and had his own business previously. This time, the shop would be on our property, and not paying rent to someone else! A big game changer! Our 3200 sq ft metal building was complete in May this year. Past clients got word of Jory Workshop opening, and reached out to us. Before we knew it, we were booked out 6+ months with work! And that is where our summer went, busting ass to meet deadlines!
I left my job of 22 years in the tech industry as of May 1st to pursue woodworking with my husband full time. I never liked sitting behind a desk all day, and needed a job that let my creativity flow! This was our plan from the time we looked for a house to buy. Andrew had wanted a shop of his own, so we looked for a house with a few acres. Two years later after buying our home, we made that dream a reality! It has been the one of the best decisions of our lives! One of the most asked questions we get is….how do guys work together all day long? Most people immediately say they could never work with their spouse full time! We just laugh…. we love working together and make an awesome team!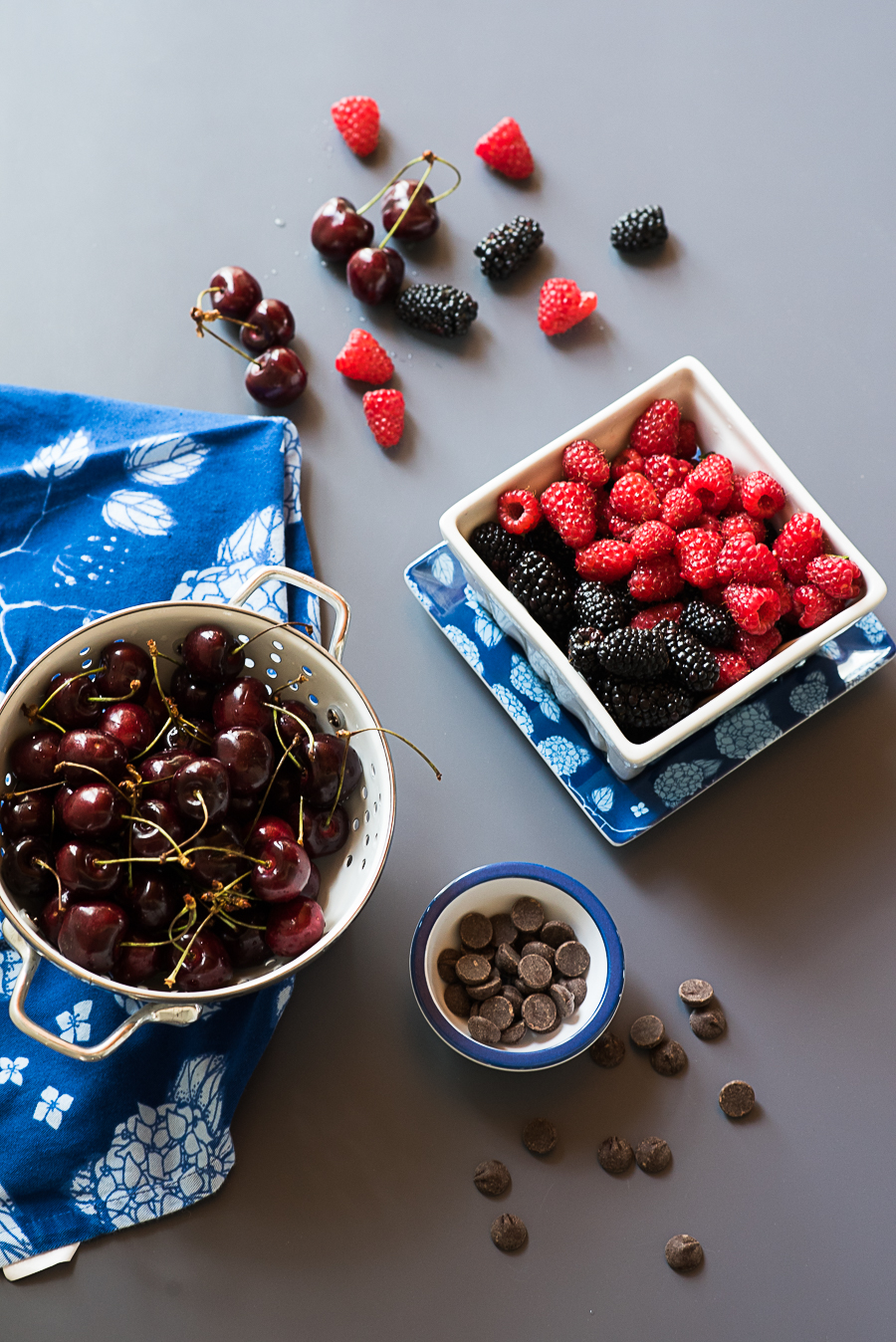 Now let's talk about this pie….. if you're a friend of mine, or have had me over for a BBQ, potluck, dinner, etc…. than you have had this amazingly delicious slab pie. Is there anything better than berries and chocolate sandwiched together between all buttery flaky pie dough? I think not! This is my go to pie for big parties and get togethers… no need to make 3 or 4 pies when you can make this big slab pie that will feed the whole party! I use fresh berries when in season, but in winter feel free to use frozen berries, it comes out just fine too. You can use any mix of berries, but I like cherries, raspberries and blackberries. I've also used strawberries in the place of the cherries when those are in season. And you must have dark chocolate in your pie! Ghiradelli is my go to brand. It adds a nice richness to the pie, and is unexpected when you take that first bite!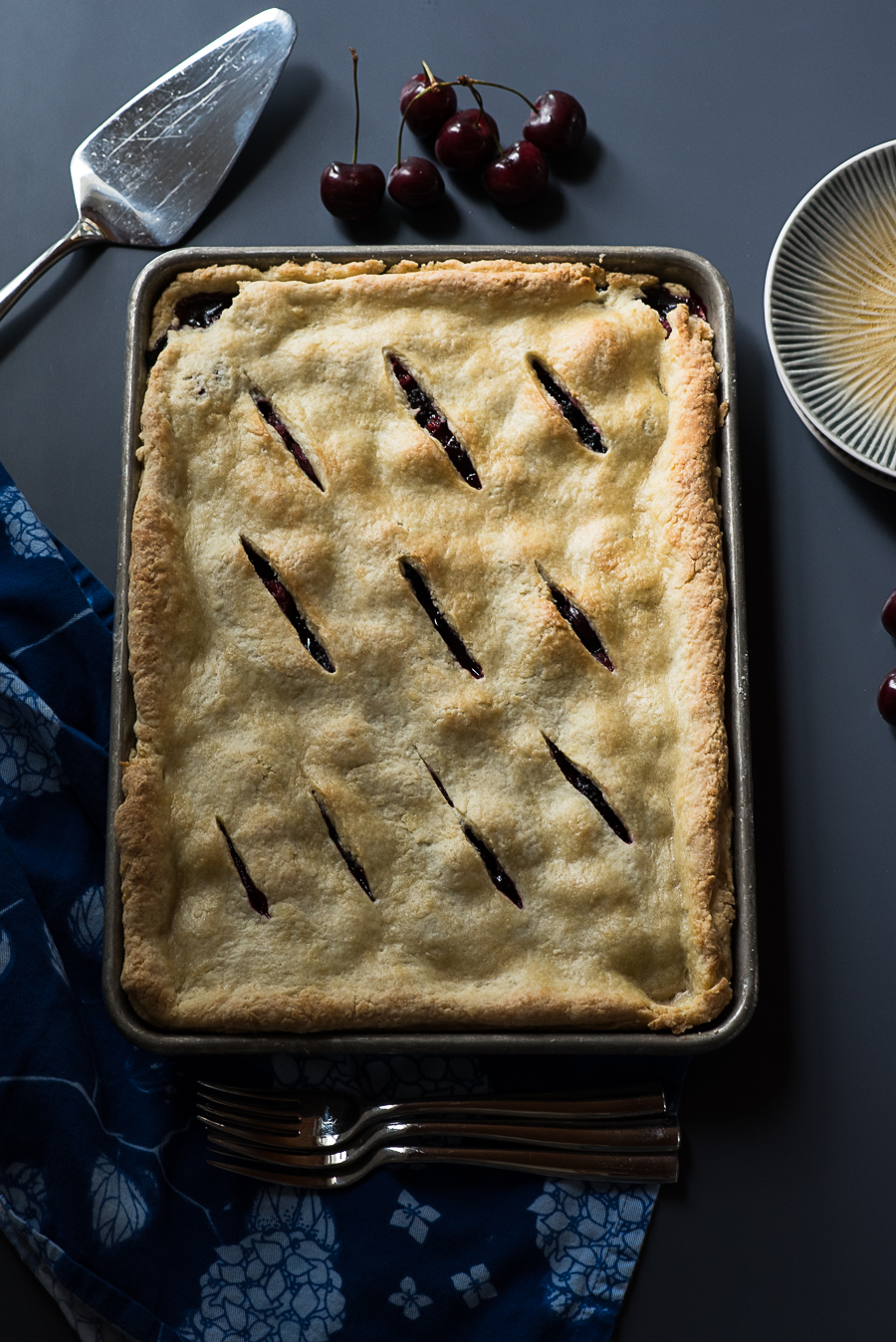 The crust-
It's an all butter base. I like to use real ingredients, and don't really like the taste of vegetable oil. My grandmother used to make her pie crusts with crisco, but I use butter in mine. It's flaky, buttery and tastes so good! The size may look intimidating, but it's really easy. If you tear the dough, just pinch it back together. It's forgiving and looks better rustic, not one of those fussy fancy pies. You need a large work surface to roll this dough out, so keep that in mind. I also use a pie mat ( not sure if that's the technical name) but it works great and cleans up quick. The sheet pan in these photos are half sheet pans. I simply cut the recipe in half to make the smaller slab pies.
Let me know if you try this pie and what variations you used! I would love to hear about it!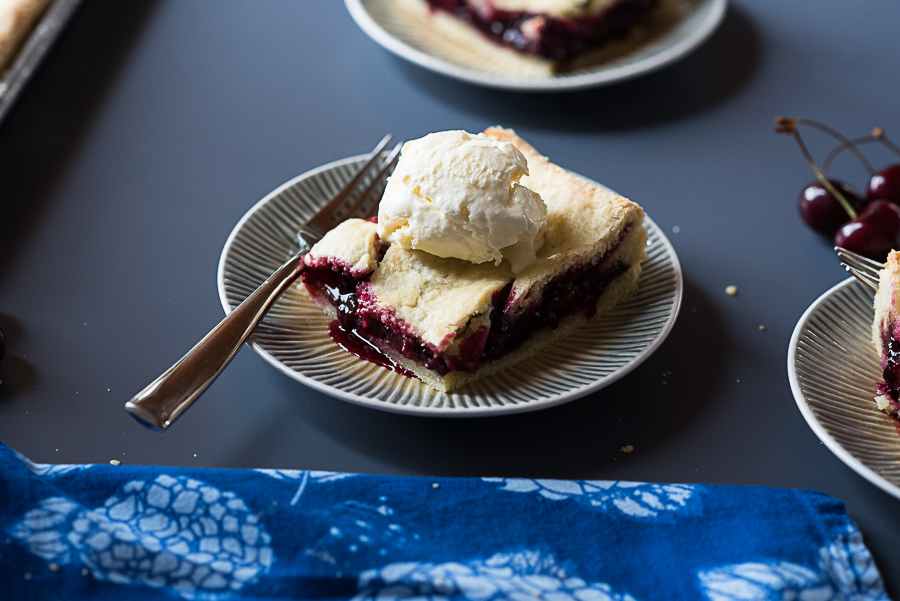 Triple Berry Chocolate Slab Pie
Ingredients
Filling:
3 lbs of mixed berries
1 C sugar
3 Tbsp cornstarch
1 1/2 C dark chocolate chips
Crust:
8 C all purpose flour
1 C sugar
2 tsp sea salt
1 pound, cold unsalted butter, cut into small pieces
3 eggs
1/2 C cold water
heavy cream for brushing on the crust
Instructions
Preheat oven to 400 degrees.
For the filling, whisk the sugar and cornstarch together. Place berries in a bowl, pour sugar mixture over berries and give it a good stir. Let sit while you make the crust.
For the crust, whisk together the flour, sugar and salt. Using a pastry blender, cut in the butter until mixture resembles small peas.
In a small bowl, whisk the eggs and cold water. Pour into the flour mixture. Using your hands, work the dough until combined. If it's to dry and will not hold together, add a little more cold water.
Turn dough out onto a floured surface. Divide dough, one slightly larger than the other, this will be the bottom crust.
Roll bottom dough out to fit into sheet pan. You want the sides to come up and hang over slightly. Press the dough into the pan to set it. Pour berries onto dough and top with chocolate chips.
Roll out top dough using same method. Carefully place dough on top of berries. Crimp edges together. Cut slits on top of dough to let steam escape. Brush entire top with cream.
Bake for 30- 40 mins until dough is golden brown and berries are bubbly.
Serve with ice cream!
Note- this recipe makes a lot! One whole sheet pan.... if you want to cut in half, use a half sheet pan and cut time down by 10 mins.
https://www.thymeoftaste.com/2018/09/05/triple-berry-chocolate-slab-pie/