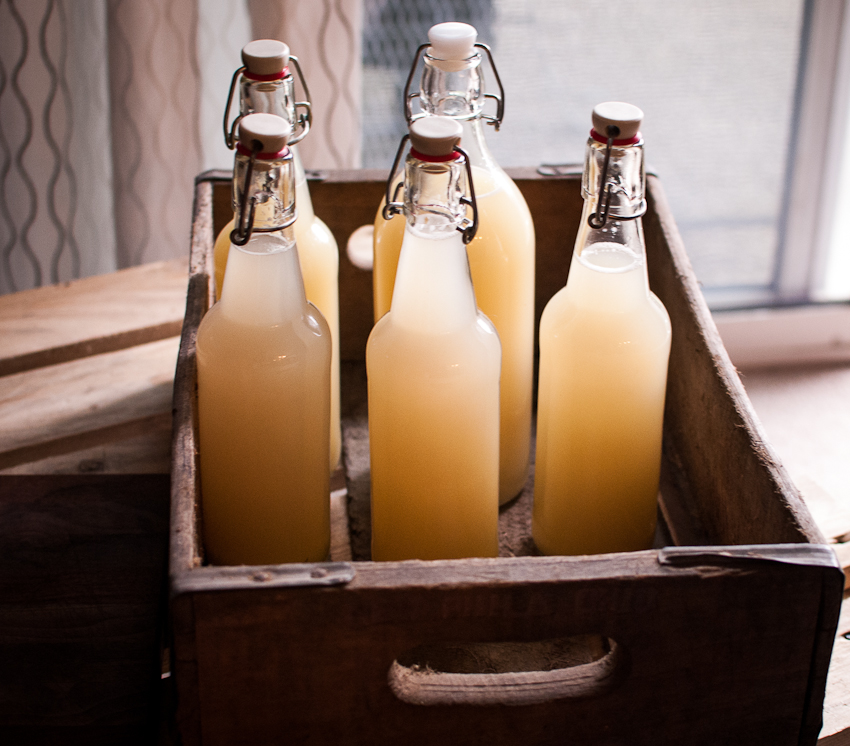 DIY Ginger Beer
Ahhhh…. the most important ingredient in a Dark N Stormy….Ginger Beer! Well ok, maybe second, we must have the rum eh?! I fell in love with this cocktail a few years ago while visiting a Seattle bar, I can't remember the name of the bar, but I remember the cocktail! Dark N Stormy, just the name sounds so intriguing and mysterious! That was the beginning of my crush with ginger and rum!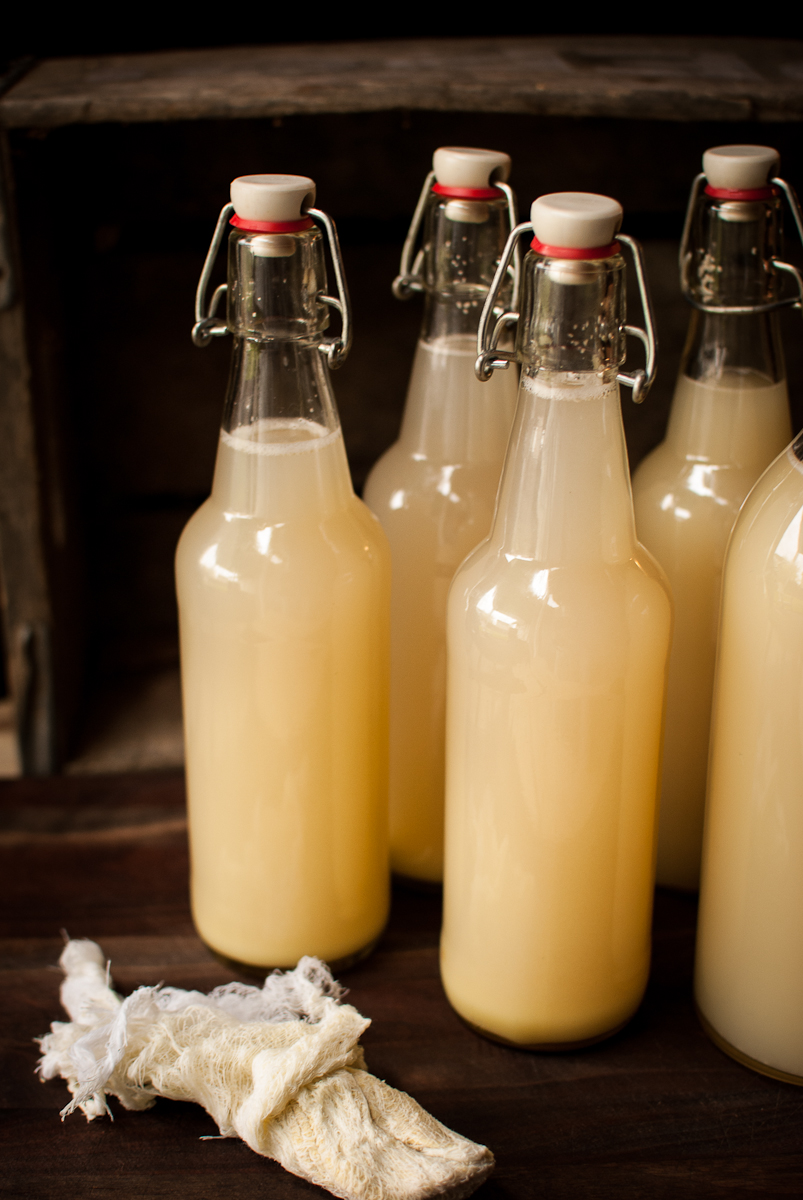 Of course, I wanted to recreate these tasty concoctions on my own, but the price of ginger beer is outlandish! Yes, insane! Fever tree makes a great ginger beer, but for a 4 pack of 8oz bottles, it's $8-$10 bucks. Maybe you will get 4 Stormy's out of that pack, yes still cheaper than ordering from the bar, but not cheap enough!
So the search began for a ginger beer recipe…. I came across Jeff's blog. He has many great drink recipes on his blog and is a bartender in my home town!
What if I told you, you can make roughly 5 16 oz bottles of your own Ginger Beer for about 5 bucks!?! Yes my fellow cocktail drinkers, you can! You need fresh ginger, simple syrup, fresh lemon juice, warm water, and cuvee champagne yeast. And your bottle of preference to hold the goods.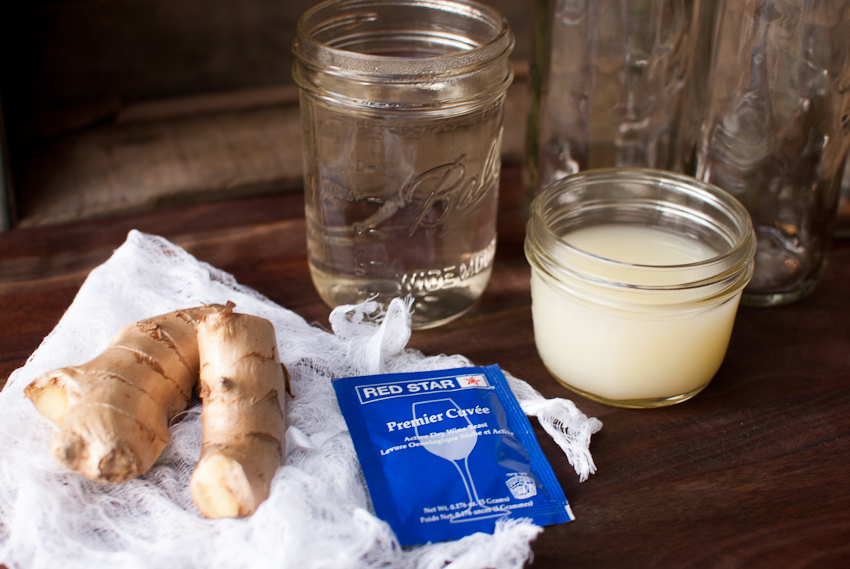 Through many trial and errors, I have discovered the best way to get the juice from ginger is run it through the food processor, pulsing and scrapping down the sides many times. Then squeeze the pulp through cheese cloth. This save loads of time and you get the most amount of juice from the ginger. I don't recommend a blender, as the skin would probably gum up the blades and you will not end up with a finely shredded pulp. I used to shred the ginger with a cheese grater, and that process took a long time. It also wastes a lot of the ginger root.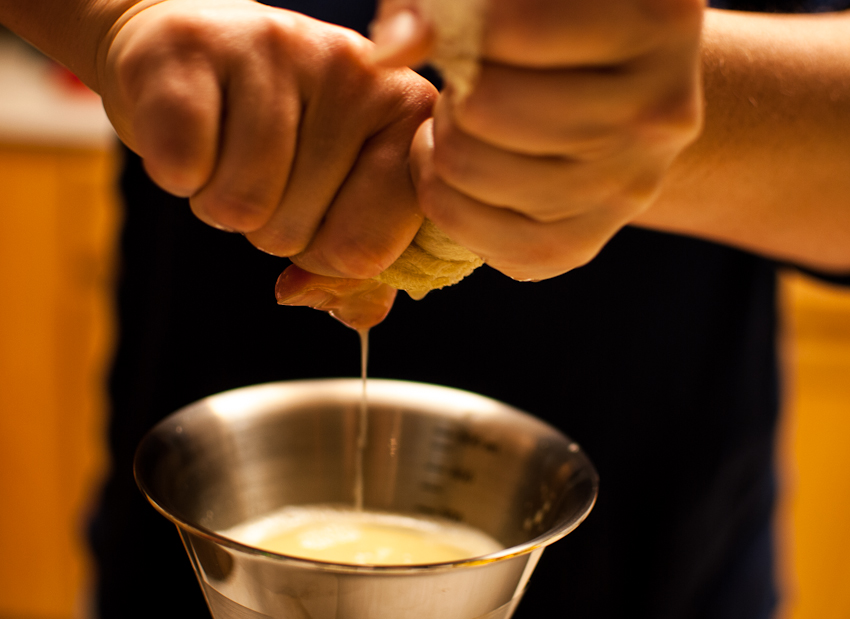 I found my flip top bottles at a local beer/wine supply shop for a few bucks a piece. I also found the cuvee yeast there too. This is not a yeast you can find in the baking aisle of the grocery store… this is a speciality yeast for beer making. The packets have thousands of granules per packet, it goes a long way. It also costs about a buck a packet, the unused granules can be stored in the refrigerator till your next batch is made. This is what ferments the beer and carbonates it.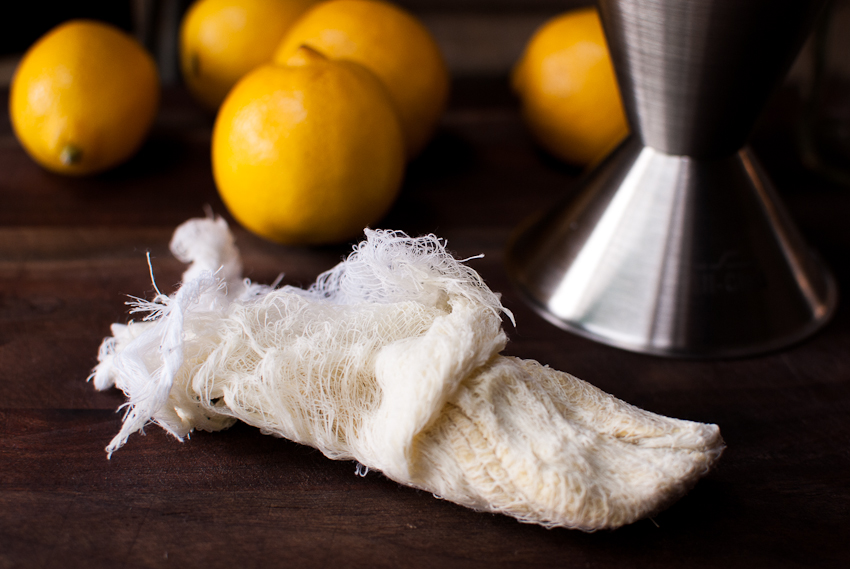 Did I mention, this is a non-alcoholic beer, it tastes similar to a ginger ale, so if you are not into the whole cocktail thing, you can make mocktails with this. The ginger is very prominent in this, the bite compliments the rum really well. I'm not too sure what you could mix with this if doing a mocktail, but I'm sure there is something out there, or you could drink it on it's own with some ice on a hot summer day, like a lemonade :)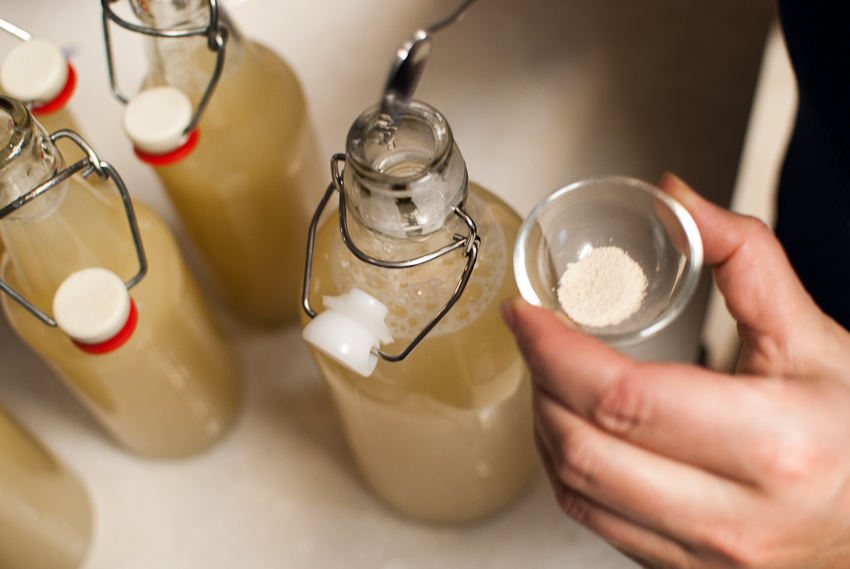 It does take 48 hours for the cuvee yeast to do it's thing, so best hurry to make a batch of these beers so you can enjoy your drink. Oh and that Dark N Stormy I was raving about….check back soon for the post! Cheers~
Ingredients
1 oz fresh ginger juice
2 oz fresh lemon juice
3 oz simple syrup
10 oz warm water
25 granules of cuvee yeast
1 16oz glass bottle with a tight cap/lid
Instructions
Peel the ginger and pulse in a food processor until very shredded. It should feel gummy and soft.
Place shreds of ginger into cheese cloth, and squeeze the juices into a bowl.
Mix the ginger juice, lemon juice, simple syrup and warm water into a large bowl.
Pour into the glass bottle, I find that a funnel works well here
Next add the yeast granules into the bottle, secure tightly and give it a quick shake.
Let rest in a cool, dark place for 48 hours.
Then place into the refrigerator to stop the fermentation process and enjoy. Your ginger beer is now ready!
*Note- this makes 1 16oz bottle. I usually make a batch of 5-6 bottles at one time so adjust the recipe for the amount you are making.
Also- about one large piece of ginger will yld enough juice for about 6 bottles. The ginger in the picture above is a small piece, enough for about 2 bottles.
https://www.thymeoftaste.com/2013/04/06/ginger-beer/