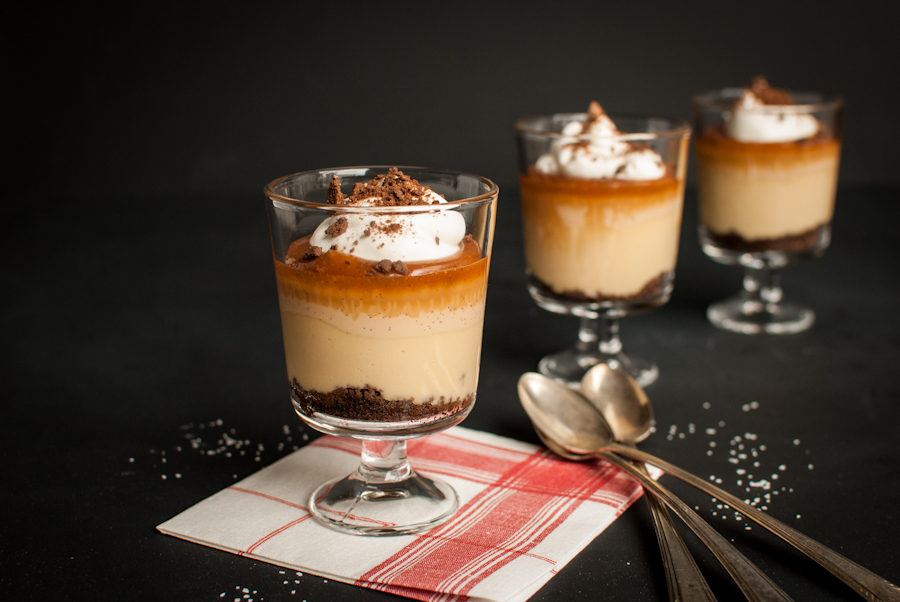 Salt + Caramel + Chocolate
Sometimes you don't need a holiday, a birthday, a special dinner, or any other excuse to have a dessert. This is THAT dessert!
The other day I was craving a sweet/salty sort of dessert. Blame it on the hormones, whatever… The usual cookie was not the answer to this craving this time. I thought maybe the classic banana pudding with vanilla wafers….nope, that wouldn't do it either. It had to involve some chocolate, of course Jacobsen Sea Salt, and maybe some caramel….oh and did I mention, there's a bit of spiced rum too!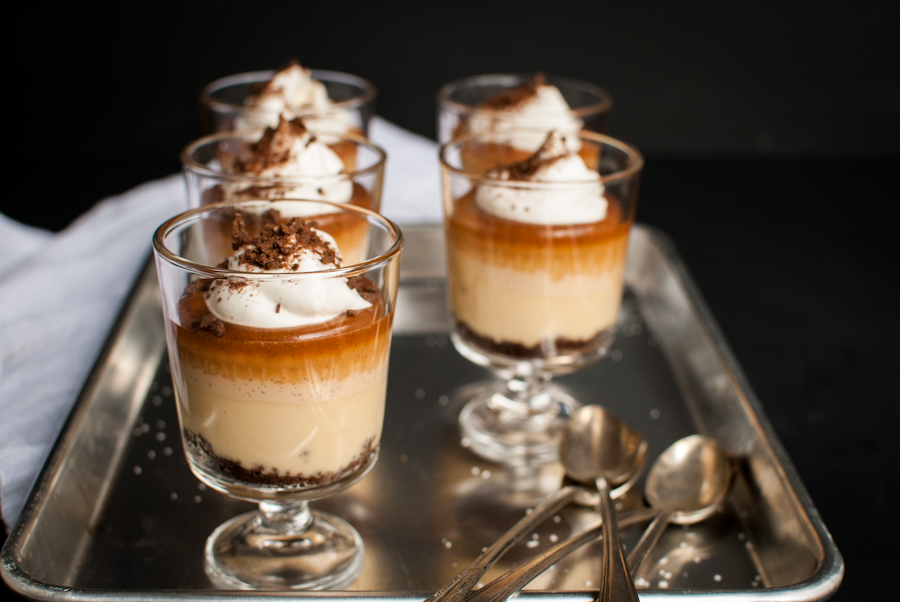 I took to Pinterest for inspiration… and found this, a salted caramel pudding with chocolate cookie crumbs topped with whip cream! Oh this was going to hit the sweet spot dead on! I did alter the recipe a little, I almost never follow a recipe to the exact. I do suggest making your own caramel, it will be a million times better! If you don't have the patience, you can use store bought, but I'm telling you, it won't be the same :)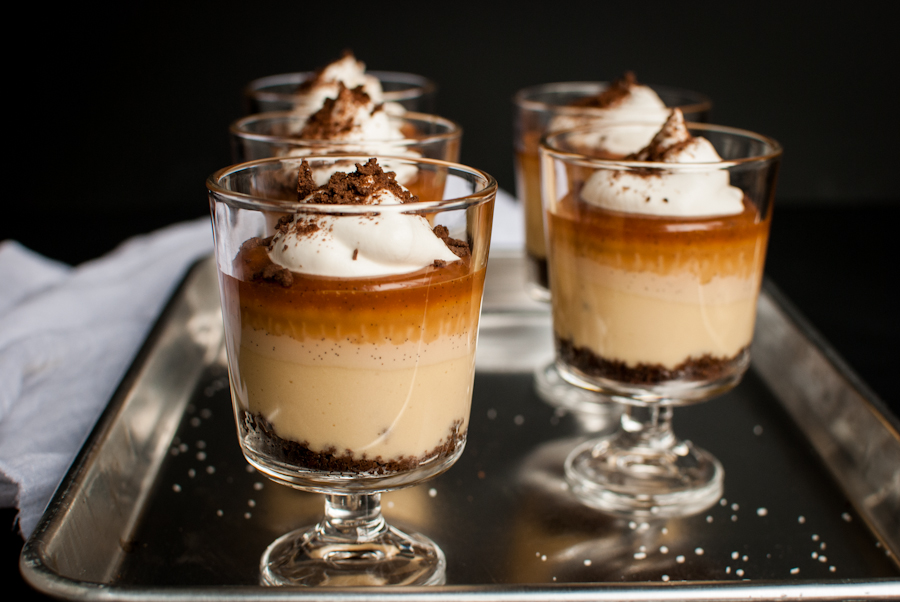 This dessert does have a few steps, but don't let that scare you. It really is simple and easy! The vanilla bean caramel recipe makes a big batch and you only need half the recipe for these puddings. Place the rest in a jar and keep in the fridge for ice cream or brownies :)
My tip for vanilla beans, they can be very expensive, but I find mine in the bulk at Market of Choice. They come out to be around 1 dollar a piece, much cheaper than anywhere else! I keep them wrapped tightly in a mason jar so they won't dry out. Make sure you don't throw away the vanilla bean pod after you scrape the seeds out, I add it to a jar of granulated sugar and let it sit for a few weeks, voila- vanilla bean sugar!
You might be wondering where I scored these cute little glass jars … Well I found them at Ikea! They are the perfect vessel for this pudding! This recipe made 8 of these! Perfect for that little indulgence, and small enough so you don't totally blow your diet for the week! But who are we kidding…. a seriously delicious dessert is worth all the extra hours at the gym..am I right?!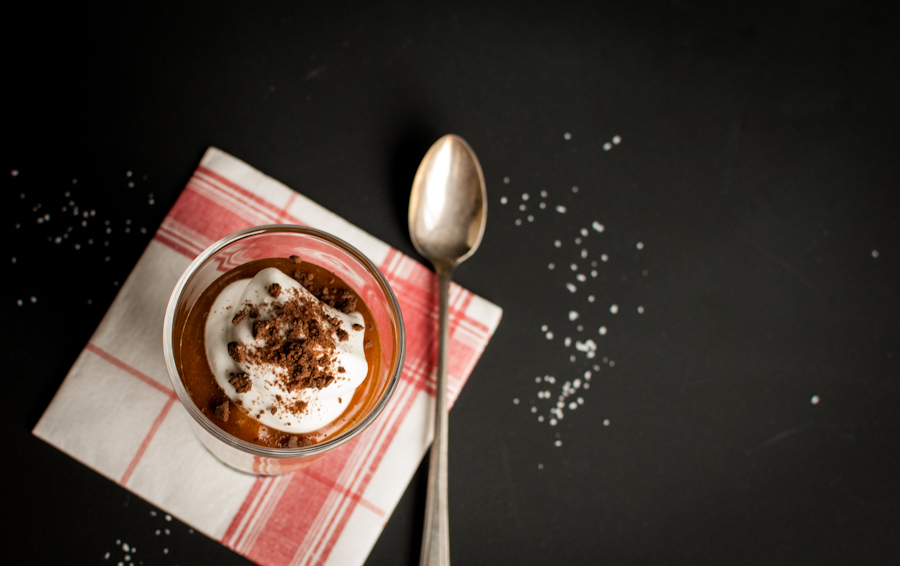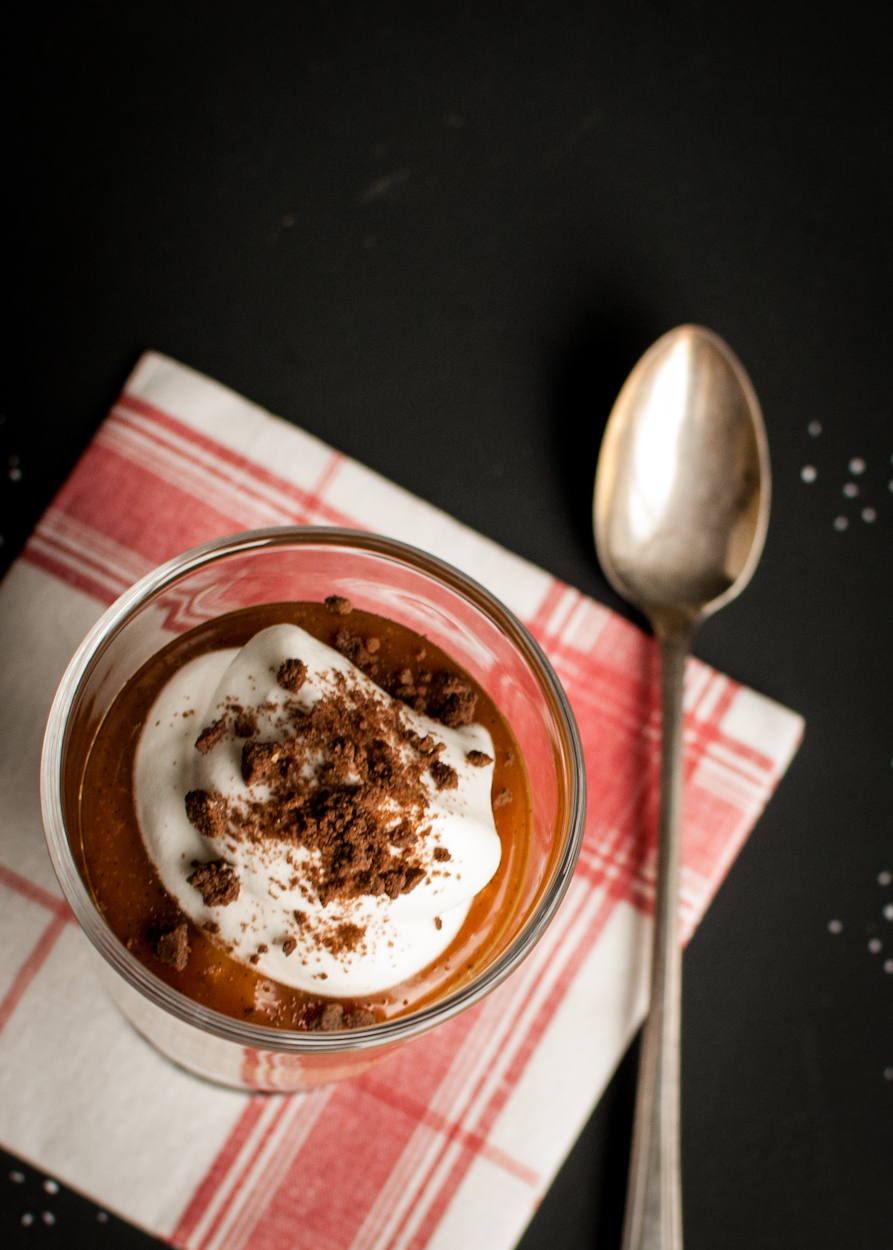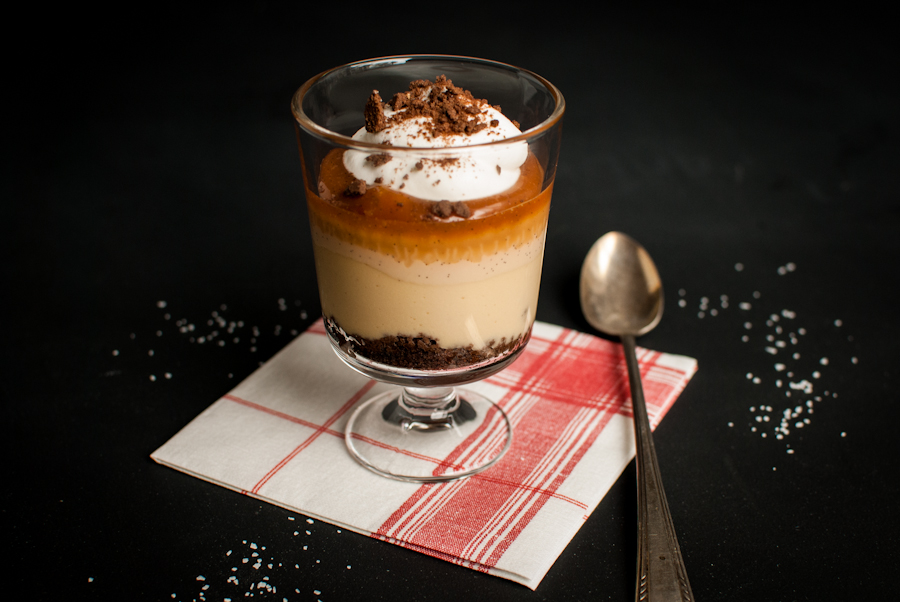 A few tips:
Top with the whipped cream when ready to serve
Keep the pudding covered in the fridge to prevent a "skin" from forming
The flavors are even better the next day!
Cheers to indulging desserts and endless days spent in the gym/running outside/ miles on the bike!
Ingredients
Vanilla Bean Caramel Sauce:
1 C granulated sugar
1 1/4 C heavy cream
1 vanilla bean, split and seeds removed
1/4 tsp Jacobsen Sea Salt
1 tsp pure vanilla extract
Salted Caramel Pudding:
Cookie crust,
1 C chocolate graham crackers, crushed, plus 1/2 C extra for garnish
3 Tbsp unsalted butter, melted
1/8 tsp kosher salt
Pudding,
3 C whole milk, divided
1/4 C cornstarch
3/4 C dark brown sugar, packed
3/4 C water
5 large egg yolks
3 Tbsp unsalted butter
2 tsp dark rum
1 tsp Jacobsen Sea Salt
Instructions
To make the caramel sauce:
In a medium saucepan, spread sugar in the bottom.
In a small bowl, add the heavy cream and scrapped seeds from the vanilla bean, set aside.
Heat the sugar over medium low heat, when it reaches an amber color, remove from heat.
Carefully pour in half the cream mixture, while whisking vigorously. The sugar will harden, place back over heat and add the rest of the cream, salt, and vanilla extract.
Keep whisking until mixture is melted again and thickens.
I found it takes almost 15 minutes over low heat.
Yields 1 1/2 Cups of caramel sauce.
Store in a jar in the fridge for up to 2 weeks.
To make the pudding:
Stir together the crushed graham crackers, butter and salt.
Place about 2 Tbsp of the mixture in the bottom of small glass containers, and press firmly.
In a small bowl, whisk 1/2 C of milk and cornstarch together. Set aside.
In a medium saucepan, heat the remaining milk until simmering, Remove from heat.
To make the caramel, heat the brown sugar and water in a medium saucepan without stirring until temperature reaches 210-220 degrees.Remove from heat.
In a large mixing bowl, whisk eggs for about 3 minutes.
Slowly add the hot milk, then the milk/cornstarch mixture, on low speed.
Next add the caramel,just until mixed.
Pour mixture into saucepan, and whisk until thickens. It should coat the back of a spoon.
Remove from heat, and whisk in butter, rum and salt.
Pour over cookie crust and chill in fridge for 2-3 hours.
When firm, pour Vanilla Bean Caramel Sauce over the top.
Add whip cream and a few crushed cookies.
Yields 8 small servings.
https://www.thymeoftaste.com/2014/05/01/salted-caramel-pudding/