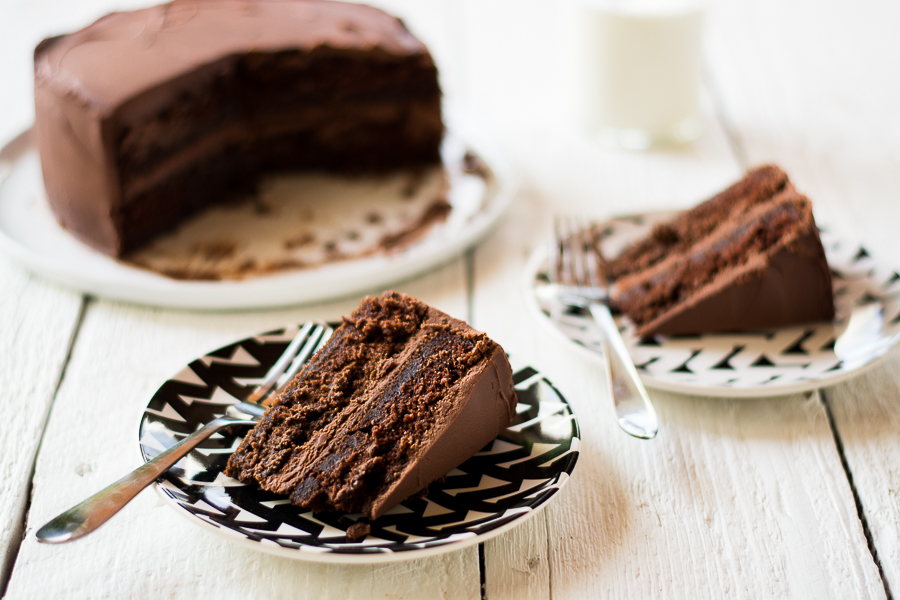 Simple moist chocolate cake……
No need to complicate things when the original is sometimes best as is. I had a craving the other day for plain old, uncomplicated, super moist chocolate cake! The kind that requires a glass of milk to wash it down with…. or your best Pinot Noir to pair it with.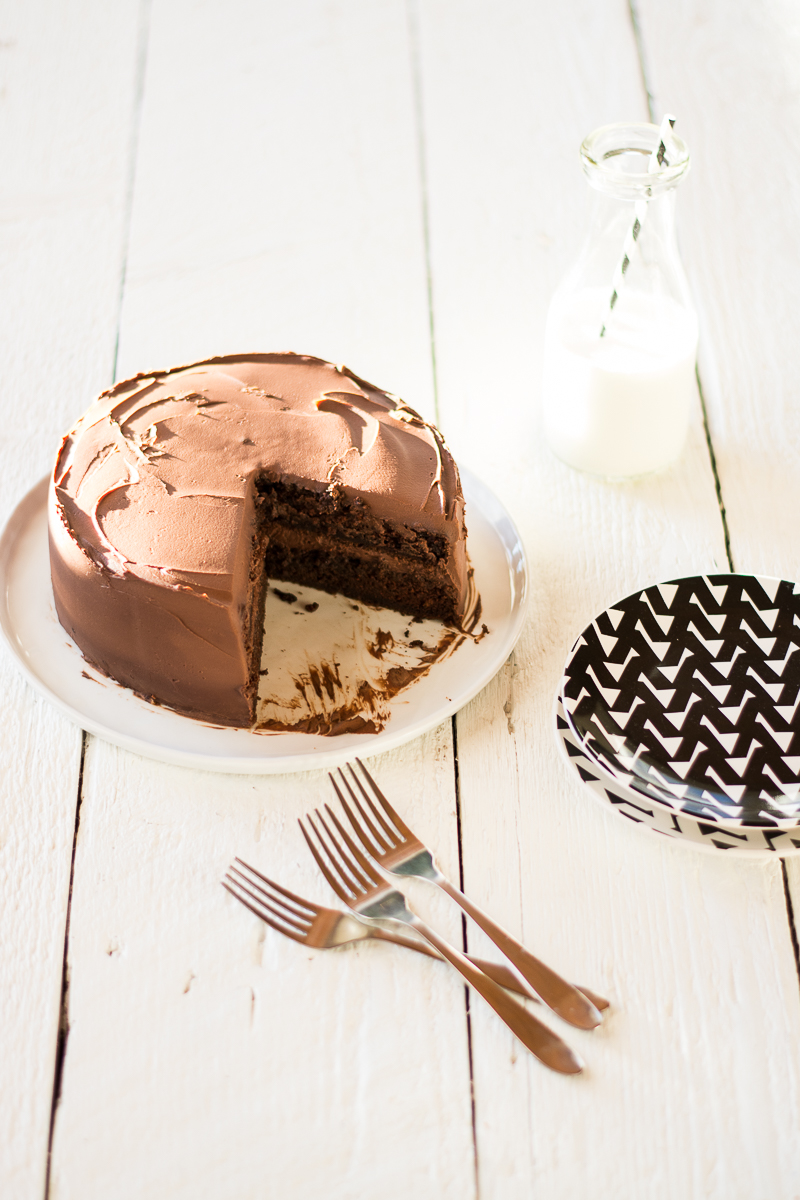 Btw- where have we been you ask? It has been a few too many months since I blogged last and shared tasty recipes with droll worthy photos. Last Fall, we we're finally ready to seal the deal on a house! Yes, a house! We went thru many showings, and a few offers before we finally closed on THE ONE!
Soooo…. the daunting process began. Numerous signings, scanning and faxing documents, late night phone calls, packing of many many boxes, and the holidays in the mix! And as if we didn't have enough on our plate, we were booked solid for two months with photos giggs on the weekends…. whoa, that makes me tired just reading what I wrote! How did we survive?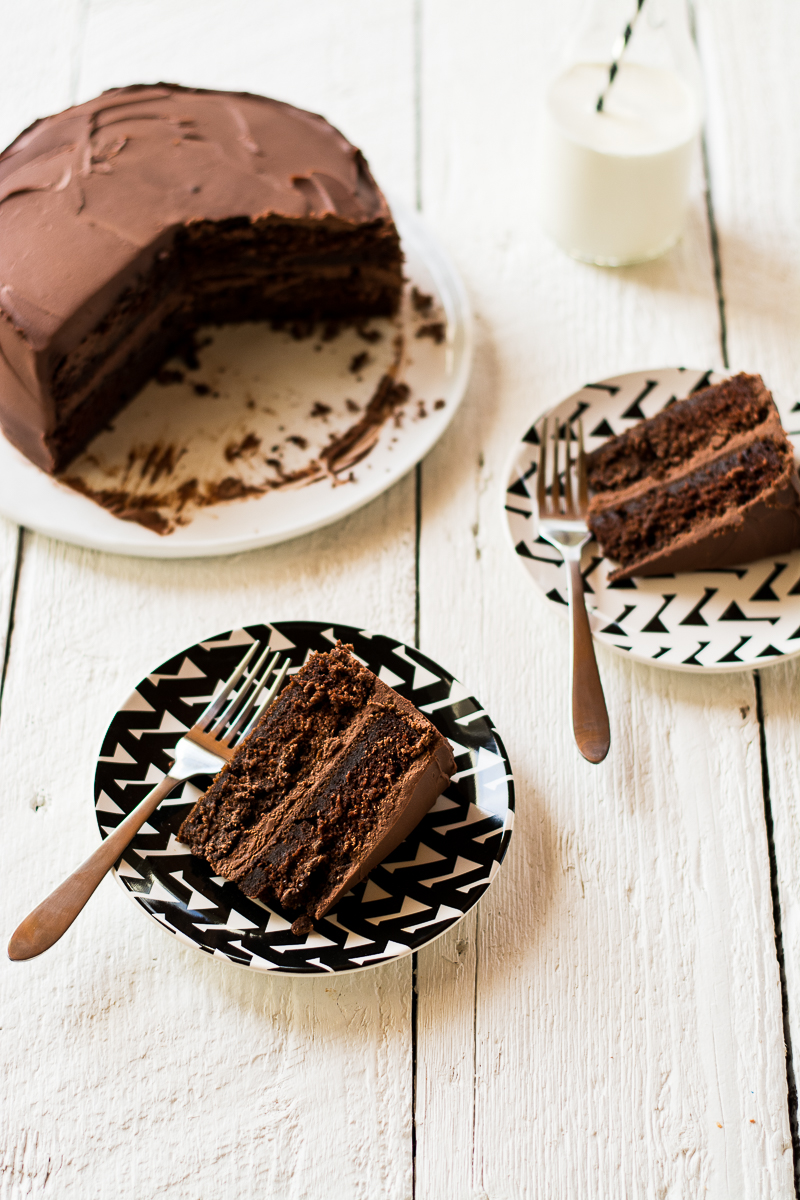 We somehow managed to have our last Thanksgiving at our rented house, while the restof the house was packed and ready for the move. Our closing date was moved in and out about three times. We wondered if we were ever going to close on the house and actually move! Finally, the bank closed and we moved everything over the course of three very looooong days. And on the last day of moving, we picked up a Christmas tree and hauled it aways in the U-haul truck. Christmas was only a few weeks away at this point. I felt like my life was on hold and I was missing out on all the fun holiday happenings! No lights were put up on the house, only a tree…. and we eneded up hosting Christmas dinner in our new house! Andrew even installed a new stove on Christmas eve :)
Sooooo….. that's where we have been the last few months. It went fast, and now we are back on the blog! Hoping to plant a bigger garden this year, now that we have a few acres, oh and a wedding this Fall! Yes, we also got engaged in between all this chaos!
I now share with you, this simple, moist chocoalte cake. Mix it up in no time, bake, frost, and you can have your cake by dinner time! Cake for dinner? I never said that….. I won't judge ;)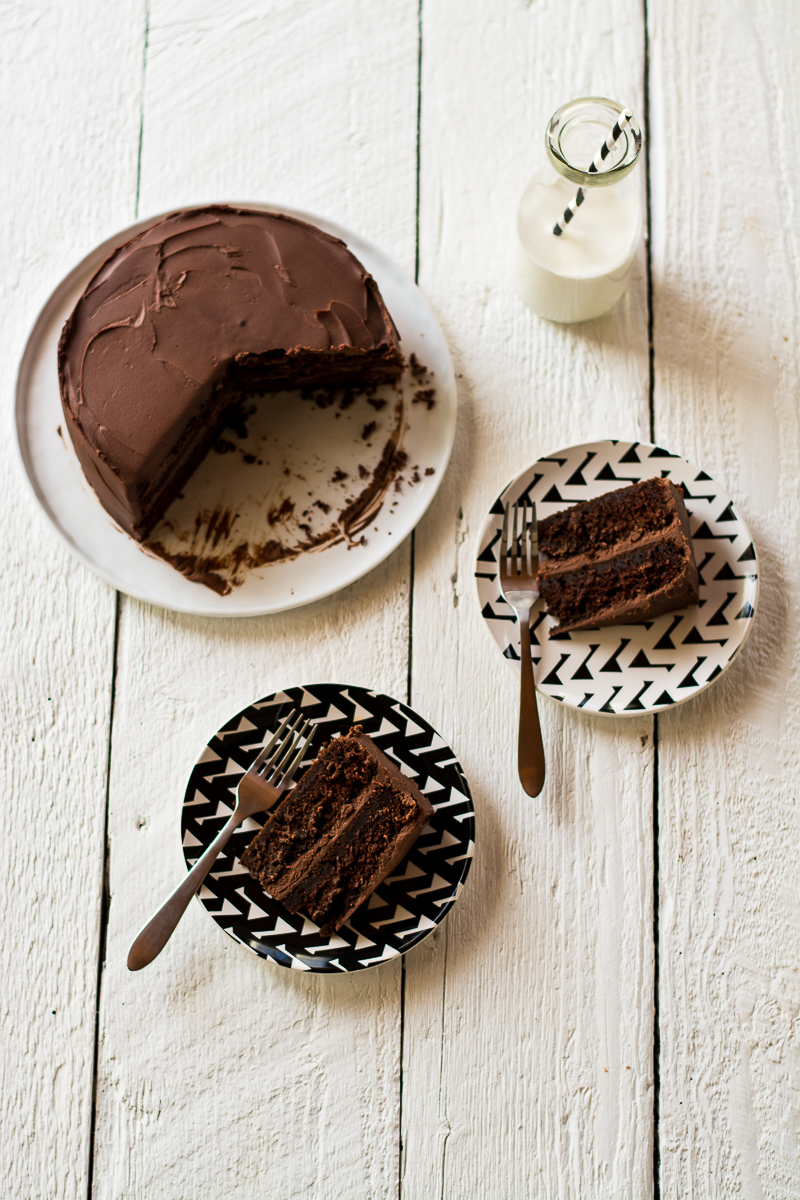 Ingredients
Cake
2 cups sugar
1 3/4 cups all-purpose flour
3/4 cup cocoa powder
2 tsp baking soda
1 tsp baking powder
1 tsp salt
2 eggs
1 cup buttermilk
1 cup brewed strong black coffee
½ cup vegetable oil
1 tsp vanilla extract
Chocolate Frosting
1 bag (12-ounces) semi sweet chocolate chips, finely chopped, I use Ghiradelli chocolate
1 1/2 cups heavy whipping cream
1 stick unsalted butter
Instructions
Preheat oven to 350 degrees.
Butter and flour two 9 inch cake pans.
In a large mixing bowl, whisk together the sugar, flour, cocoa powder, baking soda, baking powder, and salt.
Add eggs, buttermilk, coffee, oil, and vanilla.
Mix on medium speed for a few minutes, the batter will be thin.
Pour into prepared pans and bake for 30-35 minutes until the center comes clean with a toothpick.
Cool for 10 minutes on a wire rack before taking out of the pans.
While cake is baking, make the frosting.
In a large saucepan, heat the butter and cream together. Bring just to a boil, then add the chocolate chips.
Whisk until combined, cover and put in the fridge for about an hour.
Remove from fridge and stir, recover and chill for another hour.
Frost cake and serve.
Cake keeps fresh in the fridge wrapped loosely for about 2-3 days.
https://www.thymeoftaste.com/2016/01/29/chocolate-cake/