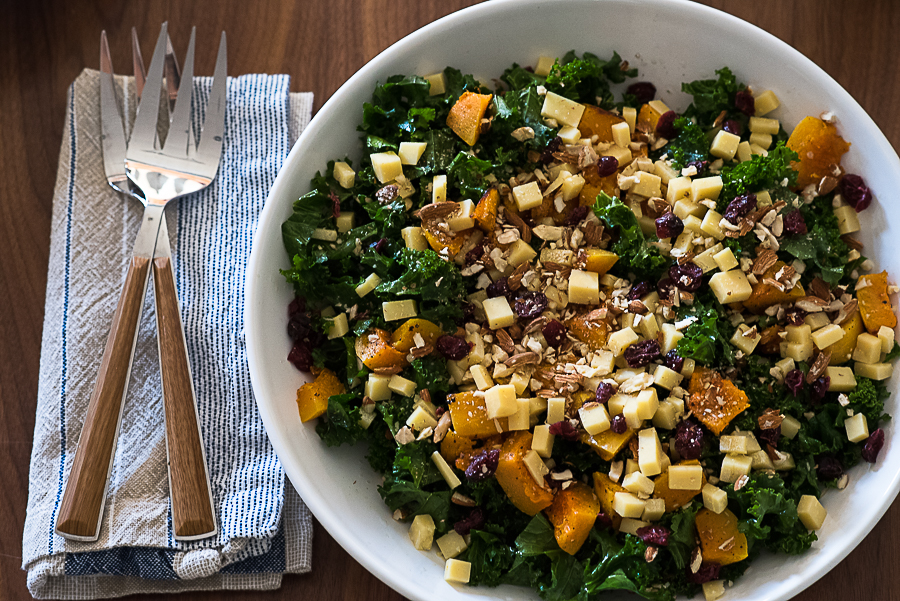 Ok, let's be real…. not all of us can eat like we are 5 or 6 yrs old and not gain a pound! Just the site of sugary pastries puts about 5 lbs on the hips… even scrolling thru pinterest makes me gain weight! LOL!
I try real hard to eat healthy most days of the week ( I say most), but I'm human and sometimes fail. Live and learn they say…. Sundays are my food prep day. I hit the gym 5 days a week at 5am, yes I said 5am, so that does not leave me a lot of time in the morning to pack a healthy lunch/ snacks for my work day. And no, getting up earlier than 4am is not an option!
The usual food prep Sunday includes grilled chicken, baked egg muffin cups, this kale salad, chopped veggies, and prepped fruit. The grilled chicken is so versatile for our salads and is a great source of protein for us. I love kale…raw, cooked, baked into chips… you name it! This kale salad is easy, fast, and healthy. It keeps for about 3 days in the fridge. A nice detox after that weekend of wine tasting/eating out! :)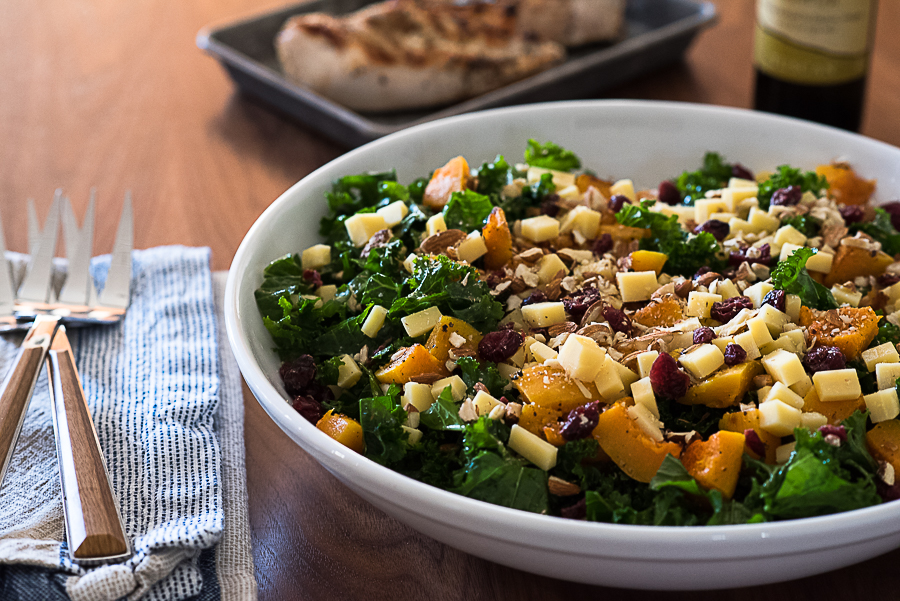 Usually when I buy a butternut squash, I look for the giant ones. This way I can get a few weeks out of it. Peel, chop, and bag half of it for later and put in the freezer. And score- you have part of your squash prep done for next time! Toss the cut pieces with EVOO, a little salt and pepper and roast for 20 mins. Let cool and then toss on your kale salad….
Let's talk about kale.. it's green, leafy, good for you, and pretty damn cheap too! If you are going to eat it raw, it's best to massage it with EVOO and let it sit for a few minutes. This will relax and soften the kale a bit. I also add some lemon juice to mine too… this is also where you want to use a high quality EVOO, I like Red Ridge Farms, it's local and taste sooooo good!
I like to add dried cranberries, cubes of sharp cheddar, chopped almonds and grilled chicken to my salad along with the roasted butternut squash. It's hearty enough to make a filling lunch out of, but light so you don't feel like taking a nap after lunch! The olive oil and lemon are enough to give it some flavor, and light on the calories too :)
You can easily add chopped apples, pulled pork, dried cherries… whatever you like. Mix it up and have fun with it! With Fall here, there are so many options for squash and winter veggies :)
Cheers to eating healthy and trying to reach those goals!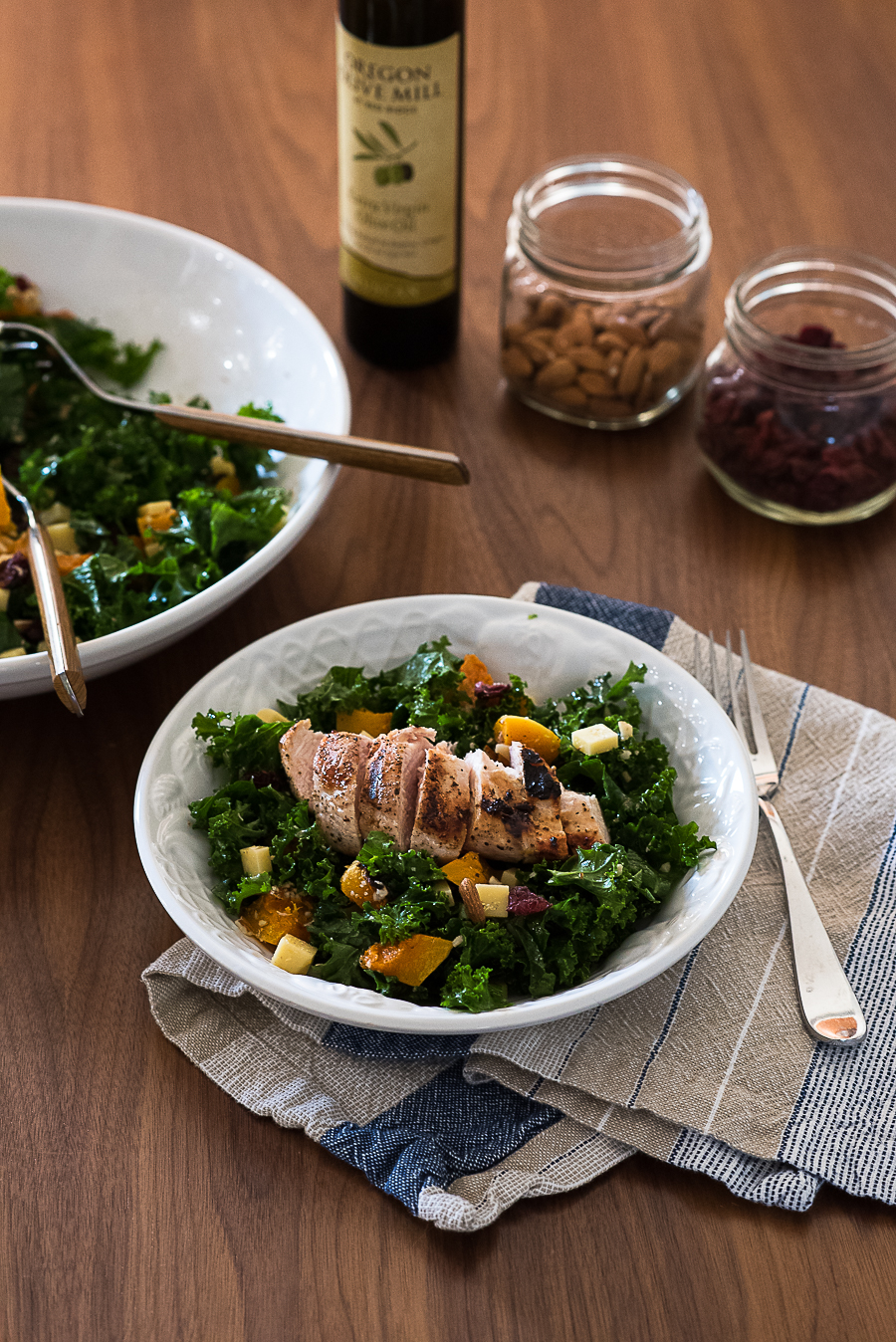 Kale and Butternut Squash Salad
Ingredients
1 bunch of Kale, rinsed and rough chopped
1 butternut squash, peeled and cubed
2-3 grilled chicken breasts , for added protein
1 C of rough chopped almonds
1 C cubed sharp cheddar
1 C dried cranberries
EVOO
salt/ pepper to taste
juice of 1 lemon
Instructions
Preheat oven to 400 degrees. Peel and cube butternut squash into small pieces. If your squash is on the big side, you can put half of the cubed pieces in a freezer ziploc for later use.
Toss the cubed squash in EVOO and a dash of salt and pepper. Place on a baking sheet lined with parchment paper.
Bake for 20-25 mins until soft. Set aside to cool.
Remove center vein from Kale and rough chop the rest.Place in a large bowl and toss with about 1/4 C EVOO and juice of 1 lemon. Massage with hands.
Let sit for a few minutes.
Add the cheese, almonds, cranberries, cooled squash, and sliced chicken to the Kale.
Makes about 4-6 servings. Cover leftovers and store in the fridge.
https://www.thymeoftaste.com/2016/10/08/kale-butternut-squash-salad/