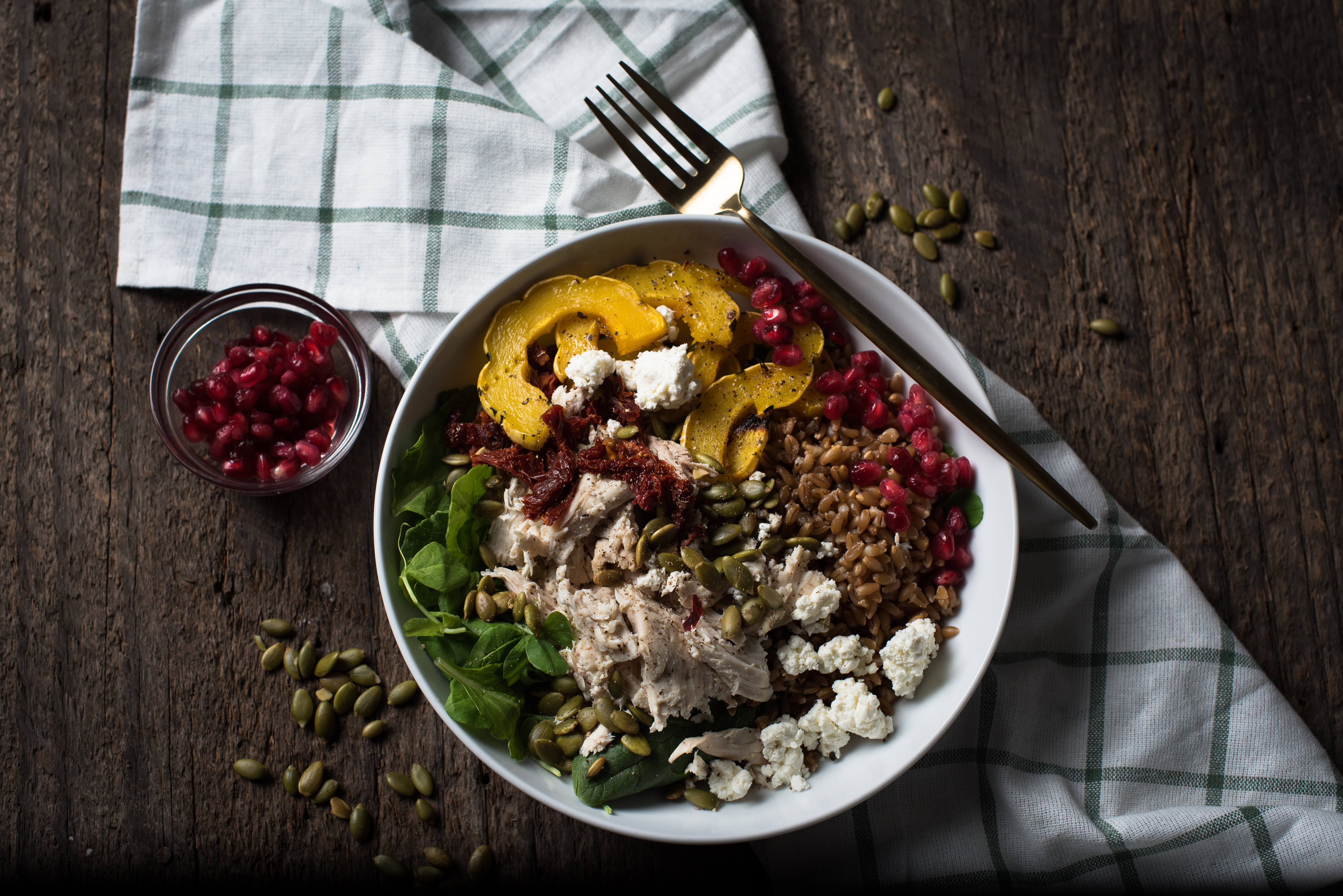 I'm Baaaaaack!!!!
It has been a year since I blogged my last post. How does this even happen? Life happened! For the past year I have been very busy with my husband working on getting our business up and running. So my blogging took a back seat for a moment. Sorry friends! I missed it dearly though! Cooking/baking is my passion and photographing my creations to share with you all makes me happy! But it is just a hobby, so when busy with buisness, I had to put this hobby on the back burner.
I know it looks like I'm late to the " grain bowl party" but really I have been consuming these lovely bowls for a few years now. Why have I never shared one with you all? I have no idea! I love making these for quick lunches. Having prepped a lot of the ingredients early in the week, makes it a super quick healthy lunch. Farro and Quinoa are my current favs! I like to cook up a batch on Sunday to have ready for anytime during the week. I also cook up a whole chicken every Sunday to have ready! It's all about that prep friends!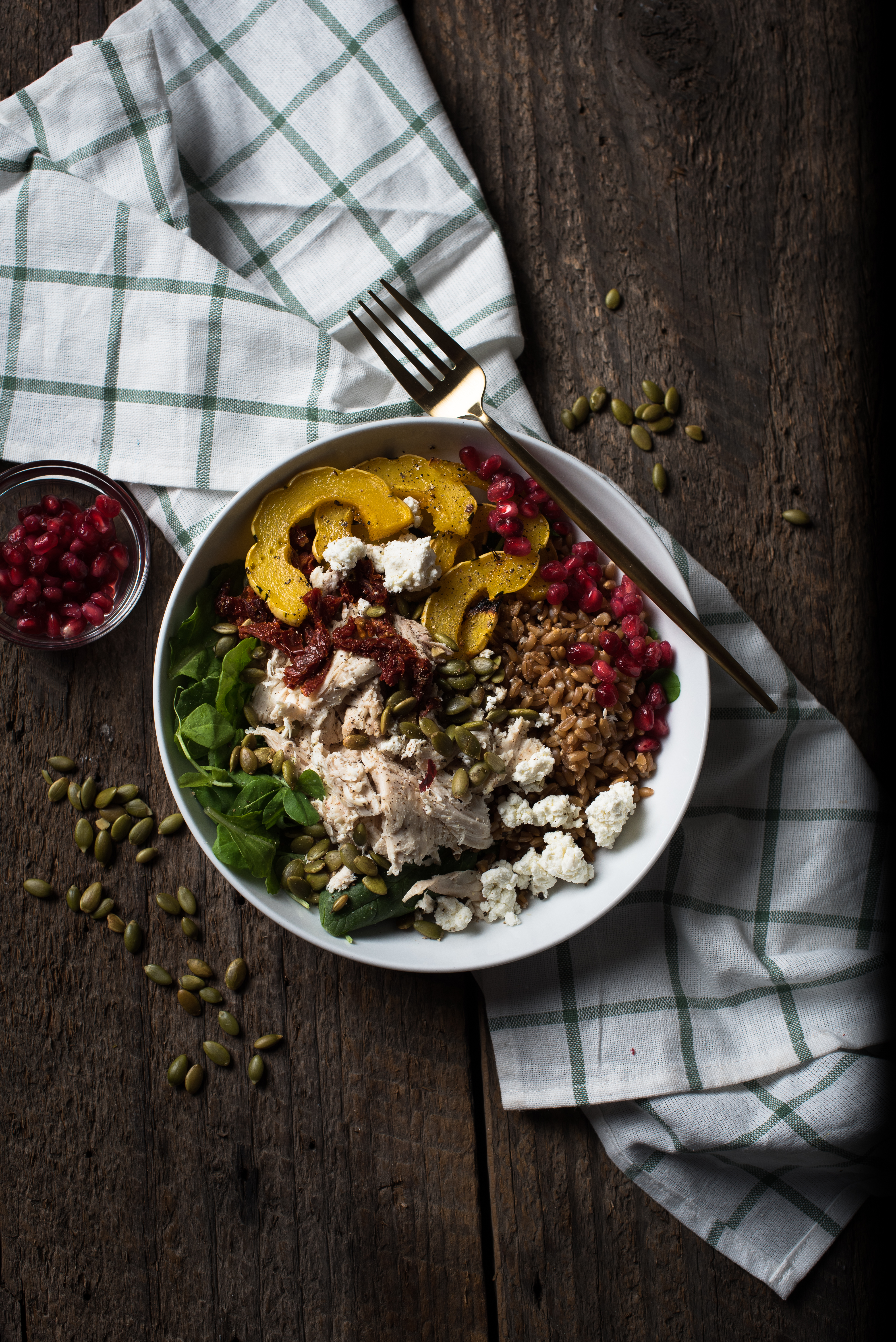 So what makes a grain bowl? In my world, I like to start with a bed of greens. Not all greens are created equal! I really like Organic Girl's Power greens. It's a mix of pea shoots, baby spinach, and baby kale. If I don't have that on hand, I will rough chop some Kale. I love Kale, yes I do!
Next we need a protein folks! Again, I like to have already cooked chicken on hand, or some baked tofu will do. Next a grain of your choice! Do not be afraid of carbs people! We need carbs to function daily! Then we need more veggies, seeds, some feta cheese, and maybe some fresh herbs if you have some of those on hand.
For my Fall Harvest bowl, I roasted some delicata squash in EVOO with salt and pepper. It is Fall and squash season is in full force! I also like to add pomegranate seeds this time of year to a lot of my salads. Look for the pom seeds in those little ready cups to save on prep time. Throw on some dry roasted tomatoes for a little smoky flavor, and of course fresh feta! You could add a simple maple vinaigrette or a little lemon and olive oil. This bowl does not need a heavy dressing as there is already a lot of flavor going on!
This is Fall in a bowl! Sometimes we need a break from the heavy foods this time of year. Salads do not have to be boring or leave you starving! What is your favorite Fall salad?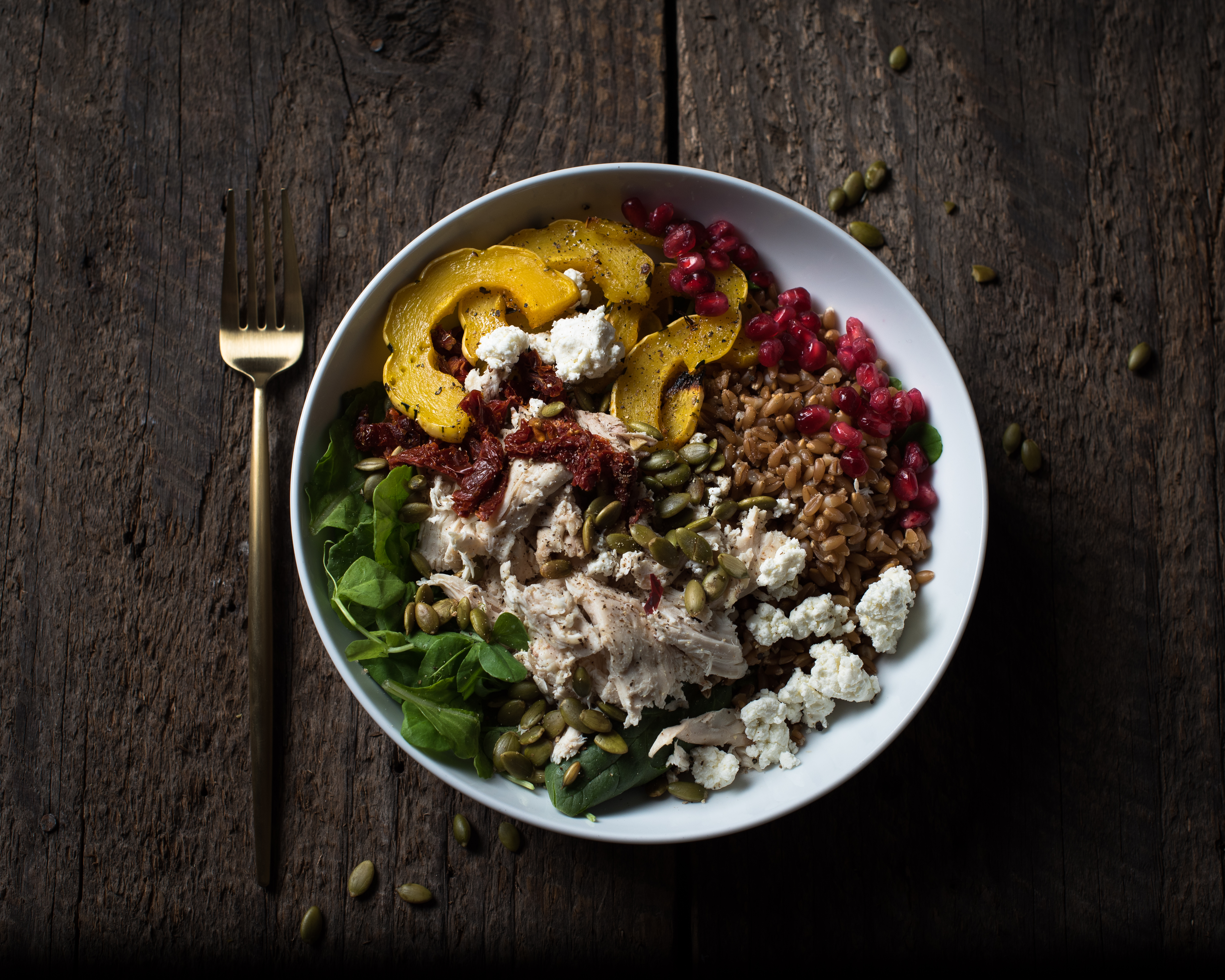 Fall Harvest Grain Bowl
Healthy Grain Bowl perfect for Fall!
Ingredients
2

C

roasted delicata squash

2

C

roasted chicken

2

C

mixed greens

1

C

cooked farro

4

tbsp

crumbled feta

2

tbsp

sun dried tomatoes

2

tbsp

pomegranate seeds

2

tbsp

pepita seeds
Instructions
Slice and seed delicata squash. Roast at 400 degrees for 15 mins. Assemble salad with greens, cooked farro, cooked chicken and rest of ingredients. Drizzle with a light dressing such as a maple vinagerette or lemon/olive oil. Top with fresh cracked pepper.