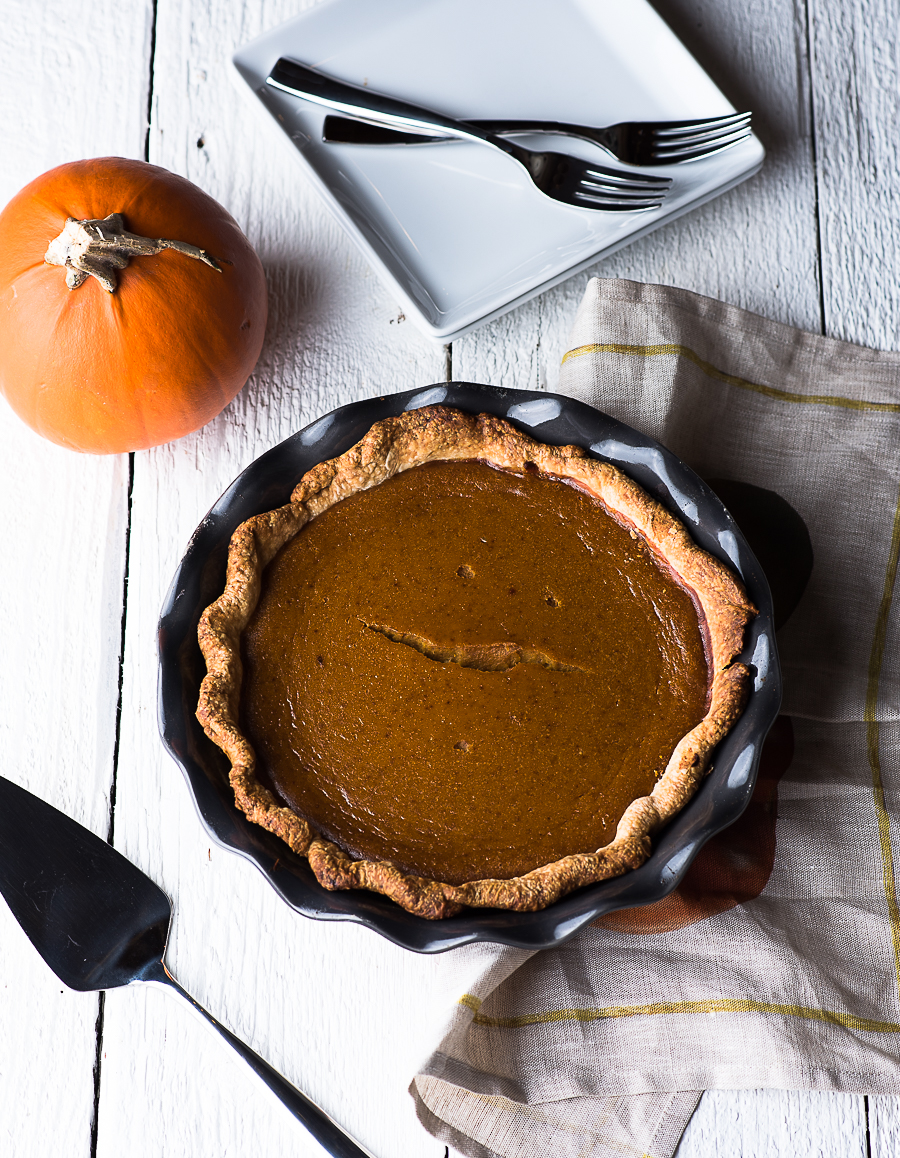 Pumpkin Pie + Emile Henry
Everyone's Fall favorite pie! Found in every home, restaurant, bakery, grocery store… the classic pumpkin pie is always included in the holiday pie lineup. There are so many different variations to this pie, it could be confusing for a new little baker or first time holiday host to bake a pumpkin pie. Google says there are 12,200,000 pumpkin pie recipes currently on the inter-webs! And now I'm about to add one more making that 12,200,001!
My mother and grandmother always got together and baked the holiday pies for the family dinner. We usually had holiday dinners at my Aunt's house, but grandma always brought the pie! Usually Pumpkin, Lemon Meringue, and a Pecan pie. Grandma had meringues the size of Mt Everest!
As I grew older, I asked my grandma and mom to teach me their pie secrets. Grandma's pie crust was made with Crisco back then, and I could never master her crust! I think I had the wrong tools or water ratio was incorrect… or maybe I was just an impatient teenager! When mom would make her pumpkin pie's, it was with a frozen store bought crust ( she never had the patients for baking from scratch) and pie filling consisted of canned pumpkin and canned condensed milk! Looking back on that now… eeewww…. how did I eat that!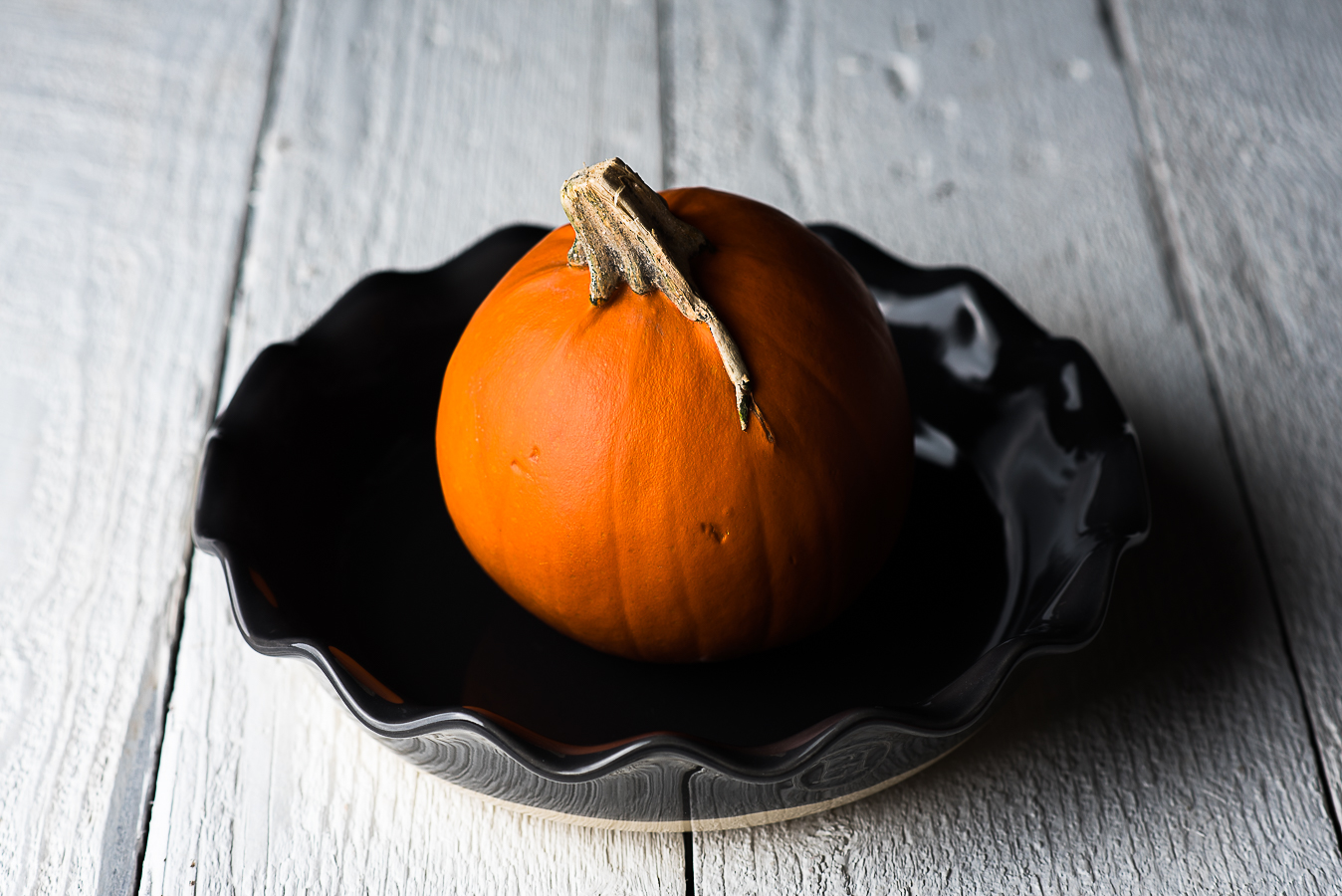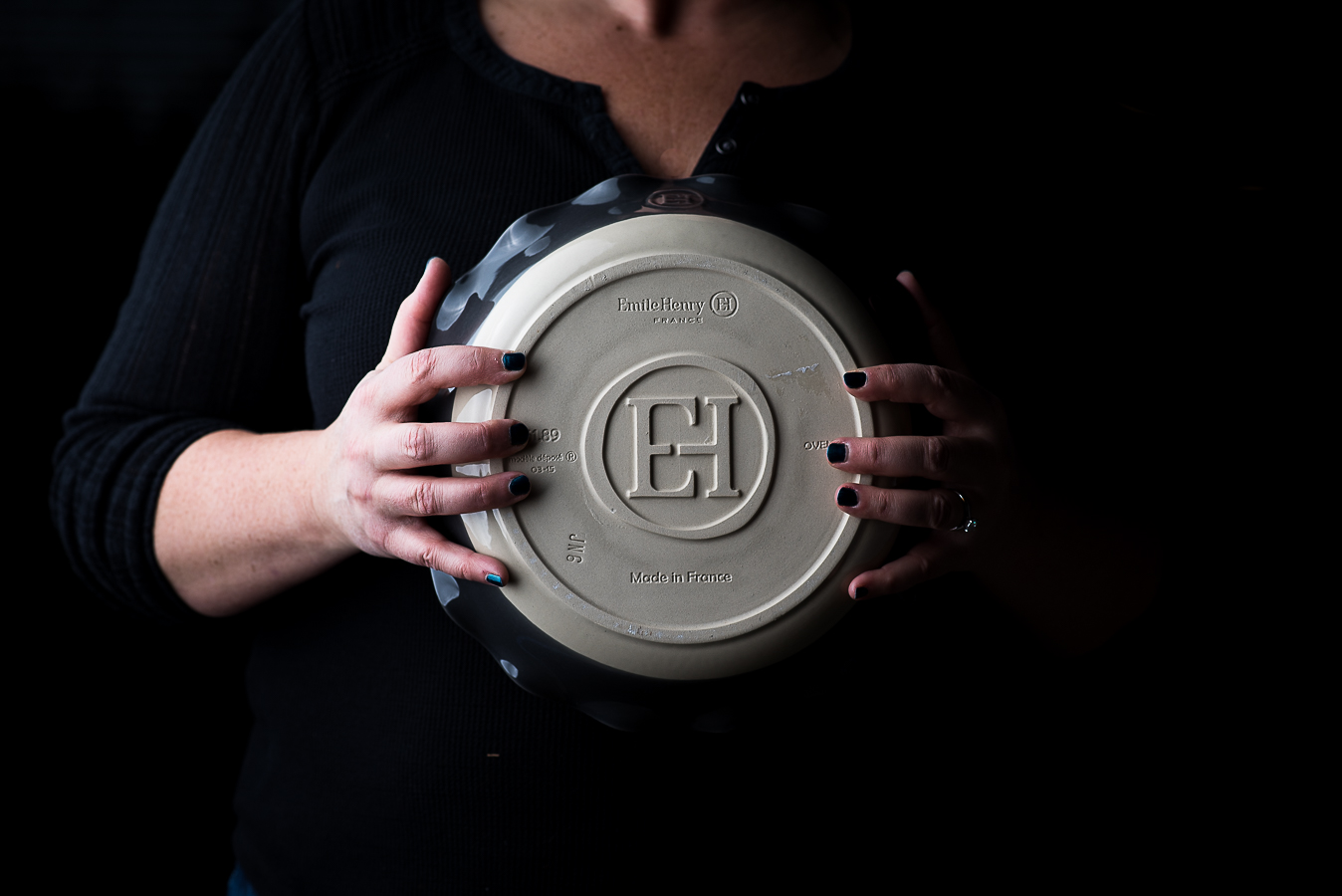 In my quest as an adult, who always hosts holiday dinners at my house, I have mastered my version of the classic pumpkin pie and flaky all butter pie crust! Thanks to my now hubby for introducing me to the pie pumpkin! How did I live all these years without it? Andrew knows how much I love pumpkin, and our first year dating he showed up one day with a handful of pie pumpkins and asked if I ever made my own puree…. and from that moment, every year is full of pie pumpkins. We even grew some in our garden the last few years!
Every one has there own preference on what type of pie pan they use. I have used glass, tin, cast iron, and this gorgeous Emile Henry porcelain pie plate. I have always wanted a deep dish EH pie pan, and Andrew surprised me the other day with one! They have this beautiful new color- dark grey! I would say as we have aged, we also like to spoil ourselves with really nice bake/cookware :) Some woman get excited over shoes, and some over beautiful porcelain pie plates!! What I discovered baking in this pie plate, your bake time is a bit shorter… my time was cut down by 15 minutes! I definitely like the porcelain pie plate the best, it seems to distribute the heat evenly through out the pie. Second runner up is the cast iron and tin, last place is the glass.
To make your pumpkin puree, cut your pumpkin in half, scoop out the seeds and stringy insides, then cut into six equal pieces. Place flesh side down on a roasting pan, drizzle with a touch of olive oil, then cover in foil. Make a few slits in the foil so steam can escape, and roast at 350 degrees for one hour. Once cooled, peel the pumpkin from the flesh and place in a bowl. Use a hand masher or hand held immersion blender to puree. And done… use this pumpkin puree in place of all your pumpkin in recipes! Depending on your pie pumpkin size, will depend on how much puree you will yield. I find that one pie pumpkin usually yields enough for one pie.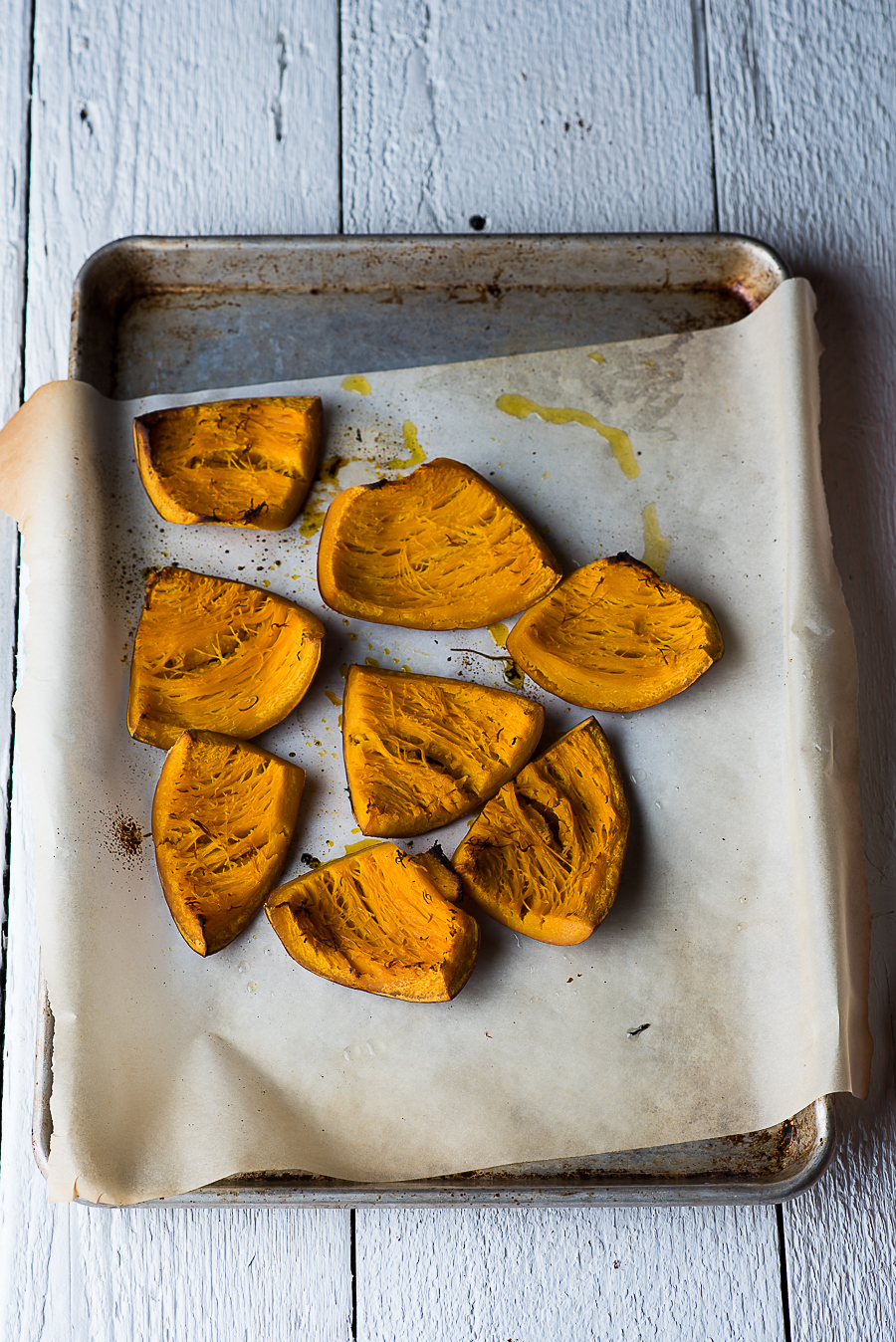 Let's talk pie crust….. the flaky all butter kind with a crisp golden brown outer edge. The kind that will hold up to pies, and still tastes great… no soggy crusts allowed! Once you get this method down, you will never go back to your old, store bought frozen pie crust, never! The key is cold, very cold diced butter, and ice cold water. Also for the acid, I like to use lemon. Some swear by vinegar, but I like the very slight tang of the lemon. It adds a little something extra to the crust.
My tools of choice in the kitchen for my pie crust is my food processor. Yes you can go old school and use a pastry blender, but if you are wanting to speed things up… use your food processor! Once you combine your flour, sugar and salt… you add the cold cubed butter until the size of peas. Over processing will warm your butter to much, you want to work fast to keep your ingredients cold. Next while the processor is going, I add my ice cold water and lemon juice. Only pulse until combined, again you don't want to overwork your flour mixture. Then you wrap in plastic wrap and chill for a min of one hour. The longer the better, but no more than two days in the fridge or your crust will start to break down and not puff in the oven. Next you roll out your pie dough on a floured surface, place in the pie pan, and chill for 30 minutes.
Now we can blind bake our pie crust before filling. It sounds like a lot of daunting steps, but really it's quick. I can have my pie dough mixed and ready to chill in less than 10 minutes! It's sooooo worth it once you taste this flaky buttery pie crust, and your friends and fam will love you for it!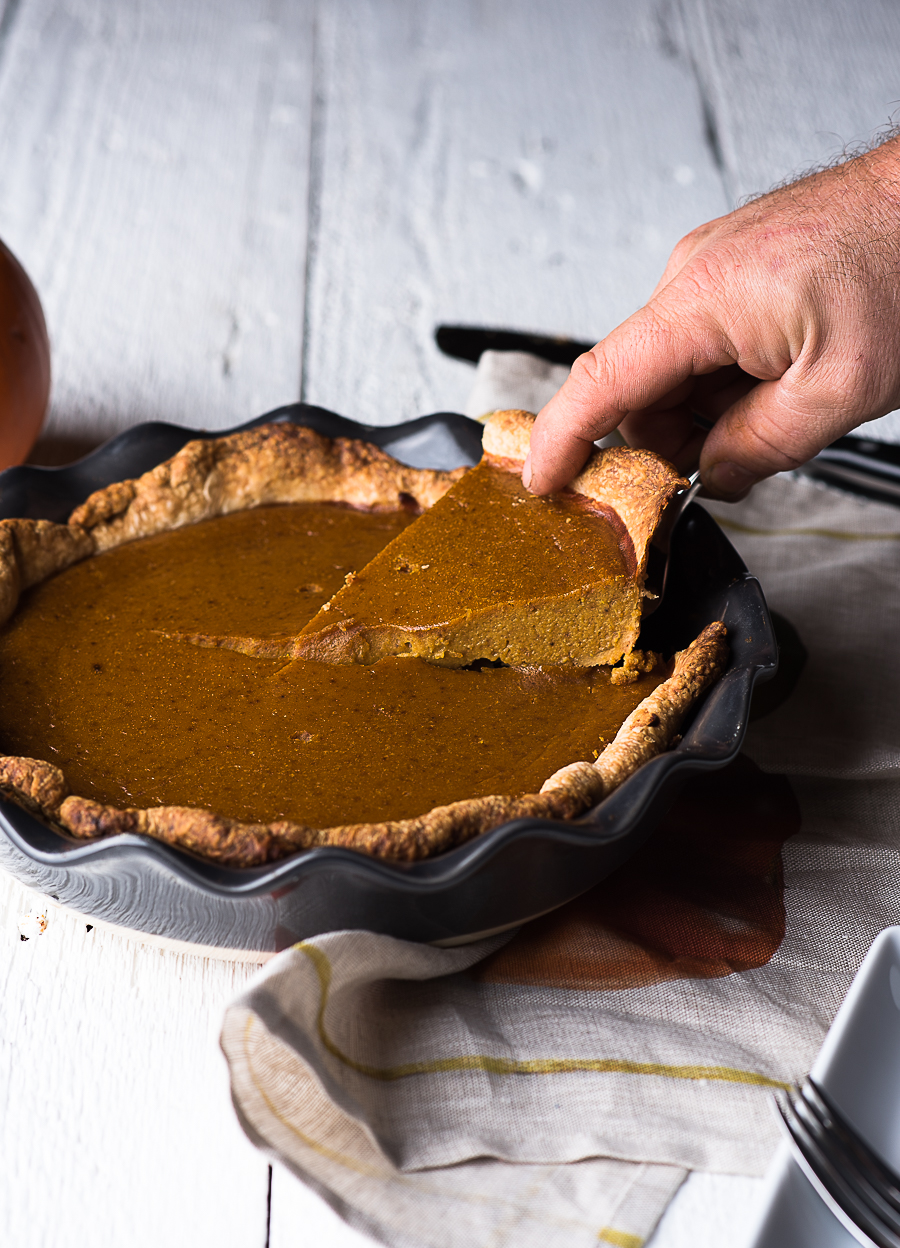 Happy Thanksgiving to all our friends, family, and blog readers….. we hope it's filled with lots of love and yummy food!
Cheers!
Ingredients
Pie Crust:
1 1/4 C all purpose flour
1 Tbsp sugar
1 tsp salt
1/2 C unsalted butter, cold and cut into cubes
3 Tbsp ice cold water
1 1/2 tsp lemon juice
Pumpkin Pie Filling:
1 sugar pie pumpkin, roasted and pureed ( see notes in post)
2 Tbsp of canola oil
2/3 C packed brown sugar
1/3 C granulated sugar
1 Tbsp all purpose flour
3/4 tsp ground cinnamon
1/4 tsp ground ginger
1/4 tsp ground cloves
1/4 tsp ground allspice
1/2 tsp kosher salt
1 C heavy cream
1/3 C whole milk
3 large eggs lightly beaten
2 tsp vanilla extract
Instructions
Make pie crust:
In a food processor, add the flour, sugar and salt. Pulse a few times. Add the cold cubed butter and pulse until the size of small peas... do not over work the butter/flour as it will become to warm.
Next add the ice cold water and lemon juice, pulse a few times until just combined.
Place dough on a sheet of saran wrap and chill for a min of 1 hour.
When ready, roll out pie dough on a floured surface. Roll a few inches bigger than your pie plate. Place rolled dough into pie plate, slightly pushing against sides. Tuck extra dough under the rim and crimp. Prick bottom with fork and chill for 30 minutes.
Preheat oven to 375 degrees.
Place parchment paper and pie weights ( or dried beans) on your pie dough. Lower oven temp to 350 degrees and bake for 25 minutes.
Remove paper and weights before filling.
While pie dough is chilling, roast your pumpkin for the puree, you can also make the puree one day in advance and store covered in the fridge.
Preheat your oven to 400 degrees
Cut your pumpkin in half, then quarters. Scrape out the seeds and stringy inside. Place flesh side down on a cookie sheet. Drizzle a little oil over pumpkin. Cover with foil and cut a few slits in the top for steam to escape. Roast for 50-60 minutes, until pumpkin is soft.
Let cool for 10 minutes before handling.
Peel off the flesh and place the insides in a large bowl. With an immersion blender or hand masher, puree the pumpkin until smooth. It is now ready to add to your pie recipe.
In a large bowl, mix the puree, sugars, flour, spices and salt together. Add the milk, cream, eggs, and vanilla extract. Whisk until everything is combined. Pour pumpkin mixture into blind baked pie crust.
Bake at 400 degrees for 15 minutes, then turn down the oven to 350 degrees and bake for 50 minutes or until custard is set. Check sooner if using a porcelain pie pan.
Let cool for an hour before cutting into slices.
Enjoy!
https://www.thymeoftaste.com/2016/11/19/classic-pumpkin-pie/