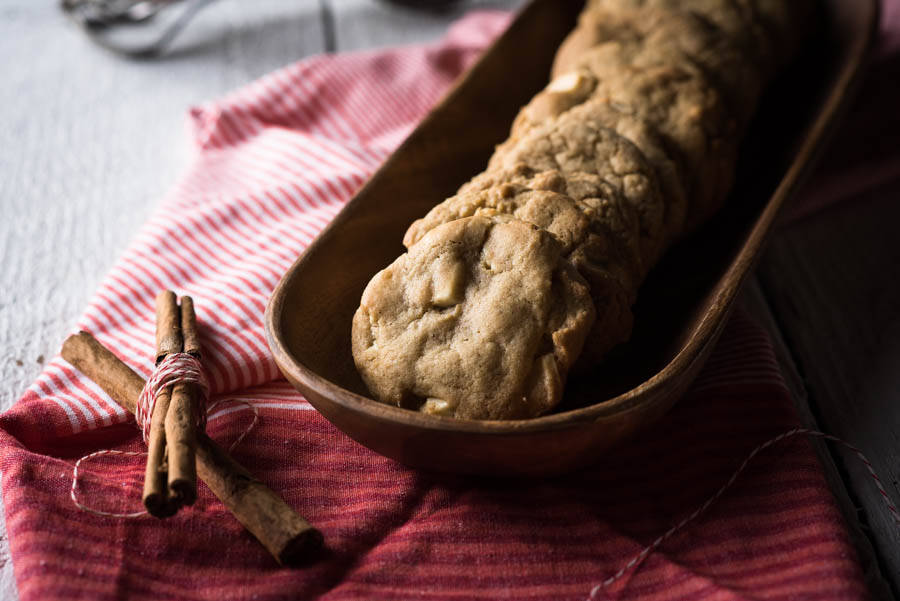 Chai Spice + Cookies
Winter is here in the PNW! No matter what the calendar says, it's officially winter here. We recently had 2 weeks in a row with snow, and the 2nd week we were hit with ice. Nothing like what you see back East, but it pretty much shut down us West Coasters! It was nuts, everyone in the city decided to leave work at that same time causing major traffic issues. What normally takes an hour to go 30 miles…. took some peeps 7 hours to get home! Mixed in with snow, ice, and holiday traffic made for some serious chaos in the city!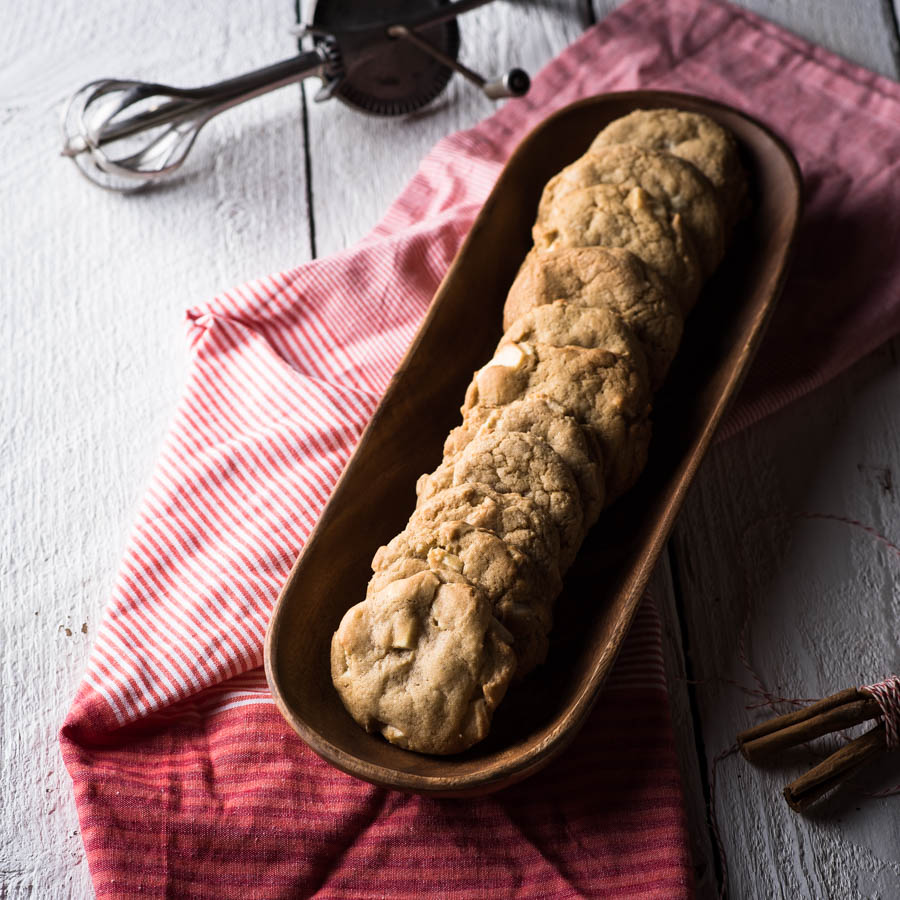 Days like that, I want to hunker down in my house, put on a fire, watch holiday movies and do some baking! Chai Latte's are like Christmas in a cup to me, that spice and sweetness just tastes like the holidays. Imagine all those things wrapped up in a cookie?! Ooohhh the best of both worlds!! Cookies and Chai lattes? I'm so there! The spices are really pronounced in this cookie, especially the cardamom. They might look plain, but pack a lot of flavor!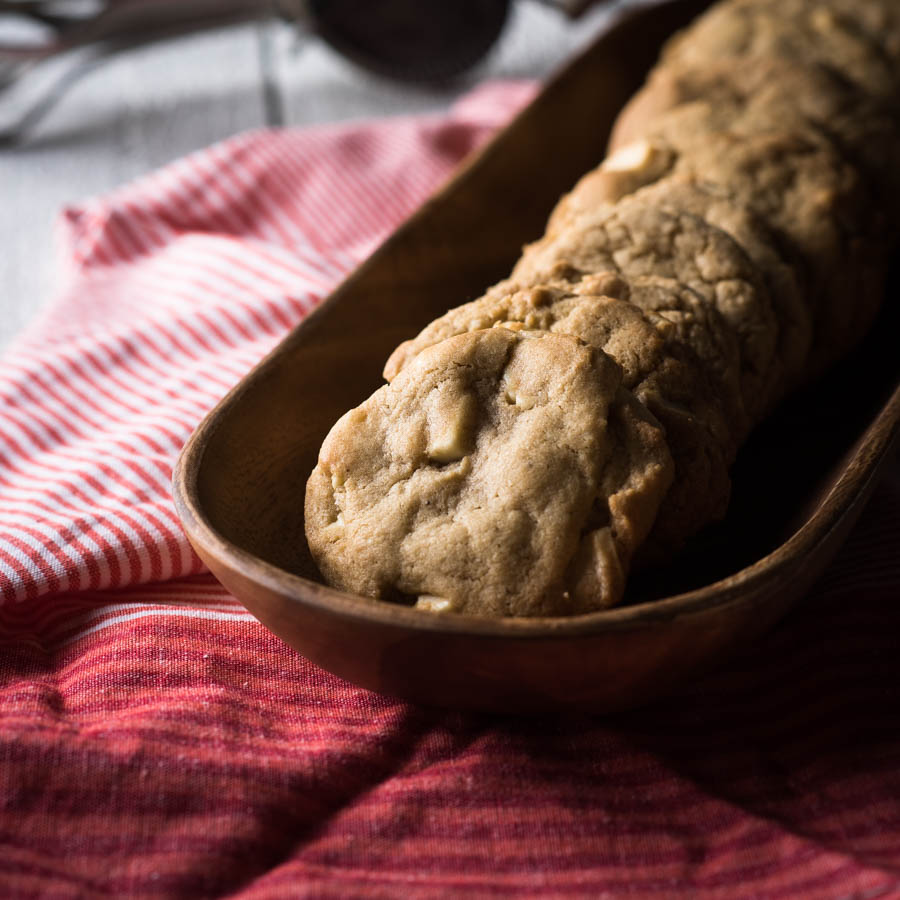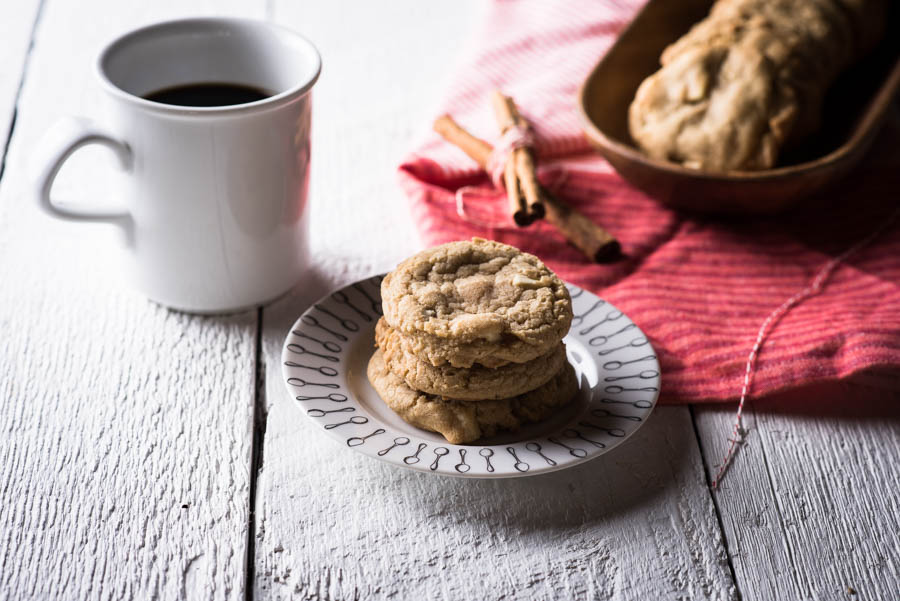 I have a very soft spot for cookies. I mean the cookie monster on sesame street was my favorite character as a kid! Some would prefer pie or cake, but cookies are my fav!!! But they have to be homemade with really good ingredients, soft on the inside with a little crispy crunch on the outside. That's my ideal perfect cookie. Give me one of those any day, and we'll be best friends for life!
In my many, many and I mean many trial and errors of baking cookies across my lifetime, I have found that a silpat is a must, King Arthur Flour, unsalted butter and only Ghiradelli chocolate will do. These are my must haves to bake the perfect cookie.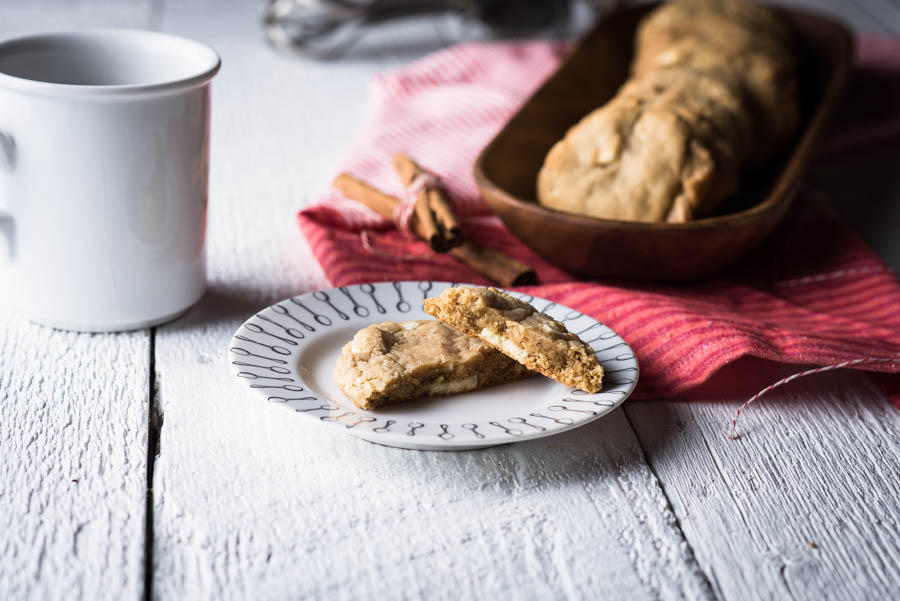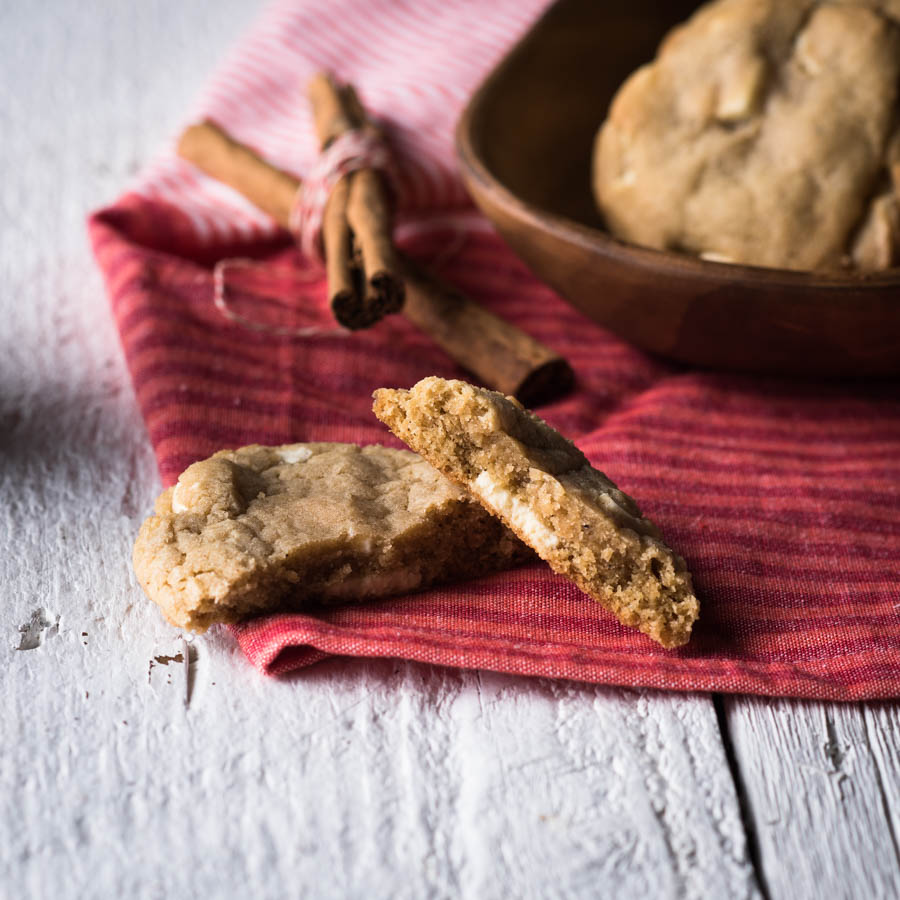 Enjoy your winter and bake some delicious cookies!
White Chocolate Chai Cookies, adapted from Little Flower Baking
Ingredients
1 C unsalted butter, at room temp
1 C packed brown sugar
1 C granulated sugar
2 large eggs
1 1/2 tsp vanilla extract
3 1/2 C + 2 Tbsp of all purpose flour ( I like King Arthur's)
1 1/2 tsp baking soda
1/2 tsp sea salt
1 tsp ground cardamom
1/2 tsp ground cinnamon
1/2 tsp ground ginger
1/4 tsp ground allspice
2 C chopped white chocolate bar ( I use Ghiradelli )
Instructions
In a large mixing bowl ( use the paddle attachment if using a stand mixer), cream butter and sugars on medium until creamy and fluffy.
Add eggs one at a time, mixing until combined. Scrape bowl as needed. Add the vanilla and mix a bit more.
Add flour, baking soda, salt and spices, mixing on low just until combined. Dough will be a little dry, that's ok.
Fold in the chopped chocolate.
Line 2 baking sheets with a silpat or parchment paper.
Form dough into 2 inch balls by hand and place on lined baking sheets. Flatten slightly with your hand. Freeze overnight or up to 1 hour before baking.
Preheat oven to 375 degrees, bake for 15 minutes, rotating pans half way until edges are golden brown. Cookies will be soft with a slight crunchy outside.
Cool on wire racks for 5 mins before removing from pans.
Makes 18-20 addicting cookies!
https://www.thymeoftaste.com/2017/01/07/white-chocolate-chai-cookies/