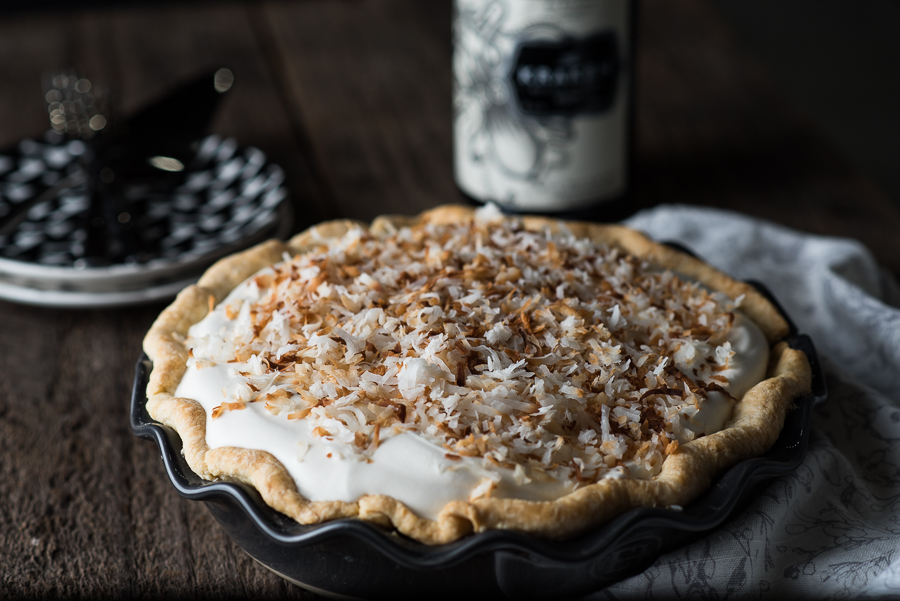 Bananas, caramel, rum, coconut…. sounds like and island vacation to me! Summer in a pie!
Move over key lime pie ( yes it's seriously good but….) and move over classic banana pie, this kicked up banana cream pie is the new guy in town!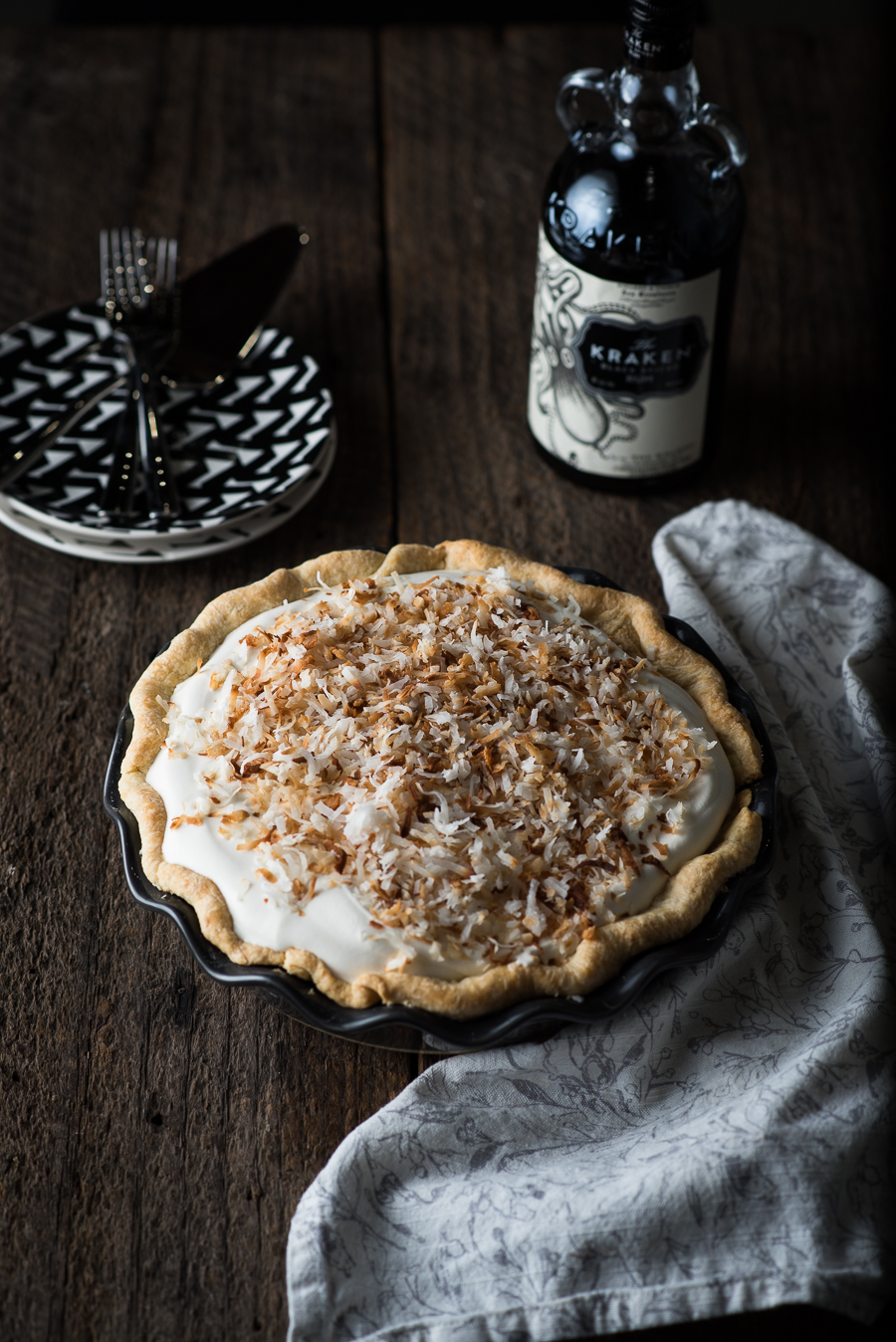 Our winter this year has been one of the longest, grayest, rainiest winters in a very long time. It's strange how after the holidays are over, I just want winter to move on and be done also. I crave sunshine, summer gardens, bbq's on the deck, drinking Rose and watching sunsets. I'm so burned out on winter foods and soups. I want fresh and vibrant vegetables from the garden, and summer berries! I think my skin is even lacking that awesome vitamin D from the bright circle in the sky we call the sun!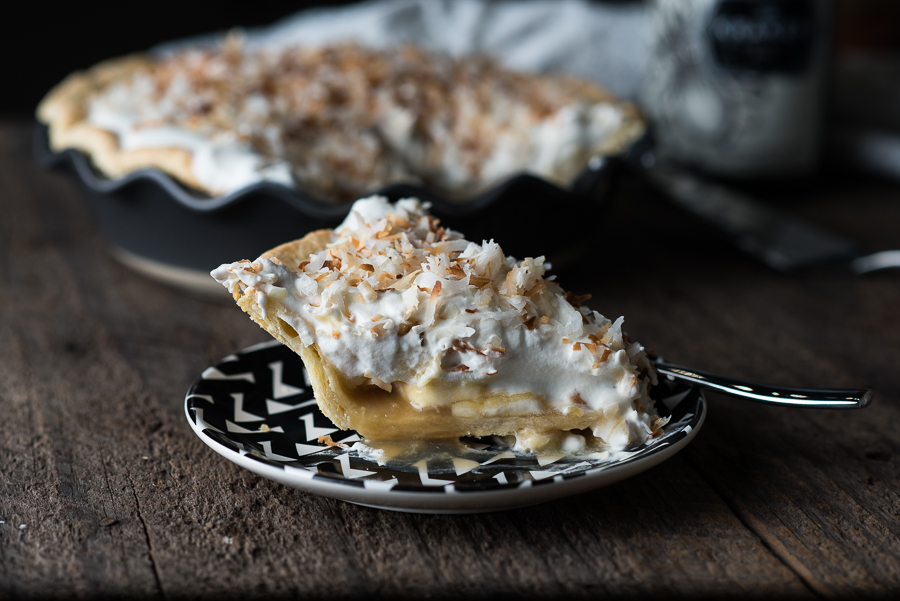 To cheer us up during this icky weather, I made this banana cream pie. It was AHHHHMAZING! Layered bananas in a flaky buttery crust, drizzled with a kicked up rum caramel sauce, and topped with fresh whip cream and toasted coconut. It tastes like summer and sunshine! Perhaps on an island with ocean breezes and white sandy beaches… oh wait…. it's still grey and rainy out. I can imagine I'm there, for now anyway.
I think you all need this amazing pie in your life- It's also 3.14, Pi Day. Your excuse to make this pie if you ever needed one! If bananas aren't your thang… check out these other awesome pies in the archives-
Cheers~
Banana Cream Pie with Rum Caramel Sauce
Ingredients
1 blind baked 9 inch pie crust
4 ripe bananas, sliced
Rum Pastry Cream:
4 egg yolks
1/8 tsp salt
3/4 C sugar
1/4 C cornstarch
14 oz can lite coconut milk
1/4 C dark rum
1-2 tsp coconut extract
Salted Rum Caramel Sauce:
1 C sugar
1/4 C water
1/2 tsp salt
1/2 C whipping cream
1/4 C dark rum
optional: toasted coconut
Instructions
Whisk egg yolks in a medium bowl with a pinch of salt until pale and creamy.
Place salt, sugar, and cornstarch in a medium saucepan, whisk together until combined.
Next, mix the coconut milk and rum together in a small bowl.
Turn heat to medium and place saucepan on stove. Slowly pour the coconut mixture into the saucepan and while constantly whisking. Keep whisking until mixture thickens and begins to bubble.
Remove mixture from heat and pour 1/3 of the hot mixture into the egg mixture, tempering the eggs. Pour the tempered eggs back into the cream mixture and return to the stovetop.
With heat on medium, whisk until mixture is thick, this should only take a minute or two. Remove from heat.
Pour into a bowl and cover with plastic wrap to prevent a skin from forming. Place wrap directly on cream mixture. Refrigerate for 2-3 hours until very chilled.
Make salted rum caramel sauce:
In a medium saucepan, add the sugar and water. Turn heat to high and whisk until sugar dissolves, bring to a boil.
Let sugar boil for 5-7 mins until it turns a dark amber color. Whisking every min or so.
Turn heat to low and add salt, shipping cream, and rum. When you add the cream it will bubble up, be careful not to burn your hands. Whisk continuously as it will harden at first, then smooth out. Let boil for about a minute or two. Remove from heat and pour into a glass jar to cool.
Store any extra caramel sauce in the refrigerator.
To assemble pie: layer bananas, then caramel sauce, then spread rum the pastry over the caramel sauce, and top with whip cream and toasted coconut.
Store in the refrigerator up to 3 days ( if it last that long!)
https://www.thymeoftaste.com/2017/03/14/banana-cream-pie-rum-caramel-sauce/