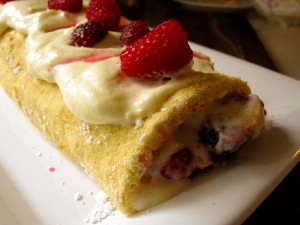 Lemons and summer berries, they just go together, something about the tangy lemon flavor and tartness from the berries paired with some cream and light sponge cake…oh my my…this one has summer written all over it!Summers in the Pacific NW don't technically start until after the 4th of July…that's just how it goes around here. So when our summer berries start showing up in Farmer's markets, I get so excited to bake with them, eat them plain, or grab a handfull from the fridge. The juicy berries just give that "summer is here feel"! Enjoy summer, and it's bounty…go to your local farmer's market, pick up some berries and whip up this luscious cake in an afternoon. Share it with friends, sunshine, and the easiness that comes with the summer months. Cheers~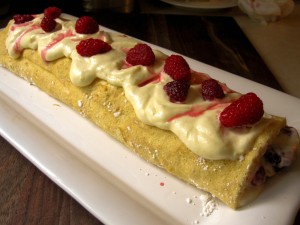 | | | |
| --- | --- | --- |
| Lemon creame roll with summer berries | | |
Author:
Total time:
1 hour 15 mins
Light sponge cake with summer berries and a lemon cream filling
Ingredients
Lemon Cream filling:
6 tablespoons unsalted butter
1 Cup of sugar
1 Cup of freshly squeezed lemon juice
2 eggs
2 egg yolks
2 Tablespoons lemon zest
pinch of salt
1 1/2 Cups of cream
1 Cup of berries, I used raspberries and blackberries
Sponge Cake:
4 eggs separated
1/2 Cup sugar
2 teaspoons lemon zest
1 teaspoon vanilla extract
1/4 teaspoon salt
1/2 Cup of cornstarch
Instructions
Make the filling:
cream butter, sugar, and salt. Add eggs and yolk, then lemon juice.
Next, cook the mixture over medium heat until thick, stirring constantly as to not curdle the mixture. Do not boil. Pour in a bowl, cover with plastic wrap and chill in the refrigerator until no longer warm.
Whip heavy cream until stiff, fold into filling mixture. Keep chilled until ready to use.
Sponge Cake:
Preheat oven to 350 degrees.Grease a jelly roll pan or cookie sheet then line with parchment paper, and spray again.
Beat sugar, egg whites and 1/4 Cup of sugar until stiff.
In a separate bowl, beat yolks, lemon zest, vanilla, and remaining sugar until pale and creamy.
Stir 1/3 of the whites into yolk mix to lighten it. Fold in remaining whites.
Add cornstarch and salt to batter.
Pour batter into pan, smooth with a spatula.
Bake for 6-8 mins.
Spread a clean cloth out on the counter, sprinkle with powdered sugar, flip cake upside down on cloth. While warm, roll up cake, cloth, and parchment paper until cool.
When cool, unroll cake, spread with cream, berries and roll up. Top with whipped cream and more berries. Refrigerate for 30 mins before slicing.