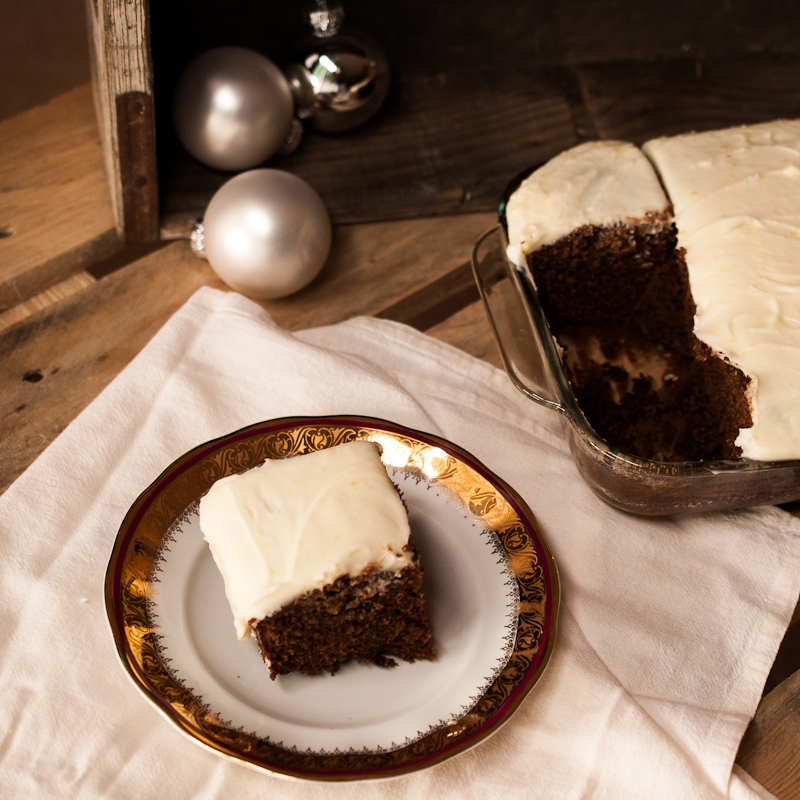 We have been very busy this month, all the Christmas baking and blogging that was on my list, well…..it's still on my list- not marked off! Where does the time go? It's half way thru December and this is my first "Christmas post"….oh boy, I feel like such a slacker! Not that I haven't been baking and cooking, oh no, the Thyme kitchen has been in full swing over here, I guess I should have had my camera by my side and not on the shelf….sigh…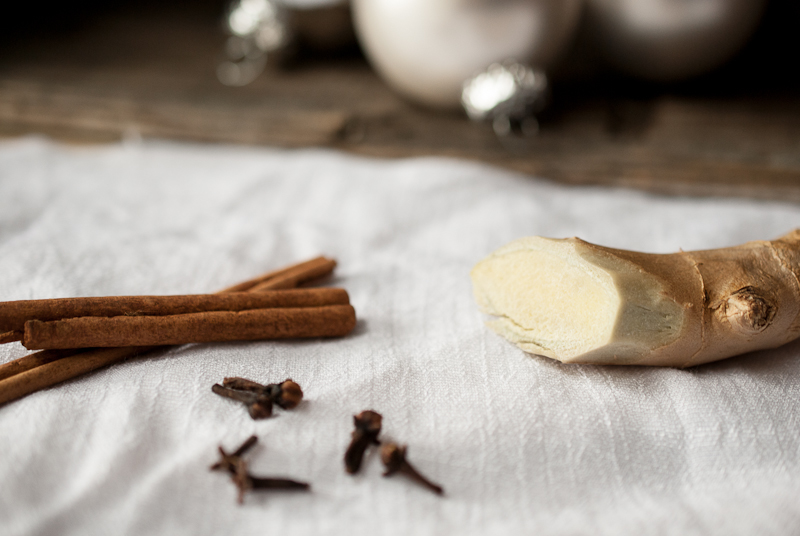 If Christmas had a "scent" then Gingerbread would be the smell of Christmas!  Cinnamon, allspice, and fresh ginger mixed in with molasses….it doesn't get any sweeter smelling than that! Even if you don't eat gingerbread, the smell of spices baking in your kitchen will travel thru your house. It reminds me of snowy, chilly winter days, but brings a warmth to the house. Moist gingerbread, hot from the oven says hello Christmas, and of course you must have Christmas tunes playing thru out your house when baking this sweat bread!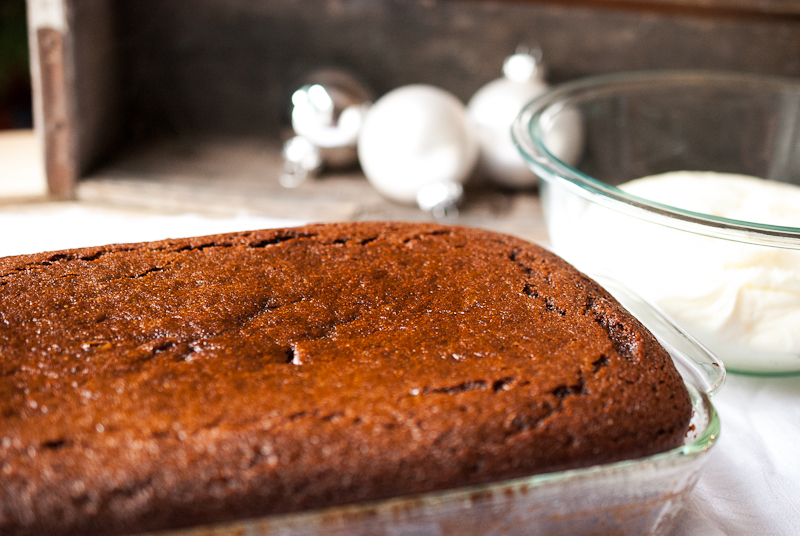 I know, you are probably saying "hey, this looks more like a cake than a bread", well you can call it whatever you like, but if you try to bake this in your bread pan, it may not turn out the same. I tried it in my loaf pan, and it was very dense and heavy. It's much fluffier in a rectangular cake pan. But "Ginger cake" doesn't have the same ring as "Gingerbread", I just can't call it that :)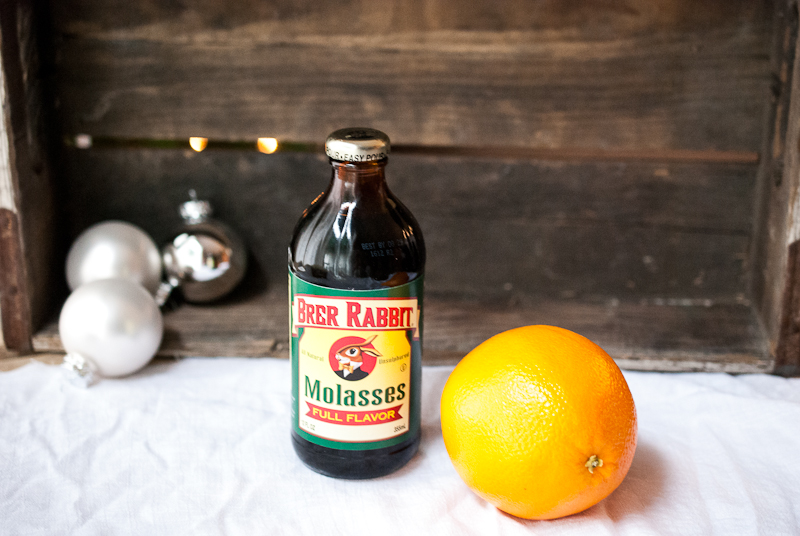 I like to use the full flavor molasses, it gives it that extra deep rich flavor. And what is gingerbread without a cream cheese frosting? It would be like cheesecake without the cream cheese, unheard of! I like to add orange zest and orange juice to my frosting. Orange and ginger go so well together.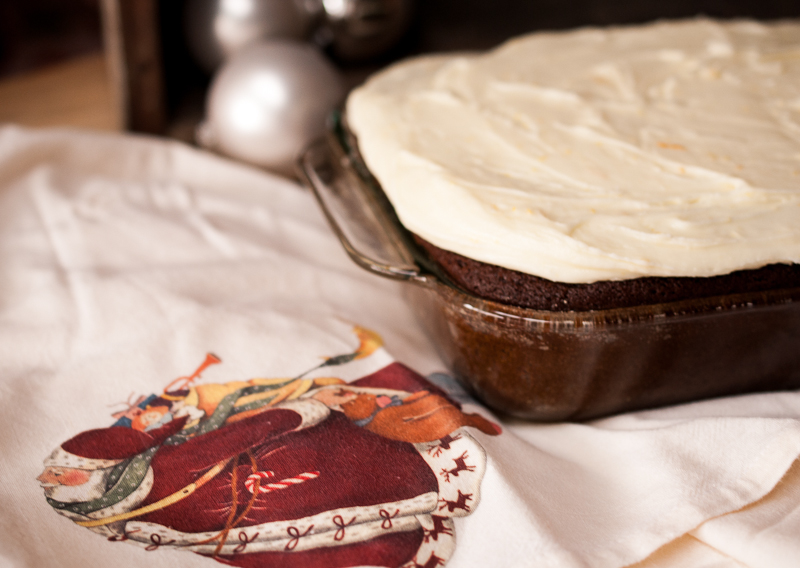 Frosted gingerbread with orange cream cheese frosting, yummmmm! Better than Starbucks any day!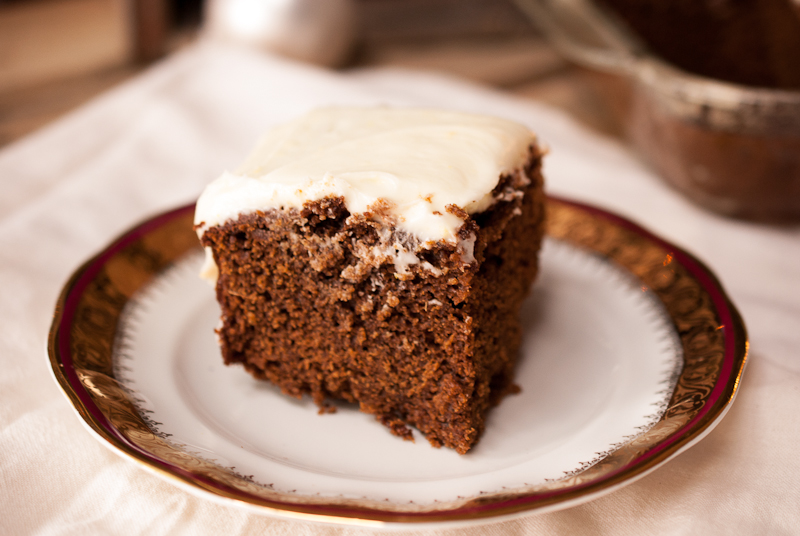 Gingerbread
Author:
Prep time:
Cook time:
Total time:
A moist spice cake perfect for Christmas time
Ingredients
3 3/4 C flour
1/2 tsp salt
1 tsp ground cloves
1 tsp ground ginger
3/4 tsp cinnamon
1/2 tsp ground black pepper
1 3/4 C sugar
1 1/2 C olive oil
1 1/2 C molasses
3 eggs
1 1/2 C boiling water
2 tsp baking soda
3-4 tbsp fresh grated ginger
4oz cream cheese
2-3 C powder sugar
2-4 Tbsp milk
zest from one orange
juice from one orange
Instructions
Combine flour, salt, cloves, ground ginger, cinnamon, and pepper into a bowl and whisk together.
In a large bowl or mixer bowl, beat sugar, oil, molasses, and eggs on medium high until well combined.
Add the dry ingredients to the wet and mix on low,
Pour the boiling water into a glass bowl or measuring cup, and stir on the baking soda.
With the mixer on low, add the water slowly.
Add the fresh ginger and mix briefly.
Pour into a greased 9×13 pan and bake at 325 degrees for 50 minutes.
The cake should spring back slowly when pressed in the center.
Make the frosting:
Beat the cream cheese, powder sugar and orange zest and juice. Add the milk one tbsp at a time until desired consistency.
Spread on cooled cake and enjoy :)