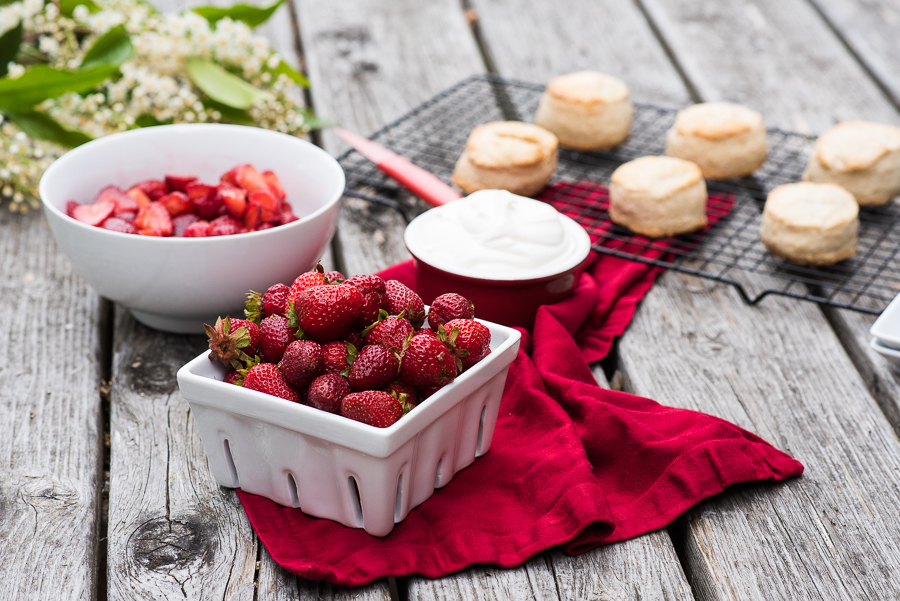 Summer Strawberries!
Guys…. Summer is finally here in the PNW! We had what seemed like the longest winter ever. Many snow and ice storms, followed by 20 degree nights… very unusual for us West Coasters. Yes summer is late this year for us, some say this is more of a normal year, but I disagree. The vineyards are even a month or so behind from last year, and our garden..oh I'm crossing my fingers for lots of tomatoes this year!
Local strawberries are my favorite summer berry! I can't wait until June hits every year, so I can have these red, juicy, sweet strawberries. If you have ever had local Oregon strawberries, then you feel me. Nothing compares, period! The first thing that is requested in our house is strawberry shortcake…. even Sable our farm cat loves strawberries :)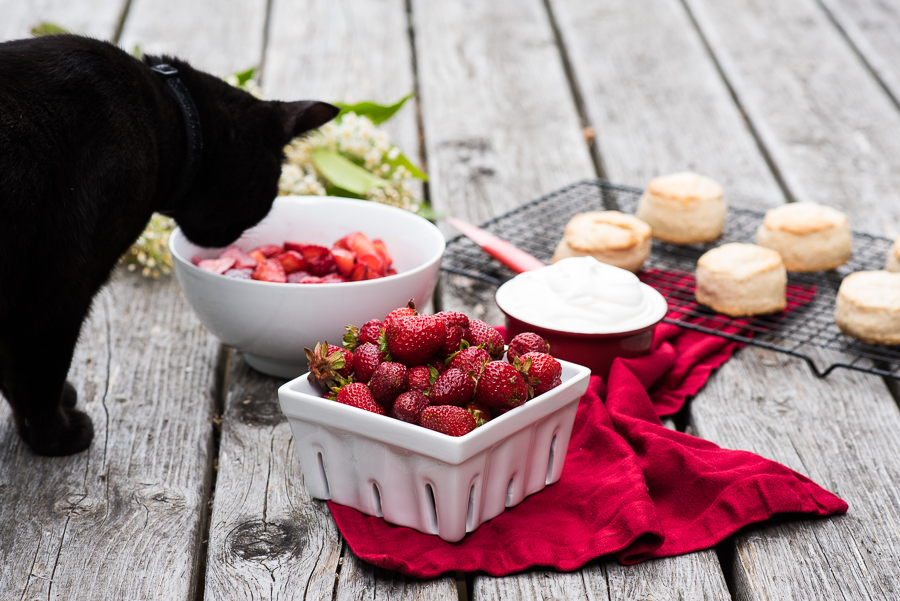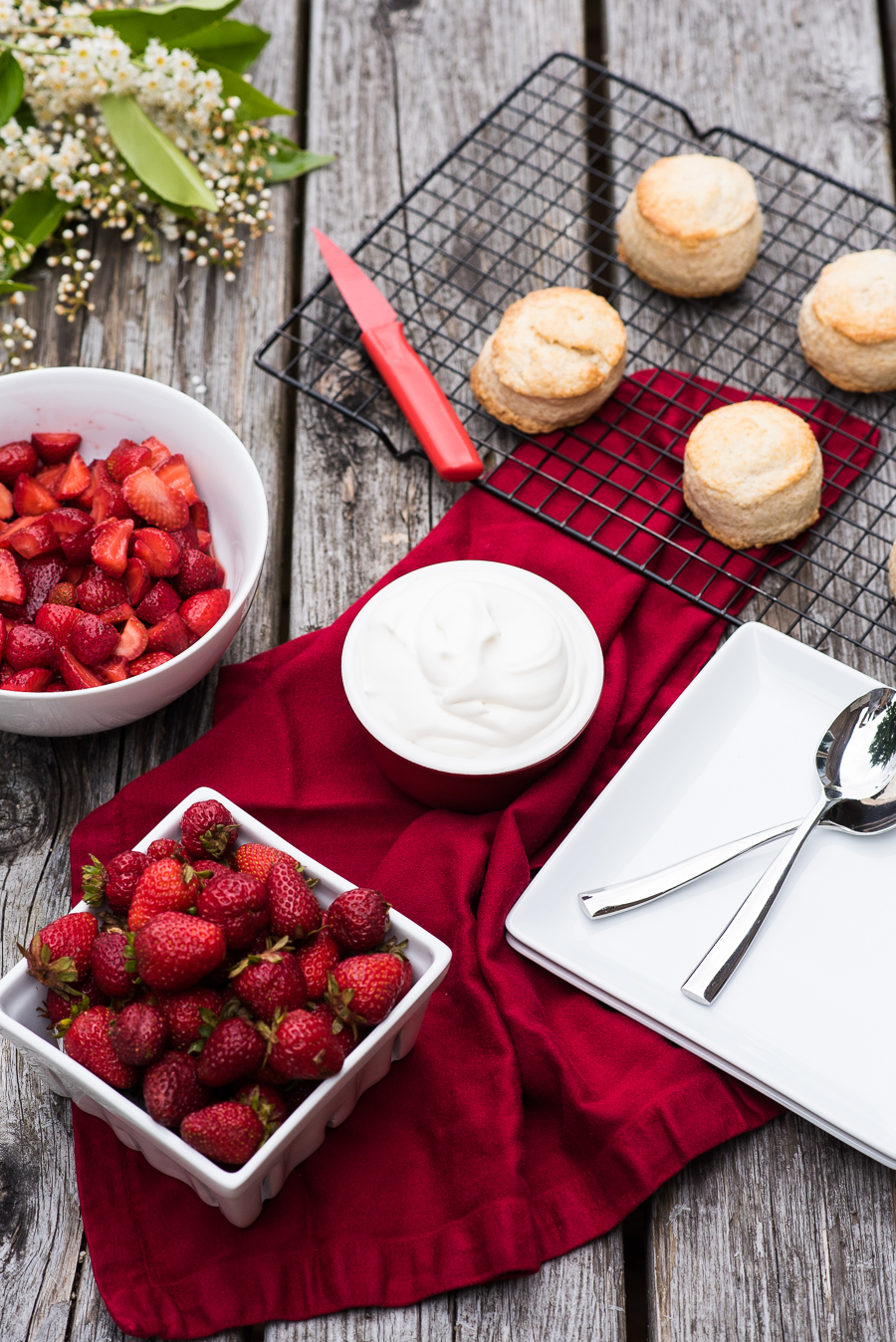 My take on the shortcake is a buttery, flaky, scone biscuit with added cinnamon and sugar for a snickerdoodle like taste. I like the vehicle for the juicy strawberries to be thick enough to not fall apart when eating. I don't like the spongy angle food cake version either. This one is perfect! Easy to put together too, it makes a quick yummy dessert… So you have more time for playing outside in the sunshine! And please, please do not use whip cream out of a can! Take that extra 5 minutes to whip up the real stuff in your mixer, you'll be so glad you did-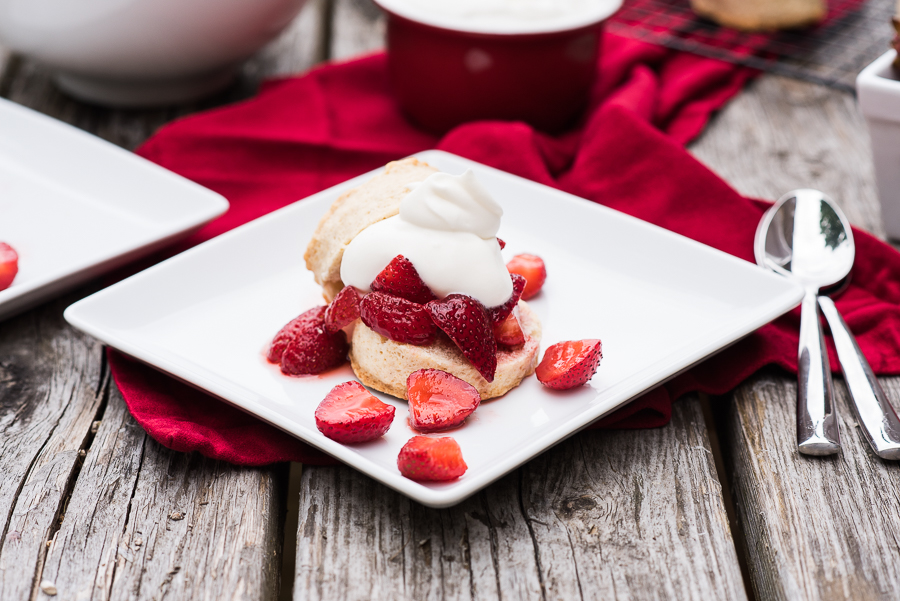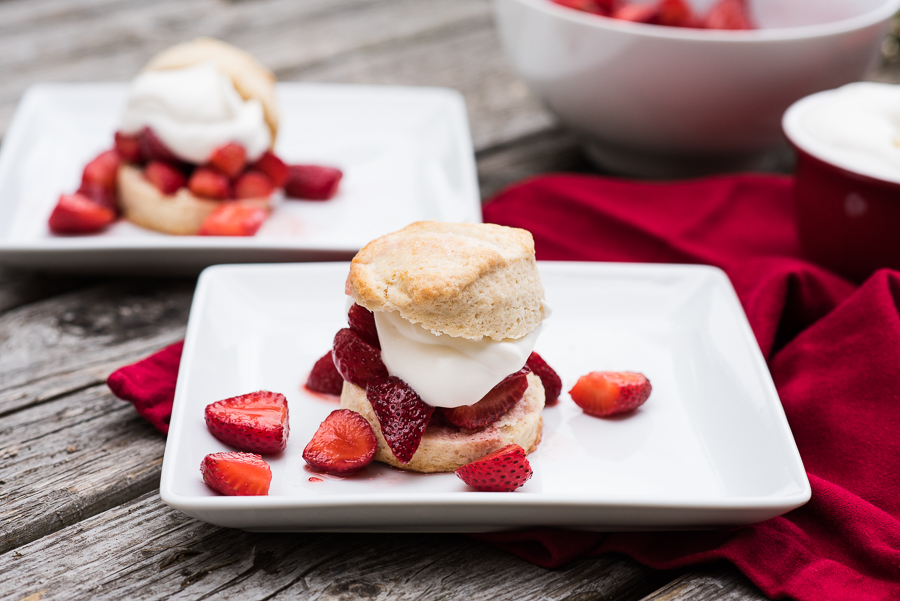 Cheers to summer berries and all the sunshine!
Strawberry Shortcake with Snickerdoodle Scones
Ingredients
For the Scones:
8 Tbsp unsalted butter, cut into cubes, chilled
3 C all purpose flour
1/4 C sugar
2 tsp cinnamon
1 1/2 Tbsp baking powder
3/4 tsp salt
1 1/2 C chilled heavy cream, plus a little extra for brushing the tops
For the strawberries and whipping cream:
2-3 C fresh strawberries, rinsed and cut into halves/quarters
1/2 C sugar
juice of 1 lemon
1 C of heavy whipping cream
1 tsp of vanilla
2 tsp of powder sugar
Instructions
In a large mixing bowl add the prepared berries, sugar and lemon juice. Stir slightly to mix everything. Set aside to let the berries and juices macerate.
In another large bowl, mix the flour, sugar, cinnamon, baking powder and salt together. Add the cubed butter, and with a pastry blender, mix the butter and flour mixture until it resembles small peas. Add the cream, mix with a wooden spoon or your hands until well combined.
On a lightly floured surface, kneed dough a few times. Pat down and shape to a round ball. Roll out dough to a 1 1/2 inch thickness. With a small cutter, round or square, cut out dough. Place cut out dough on a parchment lined baking sheet. Brush tops with cream and sprinkle with sugar.
Chill in the fridge for 20 minutes before baking.
Preheat oven to 425 degrees.
When dough is chilled and ready to bake, place in oven on the middle rack and bake for 20-25 minutes until lightly brown and scones feel firm. Let cool on a wore rack before splitting in half.
While scones bake, make whipping cream.
In a bowl, with a mixer, add cream, vanilla and powder sugar. Mix on high for about 5 minutes until cream is stiff and holds a peak.
To assemble, cut scones in half, and spoon strawberry mixture and top with cream.
Makes about 8-10 scones. Scones are best eaten the same day.
http://www.thymeoftaste.com/2017/07/03/strawberry-shortcake-snickerdoodle-scones/