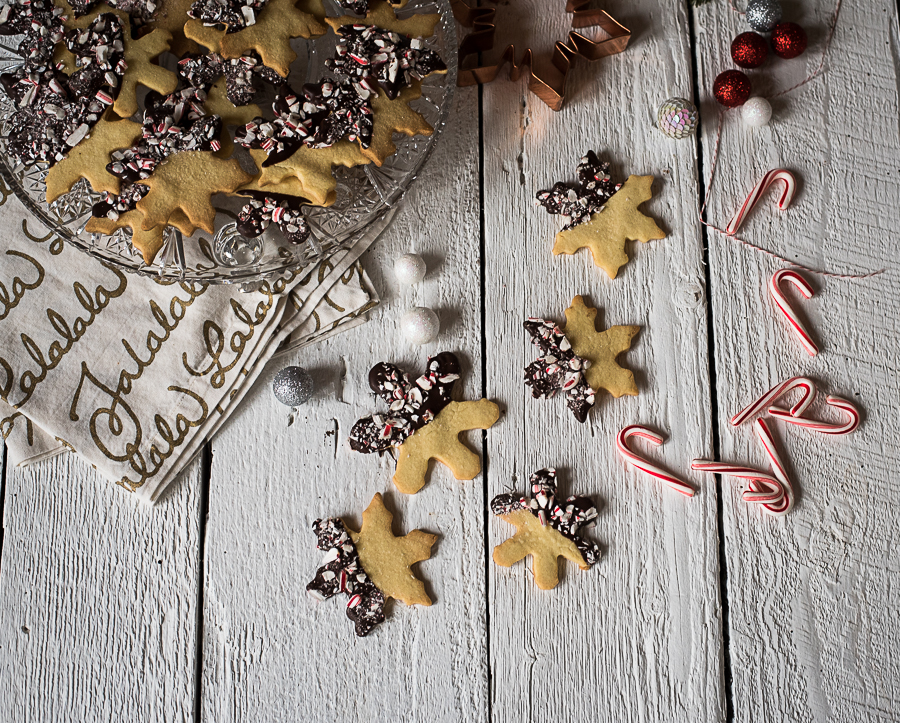 Merry Christmas Eve friends!
I love the holidays! The gathering of friends and family, the cooking, the parties, all the happiness in the air. When my kids were little, we always used to make Christmas sugar cookies. Cut into fun holiday shapes, and iced with frosting and sprinkles. It was fun to watch them decorate the cookies with their own skills, some had half the bottle of sprinkles on one cookie, and others had lots and lots of colored frosting!
Now that my kids are older, one in highschool and the other married, we have been starting other traditions now. They still do decorate the Christmas tree, but not so much into decorating cookies. They just want to eat them now instead! So I have simplified the decorated sugar cookie. Instead of all the frosting, tedious outlining in frosting and sprinkles galore, I dipped mine in dark chocolate and sprinkled crushed candy canes while the chocolate is still warm. This is much quicker and still pretty for the holidays! And you can roll out, cut out and bake these cookies one day, and decorate another. They keep fresh tightly wrapped for about 5 days! I like to use Ghiradelli dark chocolate, but you can use white or milk chocolate also.
Once your cookies are baked and cooled, melt your chocolate in a double broiler or microwave. Dip half the cookie, let the excess chocolate drip off, sprinkle crushed candy canes or nuts on the chocolate side. Lay on wax paper to dry. I used about 16 oz of chocolate chips, and this cookie recipe. This is my go to sugar cookie recipe, not dry or crumbly and they taste so buttery and crisp!
I hope you all have a fun filled holiday with lots of friends, family and great food!
Cheers!