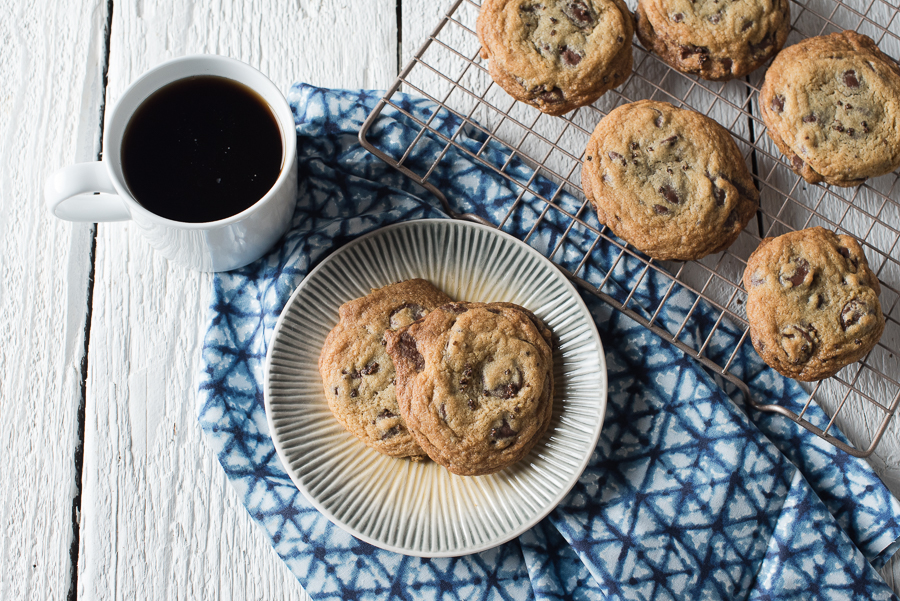 I love homemade chocolate chip cookies! I mean, I love them more than anyone I know, until I met my SIL Abby! She loves chocolate chip cookies as much as I do! There is something special and yummy about a gooey, crispy on the edge, chocolate chip cookie.
Last summer when we visited Abby and the fam in Sitka Alaska, she had a nice big jar of these right next to her coffee machine. Yes it's a machine! Not a standard coffee pot, she has one of those frother, grinder, coffee combo machines. One button does it all! Anyway, each morning we would have a cookie or two with our coffee. It was the best! Yes cookies for breakfast when your an adult is totally acceptable!
I thought my chocolate chip cookie recipe was the best, but I was mistaken! I do love her recipe and mine for different reasons. Mine is more of a fluffy, biscuit like cookie, where as Abby's recipe is more of a chewy, flatter, with crispy edge cookie. I've seen so many chocolate chip cookie recipes in my life time, so there are a million different ways to bake them. I'm sure you probably have a favorite one too.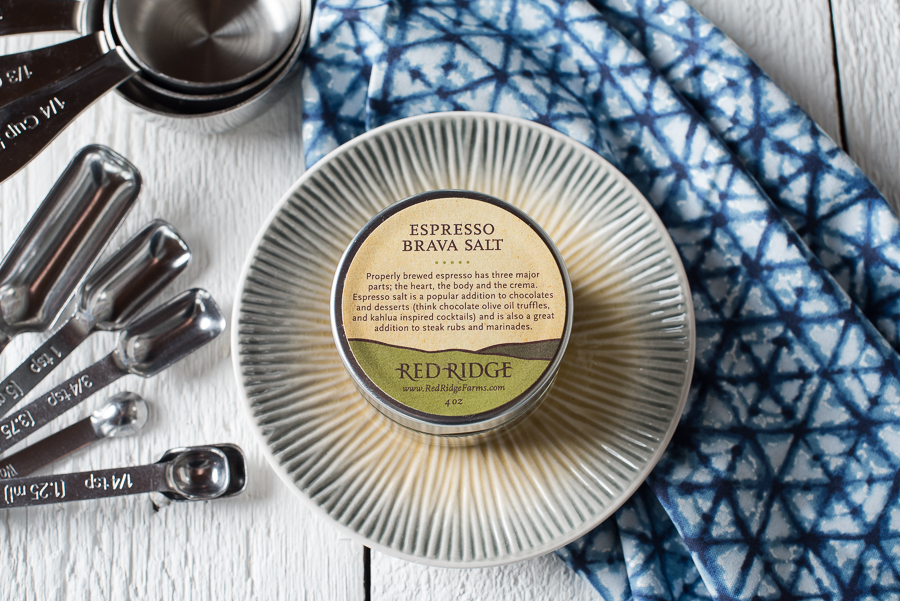 One of my favorite ways to jazz up a recipe is to use flavored salts. Durant Farms, formerly known as Red Ridge Farms, makes some amazing salts along with olive oils. Their Espresso Brava Salt is awesome in chocolate chip cookies! I use this in place of regular salt and also sprinkle a little on top right before baking. That salty/sweet combo is the best of both worlds! Abby and I both use this in our cookie recipes.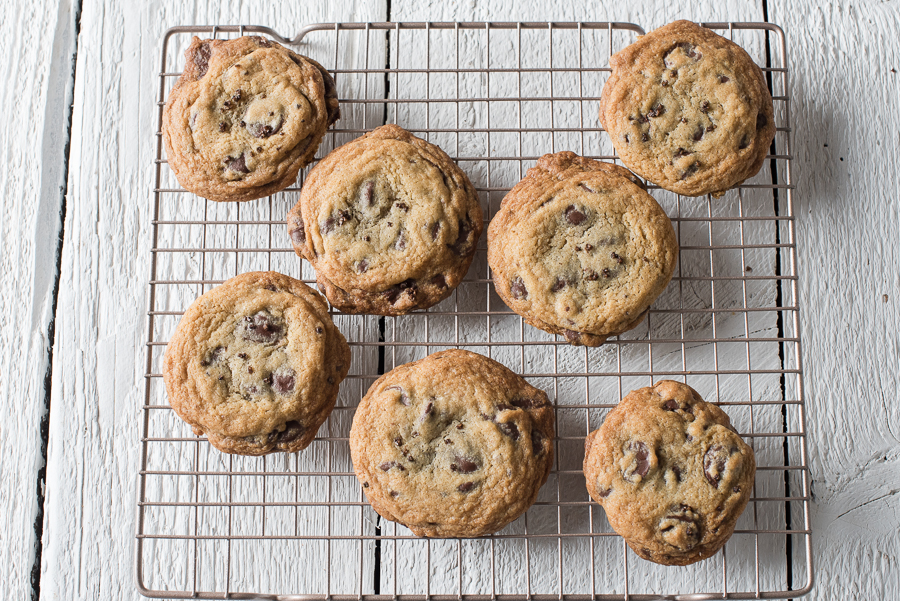 I hope you give this recipe a try next time you are craving some ooey gooey chocolate chip cookies! One last thing, do that pan banging thing when you bring these out of the oven. Slap the pan against the edge of the counter about five times to really flatten them out and create that ridge effect on the edge as they cool. Sarah Kieffer is the queen of this technique, but my husband likes to call it "pan slap"!!!
Abby's Chocolate Chip Cookies
Ingredients
1

stick

unsalted butter at room temp

1/2

C

light brown sugar

6

tbsp

granulated sugar

1

egg

1

tsp

vanilla

1 1/4

C

all purpose flour

1

tsp

baking soda

1

tsp

Espresso salt

2 1/2

C

Ghiradelli dark chocolate chips
Instructions
Preheat oven to 350 degrees and line a baking sheet with a silpat mat or parchment paper.

In a large mixing bowl, or mixer with the paddle attachment, mix the butter and sugars together until creamy.

Add the egg and vanilla on low speed until combined.

Next add the flour, baking soda, and salt on low speed. Mix just until combined.

Fold in the chocolate chips.

With a cookie scoop or small spoon, scoop into balls and place a few inches apart on prepared cookie sheet. Sprinkle a little espresso salt on top.

Bake for 10-13 mins just until set. Slap/Bang pan on edge of counter. Let cool on cookie sheet for 5 minutes before removing to wire rack to finish cooling.